A flag bearing pink, white and blue was raised on the Wilkes University campus as emotional remarks noted the experiences of those within the transgender community. It was all to honor and bring awareness to International Transgender Day of Visibility, observed annually on March 31.
The event was organized by the Wilkes Gender and Sexuality Alliance, a student-based organization that provides a social community on campus for LGBTQ+ students and allies, engages in ongoing education about gender and sexuality and works to make Wilkes a more accepting, equitable environment for all people. It featured remarks from Henry Jurgiewicz and Cas Schiller, student leaders for the Gender and Sexuality Alliance, as well as club advisor and associate professor, Helen H. Davis, and University President Greg Cant.
"International Transgender Visibility Day is about celebrating who we are. We are co-workers. We are friends. We are strangers you pass every day and don't even know." Henry Jurgiewicz, Wilkes University student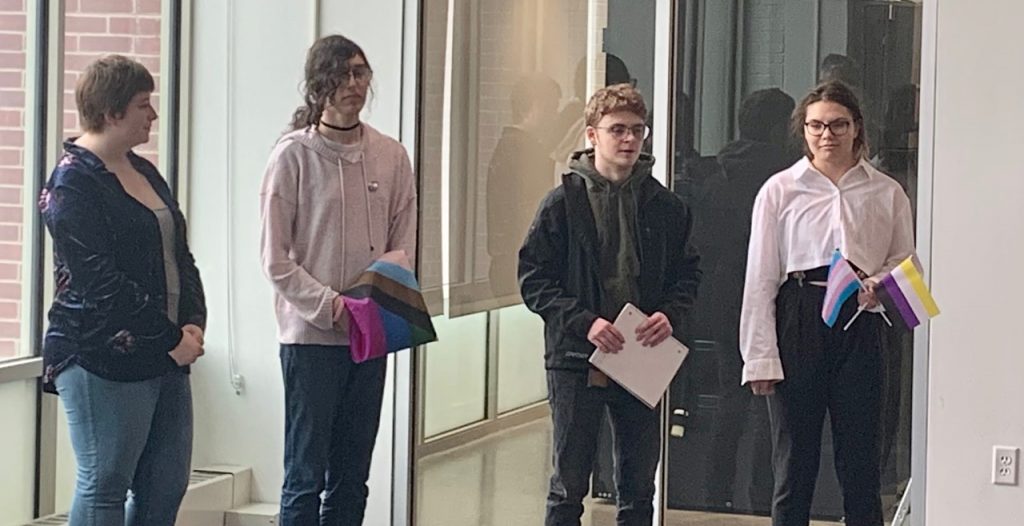 In addition to flying the transgender flag, the LGBTQ+ Pride Flag was presented to the University. It will be permanently displayed in the Henry Student Center.
International Transgender Day of Visibility is dedicated to celebrating the lives, contributions and accomplishments of transgender and gender-nonconforming people while raising awareness of the work that still needs to be done to achieve transgender justice.
Read student perspectives at the links below:
Times Leader | With personal stories of pain and fear, Wilkes raises transgender flag 

WNEP | International Transgender Day of Visibility commemorated in Luzerne County 
Fox56 | Wilkes University raises flag for International Transgender Day of Visibility