The start of a new academic year at Wilkes always brings excitement and new things to explore. It's never been more true than the fall 2020 semester, as the Colonels start the semester in the midst of a pandemic. As the University welcomes back students, here are 10 things you might know about the 2020-2021 academic year:
1. Early start, early finish, no breaks: Classes start on Aug. 24 — a week earlier than originally planned. Face-to-face exams will conclude by Wednesday, Nov. 25. There's no fall break. Final assignments, exams or coursework can continue remotely through Friday, Dec. 4.
2. New Crop of Colonels: The first-year class numbers more than 500 brand-new Colonels. Members of the first-year class come from 19 states.
3. Worldly ways: International students at Wilkes this fall come from 11 countries:  Panama, Kuwait, Saudi Arabia, Vietnam, Cambodia, Angola, Argentina, Belgium, Greece, Kenya and Egypt.
4. Res Life: The University's residence halls are at 96% occupancy with 1,136 students in residence on campus.
5. G'day: Wilkes has a new president, Greg Cant, who joins the University at this pivotal time in its history. Yes, he's from Australia. If you missed our earlier story sharing eight things you didn't know about President Cant, it's available here. President Cant is joined by his wife Angela, his daughter, Eliza (a Wilkes freshman), and son Jackson.
6. Five formats: Classes are being offered in five different formats this fall: face-to-face, hybrid, hybrid-flexible (hyflex), asynchronous online and synchronous online. Confused? Hear each format explained on this video by Wilkes President Greg Cant.
7. Getting clubby: Club hours are now being held on Friday afternoons from 2 to 5 p.m. Previously held from 11 a.m. to 1 p.m. on Tuesdays and Thursdays, the time slot offers opportunities for clubs and co-curricular activities to meet at times when students are free from class commitments.
8. Make it a vente: Starbucks is back! OK, there are some changes. What's different: You no longer can hang out in the café. What's the same: There's still a full menu of caffeinated (and non-caffeinated) drinks and yummy snacks to fuel study sessions.
9. "Who was that masked man?" That's the question people used to ask on the old 1950s TV show called "The Lone Ranger." This year at Wilkes, you might be asking that question about your professor or a classmate. Masks are must-haves for the new academic year.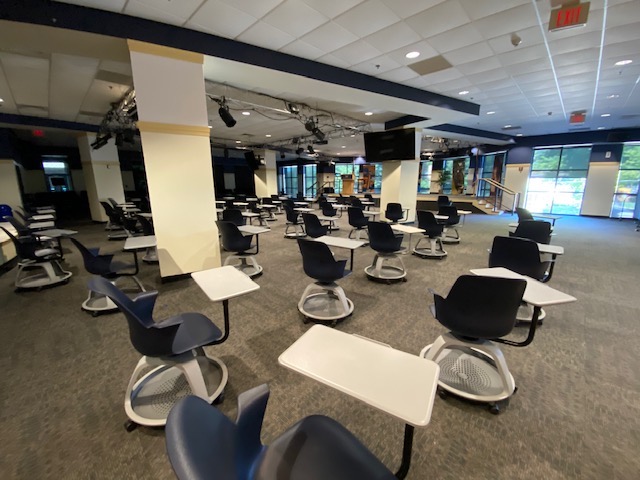 10.Class is in the ballroom? Social distancing requirements means the Colonels have gotten creative in finding spaces where classes can be held with students sitting six feet apart. The ballroom, the Miller Room and some other spaces are now places where classes will meet.