When Jeff Stratford, associate professor of biology, heads out into the field to collect samples for his research, he's usually accompanied by a team of students who are joined by Stratford's dog Rosie. Although restrictions from the pandemic have meant that he's working solo in summer 2020, he's still got an able assistant in his canine companion. OK – assistant might not be accurate. Stratford is an ornithologist and he can't really trust Rosie to trap birds, take samples and then release them. Her breed – German Shorthaired Pointer – is classified in the "Sporting Group" in the American Kennel Club's classifications. That means hunting and retrieving are among her strengths. But she's still a most welcome companion on days when her owner would otherwise be alone in the woods. News@Wilkes caught up with Rosie and her owner to learn more about their partnership.
Name, age and breed of dog: Rosalind "Rosie" Franklin Stratford is a 4-year-old German Shorthaired Pointer mix
How did you come up with your pet's name?
She is named after Rosalind Franklin, the English scientist who helped discover the structure of DNA
What is dog's favorite spot on campus?
Fenner Quadrangle
What is your and your dog's favorite thing to do?
I hold a stick and she loves to try to get it away from me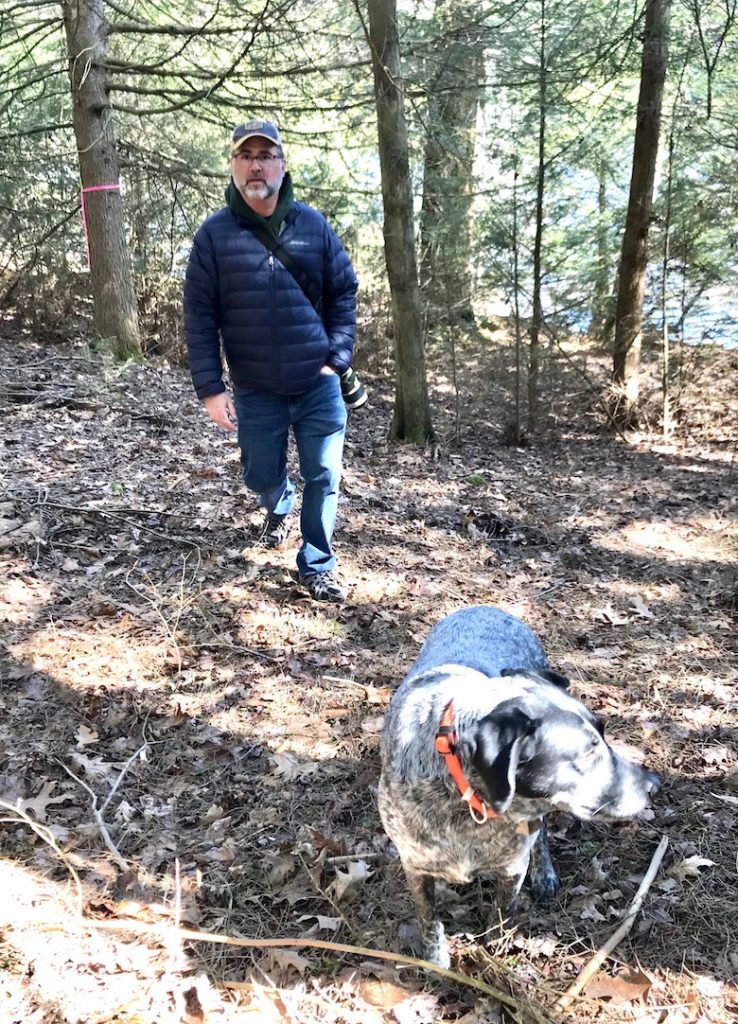 Tell me about bringing Rosie along when you are doing research in the field. Do you also bring your dog to campus?
She comes to the field when I feel like it's safe for her – no rattlesnakes – and she comes to campus for brief visits. My favorite story about bringing her to the field: One time she went in the field with students and myself and was having a grand time until she rolled in bear poo. She thought the students running from her was some sort of new game. Lots of screaming, which made it even more fun for her
What is your dog's favorite treat?
Vanilla ice cream
What is your dog missing most about being on campus right now?
She really misses interacting with students and getting extra belly rubs from them.
How has your dog helped you while you've been working from home?
Rosie is very affectionate and she is very good at reminding me not to sit too long. Lately, she's figured out when a virtual meeting has gone on too long and she needs to go out.