Michael Steele, professor of biology, and Margaret Steele, the University's chief development officer, are the owners of Greta, a purebred Bernese Mountain Dog. She's been a familiar sight on campus since the fall 2019 semester and a welcome addition to the Steele Research Lab in Cohen Science Center. Members of the Wilkes community have watched her grow up in the last few months, transitioning from adorable puppy to gangly adolescent dog. Now Colonels are missing seeing her latest growth spurt since the University transitioned to remote learning. For now, we'll have to be content with seeing Greta when she Zoom bombs her owners' online meetings.
Name, age and breed of dog:
Greta is a Bernese Mountain Dog. As of this writing, she is seven months old – but the Wilkes community has seen her on campus since she was small.
Does your dog have any special training?
No, but her owner (Dr. Steele) is a specialist in animal behavior.
What is your dog's favorite spot on campus?
The Quad
What is your and your dog's favorite thing to do at Wilkes?
Interacting with Wilkes students
How did you come up with your pet's name?
Greta is short for Gretel – like the fairy tale Hansel and Gretel. We are considering another Berner named Hansel.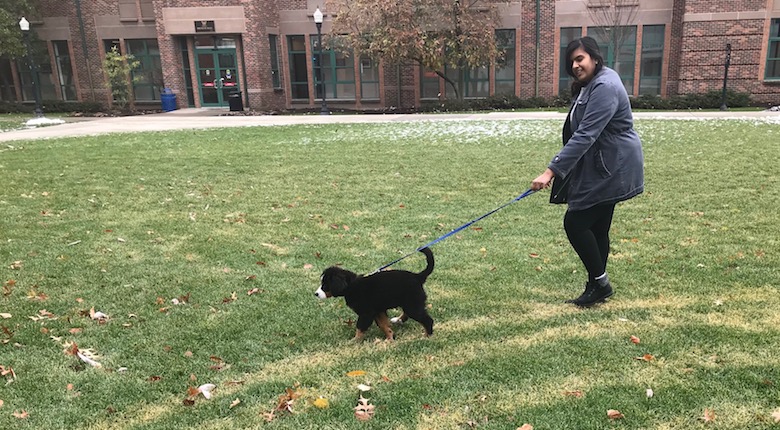 What is the most pet friendly thing about Wilkes?
Students!
Do you bring your dog to campus, your office or to class?
Greta spends a lot of time in the Steele Research Lab in Cohen Science Center. Students regularly stop by to visit the Greta. She also has a close group of pre-veterinary students who regularly look over Greta at Wilkes. She misses the students as much as she likes the lockdown with mom and dad.
What is your dog's favorite treat? 
Large bones
What is your dog missing most about being on campus right now?
Interacting with students everywhere she goes and the special friends she has in the Steele Lab.