Wilkes University seniors Korbin Schlichter, mechanical engineering major and AFROTC cadet, and Shannon O'Connor, psychology, sociology and criminology major, like to bring their fur baby Autumn to campus to play ball, get treats and even pull dad along on his skate board. The ever-active Australian Shepard also has an important role as the Mental Health Awareness Society mascot.

Name, age and breed of dog:
Autumn is an Australian Shepherd (blue merle/tri color) and is a year and a half old.
How did you come up with her name and how did she join your family?
We actually weren't the ones who named Autumn. We got her from a local pet store and they had given her that name.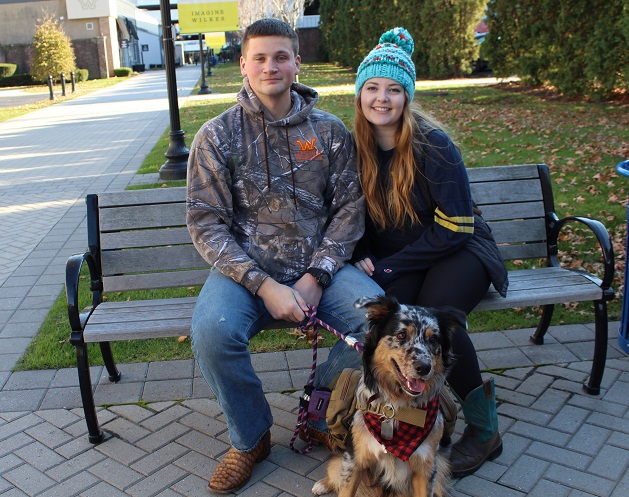 We walked in one day to get crickets for our bearded dragons. I wandered over to the puppies and saw her staring right back at me with a great big smile and her tongue hanging out. I convinced Korbin we should play with her (he knew if we did we would buy her) and instantly, we fell in love. We had just moved in together and we wanted another addition to our little family but this one was more expensive than we had planned for. Coincidentally, Korbin's mother's name is Autumn and she had fallen in love with her too and helped us buy our new baby.
We decided to keep her name because it just fits perfectly into our story of getting her. She also absolutely loves the autumn leaves and blends into them perfectly. We also thought when we first saw her that she looked like a baby deer so we decided to make her middle name Fawn. Autumn Fawn Schlichter was the absolute best name for her and the perfect addition to our family.
Does your dog have any special training?
Autumn just graduated from intermediate training and will be enrolled in advanced training in the next few weeks. After she finishes advanced training, she will be enrolled in a therapy dog certification program where, upon completion, she will be a certified therapy dog.
Autumn is also the mascot for the Mental Health Awareness Society. I will take her to club day and other events the society holds. Not only do people love her and all her many tricks she can do but she will one day be a therapy dog. I want to be able to take her to hospitals, nursing homes, and rehabilitation centers. I want her to be used to going into places that have a lot of people that want her attention and want to play with her. By starting her early, I'm ensuring that she will be the best therapy dog with her patients but also she won't be overwhelmed and lash out.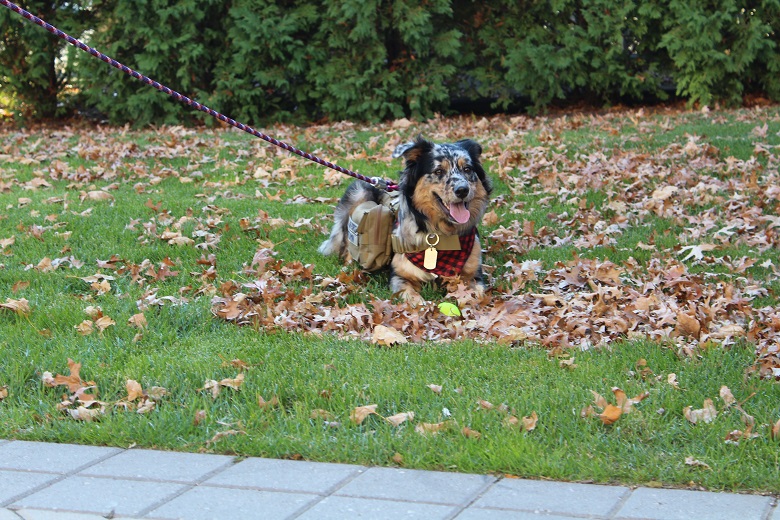 What is Autumn's favorite spot on campus?
Autumn's favorite spot on campus would have to be walking around the Greenway, especially when there are other dogs around. She loves seeing all the students and faculty walking around staring at her. She loves it more when they ask to pet her and give her love. She very much loves people and loves to make others happy. Her daddy and I will throw around a toy with her and she loves it when other dogs or friends join in too. Autumn loves all the seasons but winter is probably her favorite. We can't keep her in the house when it's snowing out. You might see her on the Greenway chasing snowflakes, running through snow mounds, or even eating the snow. Throw a snowball at her and she'll catch it, but by the time she brings it back to you she'll have probably eaten the whole thing.
What is your and your dog's favorite thing to do at Wilkes?
Autumn's absolute favorite thing is attention. She lives and breathes for it. We take her to the commuter council lounge and the ROTC lounge where she gets all the pets and belly rubs she could ever dream of. She really loves when the cadets in the ROTC lounge will play Frisbee with her in the MAC gym. She is a herding dog by nature so running is in her blood. She has so much power in her legs and can change directions in a split second. People love to watch her because of her speed and strength. She also loves to round up the cadets like they are sheep which everyone always gets a good laugh out of.
Do you live on campus with your pet?
We live off-campus on West River Street but Korbin is always taking her on campus with him. She loves to run around the AFROTC lounge or the MAC gym with the other cadets. She certainly makes sure all the cadets are in shape for their fitness tests.
What is Autumn's favorite treat?
Autumn definitely loves when she gets a surprise Puppuccino from Starbucks when her mommy and daddy go through the drive through. Her all-time favorite treat that she will drool all over you for would have to be jerky, of any kind. She loves her meats and will perform any tricks to get them.