After earning her undergraduate degree at Wilkes, Sara Pisak '16 has continued on in the Maslow Family Graduate Creative Program at Wilkes. She will complete her MFA in nonfiction this year. Her Bichon Frise Ditto has accompanied her on every step of her Wilkes journey. Writing is a solitary occupation, but even during the pandemic, Sara has never lacked for company: Ditto is always there to lend a paw. With the creative writing program beginning its (virtual) June residency on June 12, News@Wilkes caught up with Sara – and Ditto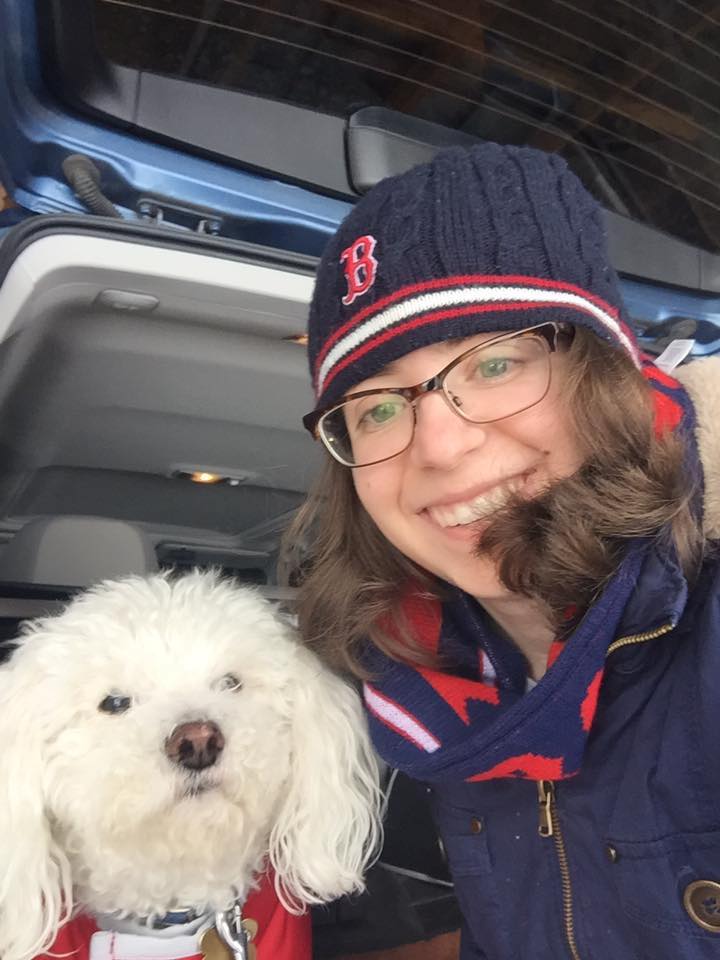 Name, age and breed of dog: Ditto is a 16-year-old Bichon Frise.
Does your dog have any special training?
Standard tricks such as sit, roll-over, shake hands, and beg aren't really in Ditto's repertoire. If you have a treat in your hand, he'll follow those commands. However, he is specially trained to ring a bell when he needs to go outside. Although not trained to do this particular action, Ditto has learned to scratch the front of refrigerator door when he is ready for dinner.
How did you come up with your dog's name?
The last of his litter and a little smaller than all the other Bichons, Ditto was a carbon copy of his brother, the only other male dog in the litter, so we named him Ditto, meaning the same.
What is your dog's favorite treat and favorite thing to do?
Ditto's favorite treat, which he only gets once a year, is my mom's homemade pizzelle cookies. They are an Italian cookie made at Christmas with a special baking iron. From the second we start decorating for Christmas, Ditto barks daily at the pizzelle iron box, until it is time to start baking.
Sleeping is Ditto's favorite activity. Followed by getting visits from our family and friends. He loves being the center of attention, following everyone around and entertaining our guests.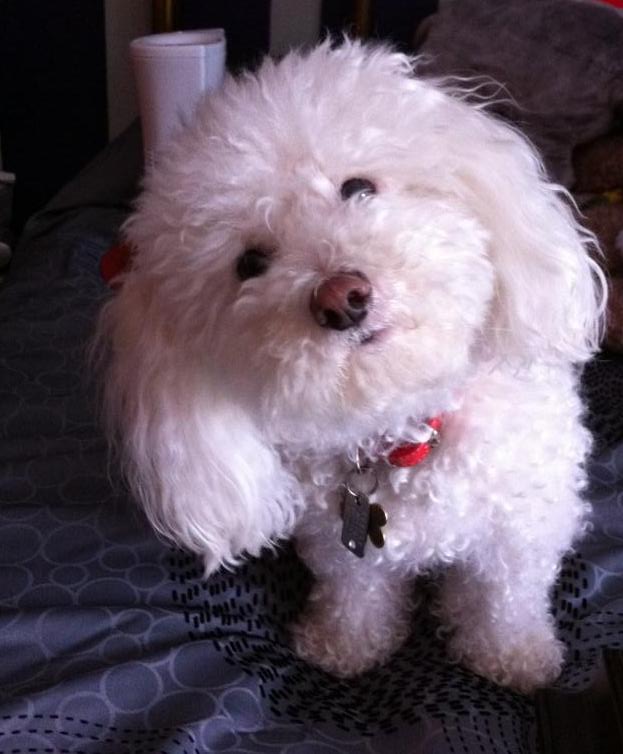 How is your dog helping you while studying/working from home during the pandemic?
Ditto has always been my homework and writing partner, since we brought him home when I was in the fifth grade. During the pandemic, he is still right by my side. When I write or grade papers, he sits next to me or wraps himself in a blanket under the desk. Being very studious and nosy, Ditto is always quick to peek around the side of the computer screen at my latest paper or reading assignment; and he is always curious to see what the students are writing. If I am working too long, Ditto reminds me with one ring of the bell that it's time to go for a walk or run around the backyard for some fresh air.