Wilkes sophomore Jess Morandi, a digital design and media arts major from Wantagh, N.Y., is a familiar sight in Towers residence hall because of her four-legged roommate – Shadow, a mixed-breed dog with ancestry that includes pit bull and West Highland white terrier. Morandi, who is completing minors in sociology and marketing, says that Shadow might be the building's most outgoing inhabitant.
Name, age and breed of dog
Shadow, who just turned 4 on Pi Day (March 14), is a quite weird mix of West Highland Terrier and Pit Bull.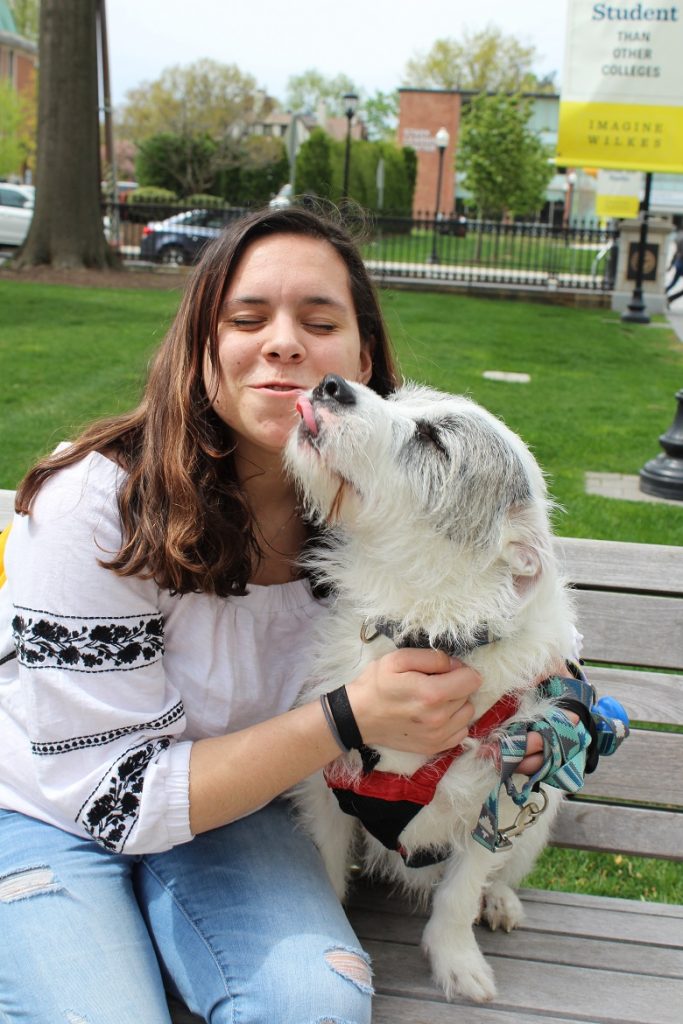 How did you come up with your pet's name?
When I adopted him about 3 years ago, he already had that name. I didn't want to change it because he was a puppy and had already been used to his name. I thought it was quite ironic that a mostly white dog was named Shadow, but I kept it anyway. I soon realized that he would follow me anywhere and everywhere I went, like he was my shadow. Pretty good naming choice on his first owner's part.
Does your dog have any special training?
Shadow is an emotional support animal (ESA) for me when I'm here at Wilkes. He isn't super trained, but he does his job. He's been wonderfully supportive of my mental health experience while I'm away from home. He keeps me sane! I don't know what I'd do here without him. He's made my experience so much better here. I would love to have gotten him officially trained to be a therapy dog, but I'm afraid he's too old now.
What is your dog's favorite spot on campus?
Honestly? He loves Towers. He gets so much love and attention there, no matter where we go or what we're doing. Fire drills are like a field day to him because he gets to see everyone– and he'll make sure he sees them all, too. He loves being in the elevator and making sure that everyone gives him pets. Hands down, Towers is his favorite place.
What is your and your dog's favorite thing to do at Wilkes?
Shadow is pretty chill, so he really likes to go on walks and just look out on my balcony. He's perfectly content with walking anywhere, so he and I usually just walk on the greenway when it's nice outside. I don't trust him being semi-loose on campus, because he loves people too much, so he'd definitely run off to every single person that he sees. We usually just sit on a bench on the Gateway and hang out.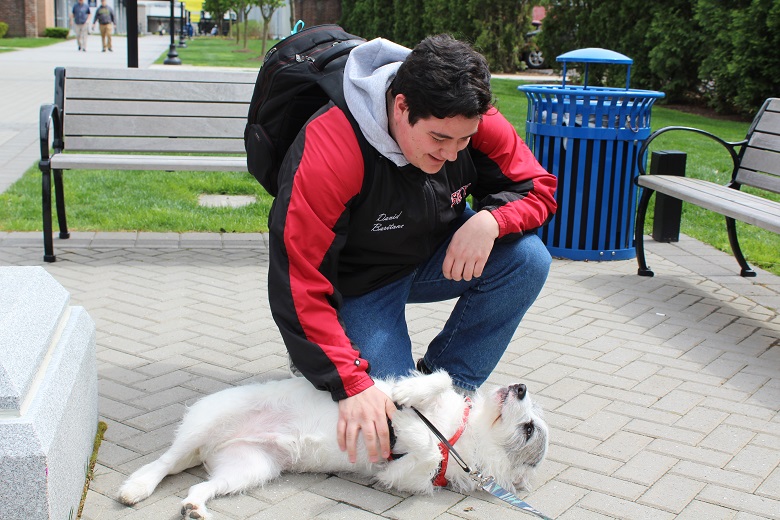 Have you and Shadow found Wilkes to be a pet-friendly place?
I think campus and the campus population here at Wilkes is very dog-friendly. Everybody loves him. I haven't had one bad experience with people regarding Shadow here. I love how accepting everyone is!
What is your dog's favorite treat?
He definitely shouldn't have too many of these, but Shadow goes absolutely crazy for Cheez-its. He always steals them from me. (I also trade him one for a nice high-five sometimes). On a more dog-acceptable side, he loves apples a whole lot!