Natural gas and its role in Eastern European conflict was the theme of the presentation from Andreea Maierean, associate professor of political science, during the Wilkes University 2022 Paul A. O'Hop Final Word Lecture.
Approximately 60 members of the Wilkes and greater Wilkes-Barre community attended the lecture, held at 6 p.m. Monday, April 11 in the Henry Student Center ballroom. Greetings were provided by David M. Ward, senior vice president and provost, and Michael A. Steele, professor of biology and H. Fenner Chair of Research.
The lecture reviewed the significance of shale gas as a strategic resource both in the U.S. and in Eastern Europe. Maierean's research highlights several key differences:
In Eastern Europe, land possession doesn't include resources like oil, gas and minerals. Those resources are owned by the nation, unlike in the U.S.

A decentralized, and often polarized, process in the U.S. means individuals states can assess how they view gas drilling. For some states, like Pennsylvania, it is viewed as an economic engine. For others, including New Jersey, it is banned due to environmental concerns.

In Eastern Europe, the outcry about the environmental impact of shale gas drilling is much grander in both scale and intensity. In 2017, Maierean visited Romania, her native country, to interview protesters. She commented that tensions have steadily increased from peaceful resistance to violent clashes. Due to this, natural gas development in Eastern Europe has stalled.
Maierean closed her presentation by outlining how gas lines in Ukraine may be one motive in Putin's invasion strategy. With Europe highly reliant on Russian gas, costs increase and continued violence may spur Eastern European countries to explore alternate energy sources.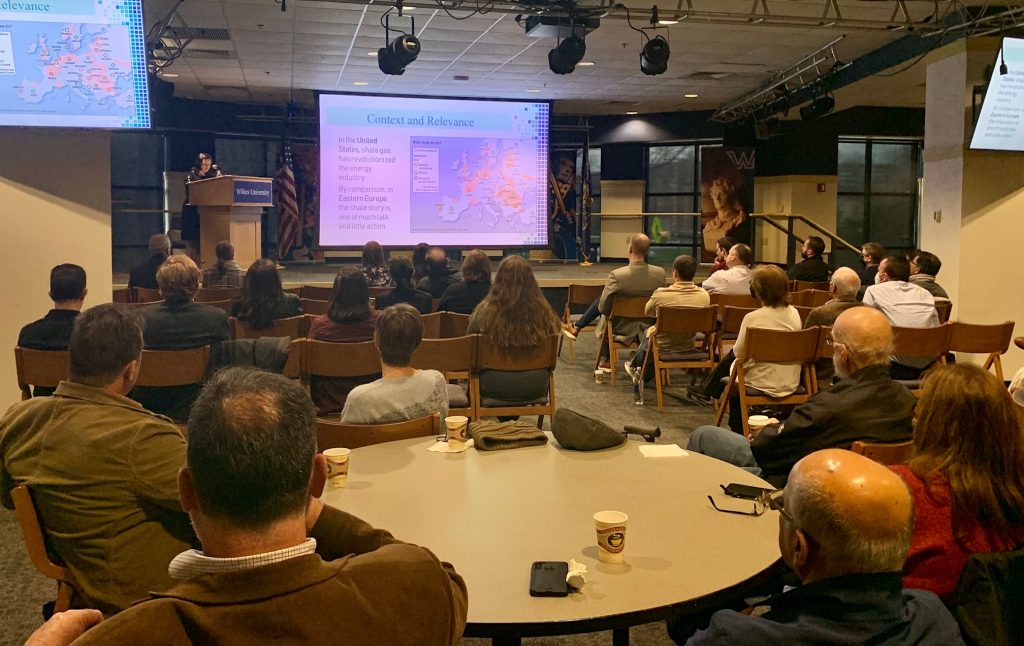 The annual Paul A. O'Hop Final Word Lecture was established by the late Paul O'Hop to foster the exchange of ideas and dialogue among faculty, staff and administrators and to showcase the talents and scholarly abilities at Wilkes University. O'Hop retired from Wilkes in 2001 after serving 16 years as vice president of business affairs and auxiliary enterprises. Faculty honorees are selected via a competitive application process overseen by the Provost's Committee on Research.
O'Hop's daughter, Lynne Feeney, was in attendance during the Monday evening presentation.
Maierean joined Wilkes in 2014 after receiving her PhD in political science at Boston University. A native of Romania, she previously studied in Bucharest, Romania at the National School of Political Studies and Public Administration; in Trieste, Italy at the University of Trieste; in Budapest, Hungary at Central European University and in Vienna, Austria at the Institute for Human Sciences.
Her research and teaching interests broadly include post-communist transitions to democracy, transitional justice and environmental policy. Her doctoral dissertation is a comparative study of lustration, a process that involved the disqualification of certain categories of former communist officials and secret police collaborators from public positions under the new regime. Maierean's current research project examines the relationship between shale gas policies and democratic governance. In 2019, she was presented with the Multiculturalism Award, given annually to a faculty member who demonstrates leadership in the advancement of multiculturalism ideals in the classroom.