Nick Kinzler is quick on his feet – in both soccer and business competitions.
As a goalkeeper for the Wilkes Colonels, the junior corporate finance major from Jackson, New Jersey, must stop the opposition from scoring. Competing in front of judges at Phi Beta Lambda conferences, his goal is to make sure he does.
PBL, the collegiate division of Future Business Leaders of America, develops career and leadership skills. In his first year at Wilkes, Kinzler earned first place in PBL's state competition for financial analysis and decision making. Then he placed second at nationals. The Honors student followed up last year by clinching first place at both states and nationals in financial services. He also took third in personal finance nationally.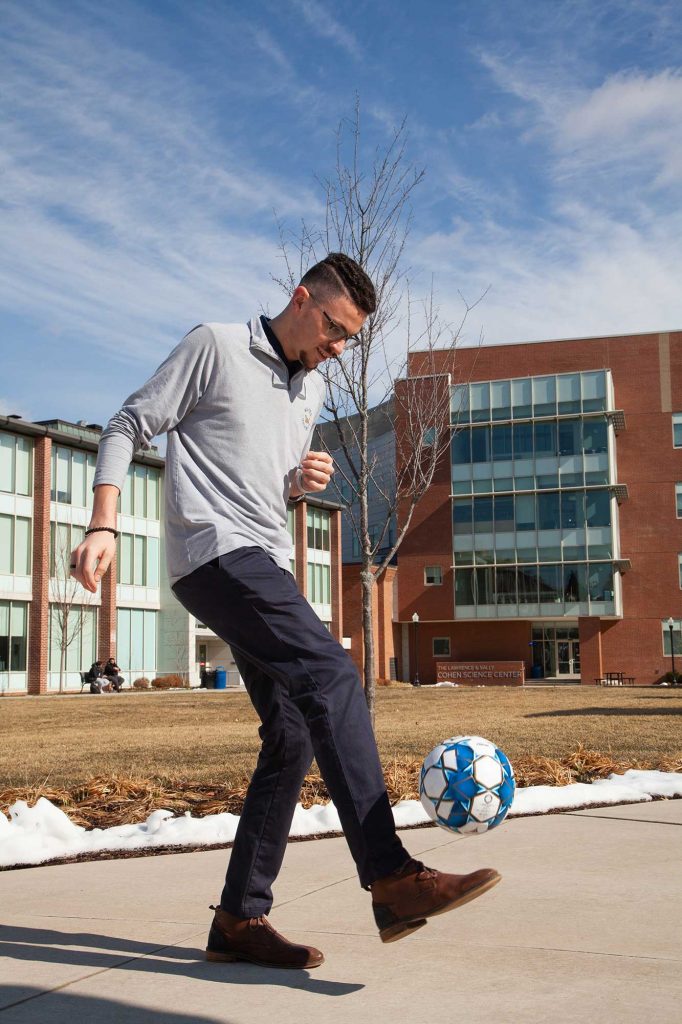 The competition features both an objective test and a performance-based segment. Students receive a business-related scenario and have just a few minutes to develop a response. The topics for the improv-like session are a closely guarded trade secret. Judges combine test and performance results, evaluating students' knowledge and ability to think on their feet.
"My professors and classes have really made me comfortable with what I'm learning," says Kinzler. "I can't take all the credit myself."
PBL prides itself on service through projects like a Special Olympics bowling event, an alcohol awareness walk, and cleanup at Blue Chip Farm animal refuge.
Advisor Mary Simmons, says the University regularly has three or four students place at states, competing against much bigger schools. "I try to help with networking and professional development," says Simmons. "That's what it's all about."
Kinzler, who is also working toward a minor in accounting, served as a financial intern for a local personal injury law firm. He conducted audits, reconciled bank statements and analyzed data, reporting directly to the chief financial officer.
After attending an on-campus career fair and investigating traditional finance opportunities, Kinzler wanted to explore some out-of-the-box options. Sharon Castano, director of internships and parent programs at Wilkes, suggested delving into the day-to-day operations of a law firm. "They get to look at the best of both worlds," Castano says. "It gives them a different perspective."