Michael A. Steele, Professor of Biology and H. Fenner Chair of Research Biology at Wilkes University, published his latest book, Oak Seed Dispersal: A Study in Plant-Animal Interactions on Jan. 5, 2021. Published by Johns Hopkins University Press, the book is touted as the definitive examination of oak forest evolutionary ecology.
One of the world's foremost authorities on oak seed dispersal and on tree squirrels, Steele's work demonstrates how animals store acorns in the ground and how certain ecological processes prevent the recovery of some acorns, allowing them to germinate, oak seedlings to take root and forests to grow.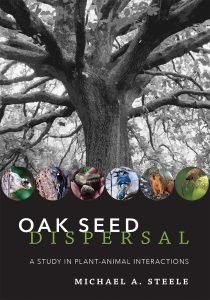 In Oak Seed Dispersal, he draws on three decades of global research in the United States, Mexico, Central America, Europe and China to describe the interactions between oaks and their seed consumers. Rodents, birds and insects, he writes, collectively influence the survival, movement and germination of acorns, as well as the establishment of seedlings, often indicating a coevolutionary bond between oaks and their seed consumers. This bond can only be understood by unraveling the complex interactions that occur in the context of factors such as partial seed consumption due to acorn chemistry, scatter hoarding, predation of the seed consumers by other organisms, and the limiting effects of masting on insect, rodent, and jay damage.
In 2016, Steele received an OPUS Award, one of the National Science Foundation's most prestigious grants, to write the book. Steele was the first faculty member at a small liberal arts university to receive the honor.
The OPUS Award, which stands for Opportunities for Promoting Understanding through Synthesis, is presented by the National Science Foundation's Division of Environmental Biology. Often awarded to mid- to late-career researchers, the awards are given to help integrate work that will produce significant insights for the scientific community. Instituted in 2013, the awards have traditionally been given to researchers at larger, research-focused institutions.
To arrange media interviews, contact Gabrielle D'Amico at (570) 592-7839.

About Johns Hopkins University Press
Johns Hopkins University Press provides authors with a reputable forum for evidence-based discourse and exposure to a worldwide audience. With critically acclaimed titles in history, science, higher education, health and wellness, humanities, classics, and public health, the Books Division publishes 150 new books each year and maintains a backlist in excess of 3,000 titles. With warehouses on three continents, worldwide sales representation, and a robust digital publishing program, the Books Division connects Hopkins authors to scholars, experts, and educational and research institutions around the world.
About Wilkes University
Wilkes University is a private, independent, non-sectarian institution of higher education dedicated to academic and intellectual excellence through mentoring in the liberal arts, sciences and professional programs. Founded in 1933, Wilkes is on a mission to create one of the nation's finest doctoral universities, offering all of the programs, activities and opportunities of a large university in the intimate, caring and mentoring environment of a small college, open to all who show promise. The Brookings Institution ranked Wilkes 14th in the nation for middle-class mobility. In addition to 45 majors, Wilkes offers 24 master's degrees programs and five doctoral/terminal degree programs, including the doctor of philosophy in nursing, doctor of nursing practice, doctor of education, doctor of pharmacy, and master of fine arts in creative writing. Learn more at www.wilkes.edu.