The late faculty member has been conferred the title Professor Emeritus and is the recipient of the inaugural Arthur J. Hoover Legacy Award.
Musician, mentor and friend. These are just some of the words used to describe the late Dr. Steven Thomas by Wilkes University faculty, students and alumni. Now, the University has added two distinctions to honor his long-lasting impact on the campus community: the title of Professor Emeritus and his designation as the first recipient of the Arthur J. Hoover Legacy Award.
Dr. Thomas, professor of music and chair of the Division of Performing Arts, passed away on July 12, 2020. A passionate artist and cherished colleague, Dr. Thomas succumbed to a yearlong battle with cancer just days before his 50th birthday. In addition to his work at Wilkes, Dr. Thomas was well known in the greater Wilkes-Barre community as the music director of the Arcadia Chorale, the premier northeast Pennsylvania chamber choir. 
But perhaps his most notable impact is the one he had on Wilkes students. As a result, Wilkes posthumously conferred upon him the title of Professor Emeritus. The honor was announced at a meeting of the faculty in November.
Emeritus status is an honor bestowed by the University to show respect for a distinguished career. The title acknowledges that though one may not be part of the institution any longer, the individual will always be part of the Wilkes community. Although the honor is typically reserved for those retiring from the University, Dr. Thomas was recognized posthumously due to his lasting legacy on music education.
Dr. Thomas was nominated by Joseph Dawson, associate dean of the College of Arts, Humanities and Social Sciences and interim chair, on behalf of his colleagues in the Division of Performing Arts. Taken to the board of trustees by Wilkes President Greg Cant and Interim Provost and Senior Vice President Terese Wignot, the motion received unanimous support.
In addition to Dr. Thomas, seven retiring faculty members also received emeriti status. Click here for more information on all honored faculty members.
"Through Dr. Thomas's diligent attention to detail, many University events were elevated by classical choral and instrumental music," wrote Dawson in his nomination letter. "Dr. Thomas supported all the arts by advocating for staff, faculty, and resources necessary to sustain vibrant programs and public performances. He was an indispensable cultural and intellectual catalyst for quality artistic endeavor."
In August, Dr. Thomas was also the recipient of the inaugural Arthur J. Hoover Legacy Award. The University created the award to recognize the outstanding contributions of a member of the campus community whose career embodied the core values of Wilkes, and whose impact on the University and its students will endure through time.
The award is named for Hoover '55, who had a 31-year career at Wilkes, in which he served in roles on the faculty and in the administration. In 1986, he died suddenly at age 53, just five months after being appointed as only the second Dean of Student Affairs in Wilkes's history.
The award was announced during the fall convocation of faculty and staff members. Dr. Thomas's wife, Susan Minsavage, accepted the award on his behalf and provided a meaningful and emotional reflection to the campus community.
"Steven's ensembles attracted singers from across the University. His students are now teachers, actors, pharmacists, nurses and engineers who were brought together at Wilkes by Steven and their shared love of music," said Minsavage. "But his guidance didn't stop when class was over. His genuine interest in each student inspired confidence and his talent inspired excellence, qualities his students then took into all areas of their lives. When Wilkes students and alumni remember 'Dr. T,' they speak of how his influence transcended the rehearsal room. They recognize, even after his passing, the enduring power of that influence as they build their own careers and families."
Dr. Thomas came to Wilkes University in 1999. In addition to his role as a faculty member and department chair, he also directed the University Chorus and the Chamber Singers. He sang tenor in the Lyric Consort, an eight-member professional a cappella ensemble, and prepared choruses for performances with a wide variety of ensembles and artists, including the Northeastern Pennsylvania Philharmonic, the Hartford Symphony, the Boston Camerata and Dave Brubeck. He served as the music director of the Arcadia Chorale for 15 years.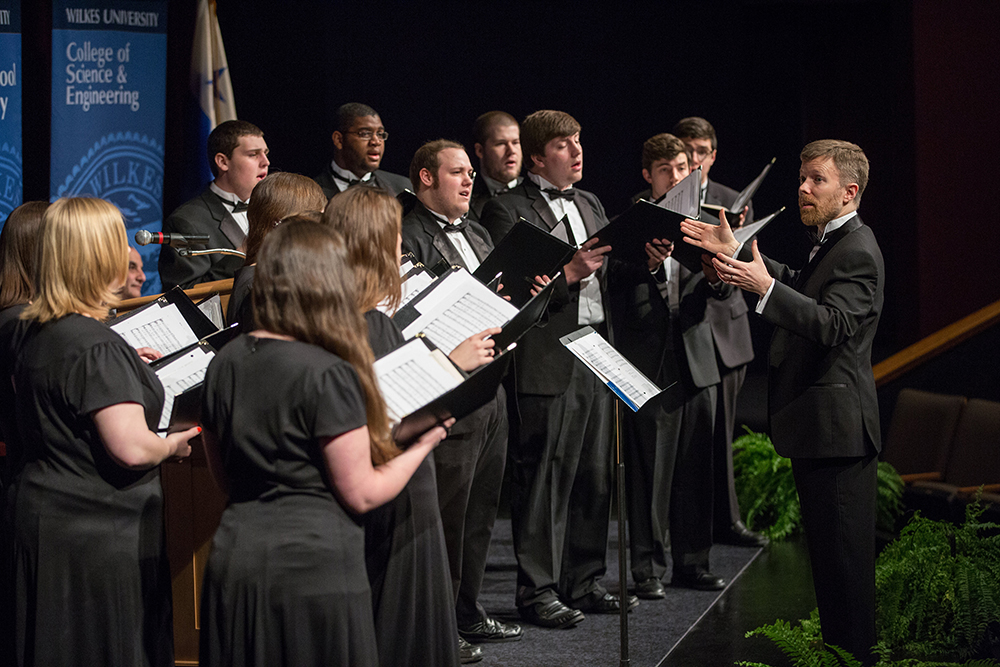 In announcing his passing to the campus community in July, Wignot wrote, "Steven was an incredible talent, consistently kind and a passionate supporter of our students. As I sit in my office and hear the alma mater playing from the Bell Tower, I cannot help but picture Steven at graduation conducting and leading our students in song. Commencement will not be the same without him."
A native of Kansas City, Missouri, Dr. Thomas earned his Bachelor of Arts in Music from Harvard University and his Doctor of Musical Arts in Choral Conducting from Yale University. During his career, he studied with Jameson Marvin, Beverly Taylor, Marguerite Brooks and Murry Sidlin. He was a member of several professional organizations, including the American Choral Directors Association, the College Music Society and the Pennsylvania Music Educators Association.
In addition to his wife, he is survived by his parents, Marian and Timothy Thomas, Kansas; his brother, Peter Thomas, sister-in-law Diana Steele, and their daughters, Mariana and Eliza Jane, all in Ohio; and his sister, Julie Thomas, Kansas. He is deeply mourned as a brother and uncle by his Minsavage family as well.
In response to Dr. Thomas's passing, the Lyric Consort has commissioned new choral works in his memory and the Arcadia Chorale has dedicated their 2020-21 season to him. The Chorale has also established a Memorial Scholarship to honor his dedication to the education of young singers. The scholarship will be awarded annually to a student who sings with the Chorale.
A memorial concert is scheduled for Sunday, Oct. 3, 2021, at St. Stephen's Episcopal Pro-Cathedral in Wilkes-Barre. Wilkes choral students and alumni, the Lyric Consort and the Arcadia Chorale will be joined by Canon Mark Laubach, organist, and members of the Arcadia Chorale's Bach Festival Orchestra in performances of repertoire meaningful to Dr. Thomas. Family, friends, colleagues, students and alumni are welcome to attend this celebration of his life, which will be open to the public in accordance with recommended health precautions at the time. The event will be recorded for those who cannot be in attendance. More information will be shared in the months ahead.