Wilkes celebrates a safe return to campus and a successful fall semester
As we embarked on this academic year, the phrase "Colonels Combat COVID" became the rallying cry and mission for the students, faculty and staff at Wilkes University. Eager to return to campus after a sudden departure in March, it was the work of the collective Wilkes community that allowed students to finish the semester as it started: on a bustling, residential campus and with classes that blended a variety of in-person and remote learning experiences.
"Staying healthy, focused and open has been possible because of the diligence of the whole Wilkes community," wrote University President, Greg Cant, in an email to the campus community. "We certainly have had strong guidance and leadership by our COVID-19 Taskforce, but their good work would have been in vain if our students, faculty and staff had not embraced personal responsibility."
In February, the University created the COVID-19 Task Force encompassing professionals from every area of our University. Though the task force initially helped guide the University's decision to vacate campus and suspend university events in the spring, their work quickly morphed into planning a return that was as safe, healthy, and academically and socially rewarding as possible.
Most notable was the decision to start and end classes early. The bulk of the campus community returned in mid-August and departed by Thanksgiving, avoiding the most recent winter surge. In addition:
Face masks were required in all indoor and outdoor campus spaces.
Class sizes, locations and formats were adjusted to allow for as much social distancing as possible.
Extended breaks were eliminated to discourage travel and ensure a continuous semester of study.
New foot-traffic patterns were implemented, as well as revised offerings in dining locations and outdoor seating.
Enhanced cleaning measures were used following CDC standards, thanks to colleagues in Facilities.
University-sponsored travel was suspended for students and employees.
Fall athletic competitions were suspended by the Middle Atlantic Conference (MAC) and the United Collegiate Hockey Conference (UCHC).
But most importantly, Wilkes established the protocols to isolate, test and contact trace confirmed campus in partnership with the Wilkes-Barre Health Department. Symptomatic students were tested in Health and Wellness Services using rapid tests that provided results in as little as fifteen minutes. Two asymptomatic testing days were also offered prior to students leaving campus in November. In all, nearly 500 tests were administered.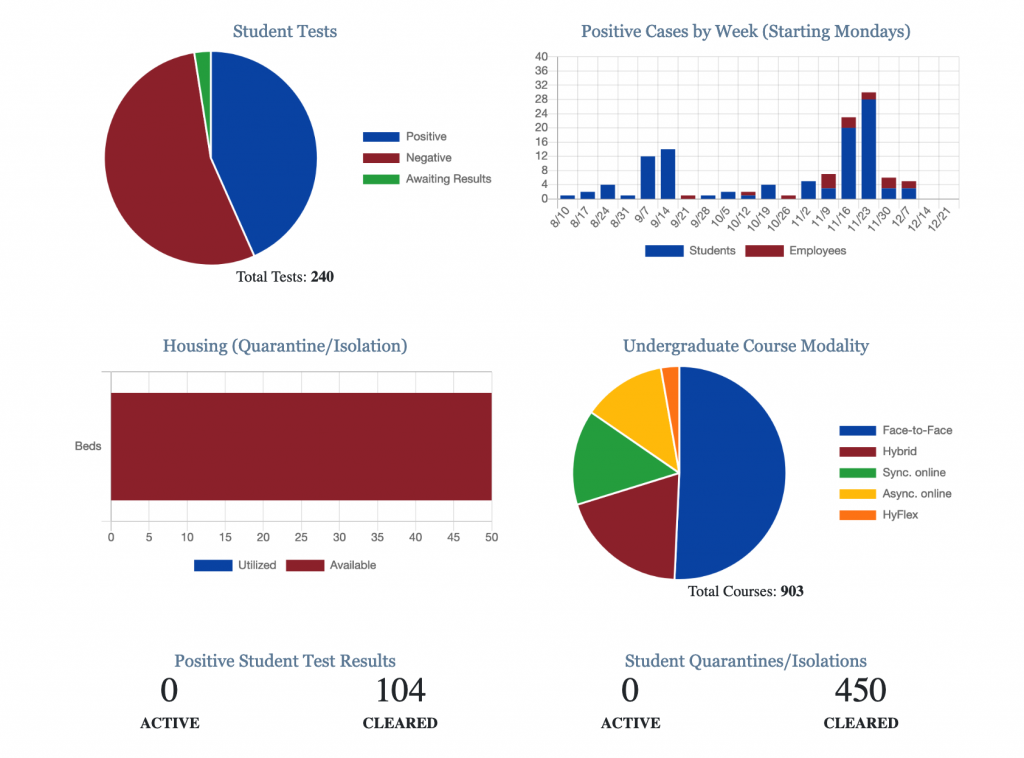 As a result, cases remain relatively low, even as COVID-19 surged in the surrounding areas. Student cases peaked at 35 during the week that they began to go home. Cumulatively, the University had 104 student cases and 17 among employees as of this writing.
"Ultimately we have looked after each other. We have cared for one another the way our Colonels are known for. And I believe we can all be very proud of the Wilkes community," wrote Cant.
View the links below for more COVID-19 campus resources: