To engineering students, Jim Lennox is a familiar name and face on campus. Having joined Wilkes in 1985, Lennox is the director of instrumentation in the College of Science and Engineering, meaning he installs and repairs electronic equipment. When he's not doing that, you can find in the machine shop or in other areas of the Mark Engineering Center helping students and faculty with their projects.
What students may not know is that Lennox is also an art collector, a metal sculptor, an inventor, and most recently, the subject of a three-page spread in the October issue of Dirt Bike magazine. The article documents his six-month rebuild of a Husky Auto, a popular dirt bike from the 1980s. Lennox perfected the design from more 30 years ago, bringing the best elements of the bike into the 21st century with his personal touches.
"I raced the 430 Husqvarna Automatic back in the late '80s but always wanted to have the auto engine in a late-model frame with upgraded suspension. It took a lot of design and fabrication but I'm very happy how it turned out," said Lennox. "I feel honored to have it featured in the magazine."
Lennox was an off-road KTM racer when he was in his 20s. In 2018, he got back into riding, building a six-mile loop on his sprawling 66-acre property near Hunlock Creek. The article in Dirt Bike magazine details Lennox's process from a full engine rebuild to fabrication of the subframe. With his own fabrication shop at his home, he was able to put his engineering skills to work.
Creating, inventing and rebuilding are what Lennox does best. With 10 patents to his name, he is constantly working to blend his engineering background and artistic mind. His patents date back to the 1980s when he helped invent a disposable syringe that automatically retracts to prevent accidental needle sticks among medical workers. He also worked with fellow Wilkes employee, Joe Wilk, network administrator in Information Technology Services, to patent a no-spotter weight bench.
But Lennox's greatest joy is collaborating with students. He worked with a student with a shoulder injury who wanted to continue to work out. Together, Lennox and the student patented a special-angle barbell that would allow those with injuries to continue to lift while alleviating pain. He cites it among his favorite projects.
His line of safety fitness equipment, Maxx Strength, was born out of a need for weightlifters to lift safely without the need for a spotter.
"It took 30 years and four patents, but I was able to start a company and go into full production. I recently sold my stake in the company but they are still going strong," said Lennox. "Inventing and designing is my passion. With my background in fabrication and design, I've helped several faculty and students bring their ideas to fruition, and in some cases, we wound up with patented products."
So where might you find Lennox during a free afternoon? "In my studio or workshop making art or restoring a '66 Sunbeam Tiger car, or building a motorcycle, or just creating something!"
Read on for more about Jim Lennox.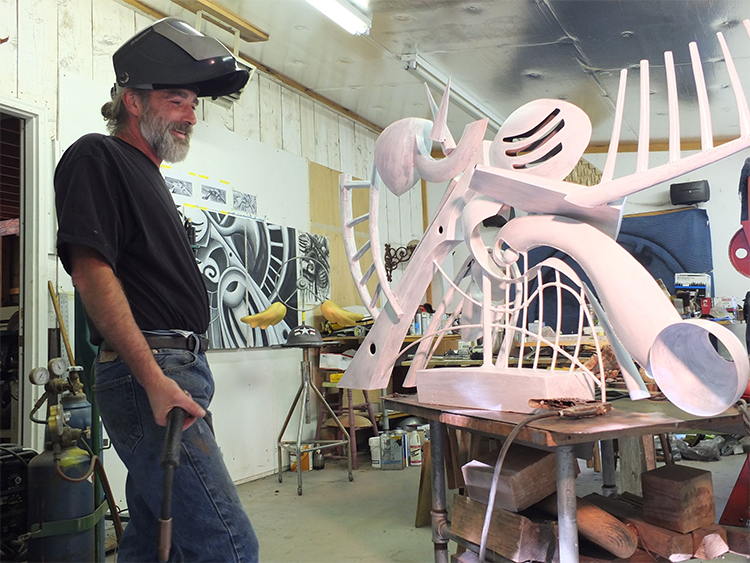 My favorite Wilkes memory is when I got hired by Wilkes College back in 1985. Dr. Umid Nejib interviewed me. I had just gotten out of the U.S. Air Force and it was my first job interview. Needless to say, I was intimidated by him and he raked me over the coals. I walked out thinking I had zero chance of getting hired. A few weeks later, as I was preparing to go to an interview at the Nashville airport, Wilkes called me with an offer for an electronics technician position. After a year or so, Dr. Nejib promoted me to the manager position of the Engineering Tech Support group. Dr. Nejib became a great mentor for me and I will always cherish those memories.
Right now, I'm reading… I've been off and on reading the biography of Jean Tinguely. He's one of my favorite artists who created chaotic kinetic sculptures. I am also involved in making large scale puppets and Tinguely's work is very inspiring.
People would be surprised to learn that I have been a successful artist/metal sculptor for over 30 years. I mostly work in sheet metal but love to paint and make found-object works. Currently I have a sculpture in a national traveling show with Ken Marquis' Landfillart.org project.