January is Mentoring Month and this News@Wilkes story highlights the strong mentoring culture and the many mentoring relationships on campus.
When McKaylah McKay, a digital design and media arts major, needs encouragement on a creative project, she knows she can count on assistant professor Lisa Reynolds.
"She always gives you the opportunity to make yourself better as a creative," says DeKay. "She always pushes you to break the rules in a good way." (Read more about the student/professor relationship here.)
DeKay's comments reflect a fundamental part of what it means to be a student at Wilkes University: students are mentored during their college years by faculty, staff and even fellow students.
The web site and non-profit organization mentoring.org has research documenting the positive impact of mentoring on student success. Wilkes students' experience affirms that research, with their growth in and out of the classroom strengthened by their relationship with their mentors. In fact, mentoring is so fundamental to the Wilkes experience, first-year students are guided by e-Mentors, a group of students who contact them before they even come to campus and continue throughout the first academic year. Once on campus, other mentoring relationships blossom.
Mentorship With Faculty
Assistant professor of digital design Lisa Reynolds' relationship with McKaylah McKay is just one of the faculty/student mentoring stories at the University. Another is student pharmacist Zarrra Mirza's work with associate professor of pharmacy practice Kimberly Ference. "She's a good motivator to be more than just a good student," Mirza says.
Stories about these student/faculty mentoring pairs can be found at https://www.wilkes.edu/academics/mentorship/.
Mentors help guide students in myriad ways. Senior marketing and management double major Ashley Abbey decided to minor in communication studies with the guidance of Mia Briceno, associate professor of communication studies. "I didn't originally have a communications minor, but I took her public speaking class and she was super enthusiastic about it," Abbey says. "She would drop little hints that I should look into being a communications minor." 
"Mentoring is about an apprenticeship."

Mike Steele, Professor of Biology
Similarly, sophomore biology major Holly Jones credits the mentoring she received as a student in the Women Empowered by Science Camp that the University sponsors for middle-school girls with leading her study science at Wilkes. "I did look at other schools but Wilkes and WEBS was it," Jones says. "Being here every year as a volunteer—everyone was so nice." She continues to be mentored by Deb Chapman, who directs WEBS and is faculty of practice in biology. Jones pays it forward by mentoring girls who attend WEBS as she serves as the camp's student coordinator. 
Working with faculty on research provides another opportunity for students to be mentored and guided questions we have, and help us make the connections with what we learn in our classes to what during their academic career. Senior Amina Mustafa is one of several students who work with Linda Gutierrez, associate professor of biology, on research related to the role obesity may play in the development of cancer. "Working with Dr. G is amazing," Mustafa says. "She's so knowledgeable and pushes us to be our best in and out the lab. She truly cares about her students and always checks in on us. She does everything she can to help us understand the material by sending up supplemental materials, meeting with us to answer any we do in lab."
Enduring Influence
Mentoring relationships last beyond graduation. Katie Pearson Desiderio '01 MBA '03 is now excecutive director of graduate business programs and associate professor at Moravian College in Bethlehem, Pa. She's followed in the footsteps of her Wilkes mentor, Anne Heineman Batory, professor emeritus of marketing. "I thought I was most interested in marketing, but Dr. Batory asked me, 'Did you ever think about teaching?' " Desiderio says. That question led to her examining her career path.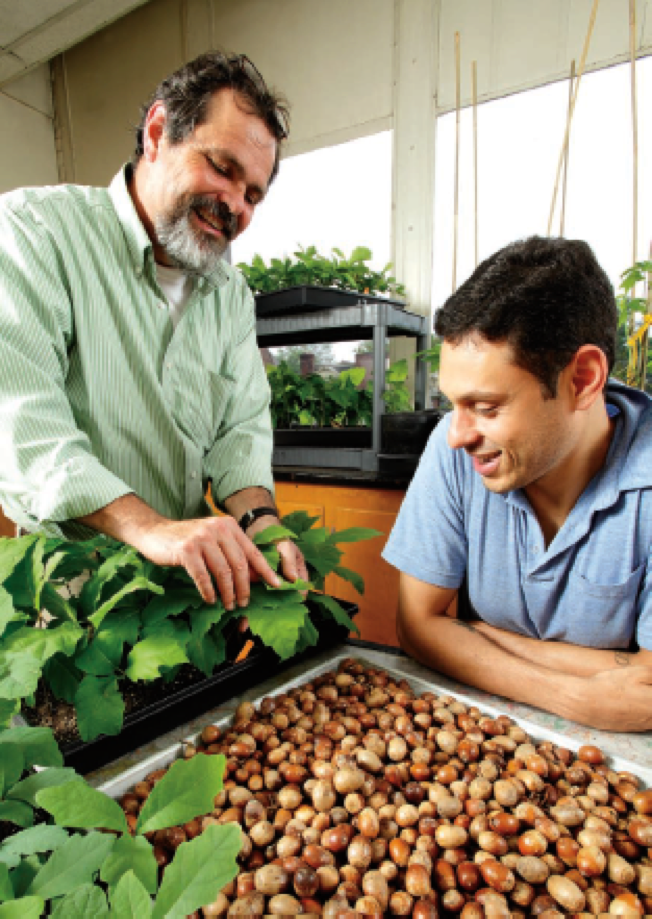 The same came be said of Salvatore Agosta '98, who is now a tenured professor and researcher at Virginia Commonwealth University in Richmond, Virginia, after earning a doctorate in ecology from the University of Pennsylvania. The guidance of biology professor Mike Steele set him on that path. "I came here as a history major not knowing what I really wanted to do," says Agosta. "He facilitated my going to the school for field studies in Kenya in the summer after my sophomore year. After that, I pretty much knew what I wanted to do.
Steele, who has mentored many students, is a believer in the process. "Mentoring is about an apprenticeship," Steele says. He now considers many former students he mentored to be his colleagues. That's the case with Agosta. "He and I will be collaborators for the rest of our (professional) lives," Steele says.