Identical twins Dante and Nick Gazzola, 21, clearly have a lot in common. But where they went to college almost wasn't one of them.
"We kind of decided before we started looking for colleges that we could go our own way if needed. There wasn't any pressure to select the same school," said Dante.
They toured several, including Salve Regina University in Rhode Island, but ultimately, they both found their home at Wilkes University.
"It just fit," commented Nick. "We had a great visit and I think we both knew it was where we wanted to be."
And a great fit it was. The twins went on to reside with some of the first students they met on campus four years ago, during their first overnight, who they call their best friends. And they flourished in a wealth of opportunity that Wilkes offers.
They served as senior class officers, Nick as secretary and Dante as treasurer.
They were co-presidents of the personal finance and investment club.
They both played football for three of their four years on campus.
Most notably, they both majored in finance and graduated with their bachelor's degrees moments from each other on Saturday, May 20, during the 76th spring commencement at Wilkes University.
When explaining what inspired them to study finance, they cited their mother, Lisa Propati, who serves as vice president for Weiler Labeling Systems, a division of Promach. When explaining what inspired them stay in finance, they credit two individuals.
"Dr. (Ken) Wang (associate professor of finance) has been amazing. He shares his life with you and it opens the door for you to do the same. We know about his wife and his kids and his interests. He cares about his students so much," said Dante.
"And you're pretty much guaranteed to never leave his office without candy," Nick joked.
They also credit Dean Frear, associate professor of finance, with providing the foundation of finance through his real-world experience in the field.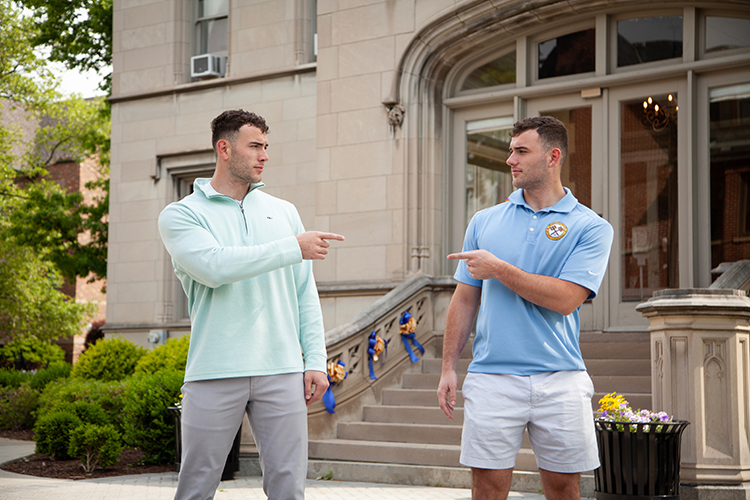 When asked for their favorite Wilkes memory, a more recent one serves as Dante's. "It was just this week (senior week) when we ended up at the Riverfront as the sun was coming up with some of my closest friends (2023 pharmacy grads Stephanie Hauser and Riley Smith and business grad Abby Barcless). I'll never forget it."
"Seeing friends from all different aspects of campus life, sports teams and clubs, come together to celebrate all we have accomplished was a lot of fun," agreed Nick.
Now they are off to start their careers in finance. Dante will be working as a financial advisor at Barrett Financial Solutions in Woodbridge, New Jersey, and Nick is joining Goldman Sachs in an analyst position. They will continue to live together initially in Cherry Hill, New Jersey, as they grow in their careers.
When asked what it meant to share his college experience with his brother, Dante said, "It meant everything. We watched film together for football, we studied and quizzed one another. Seeing each other grow was really special. I'm glad to have such a talented kid as my twin brother."