The Wilkes University student team has won the statewide final in the America250PA marketing competition. The marketing competition challenges students to come up with a campaign promoting the 250th anniversary of American independence in Pennsylvania. The team competed at the Nov. 19 event held at the Wilkes-Barre Connect Conference at The Woodlands. The Wilkes student team had previously tied for first place at the regional competition held in October.
The student's marketing pitch entitled "Pennsylvania First and Foremost" is an integrated campaign to celebrate all of the firsts that happened in Pennsylvania. The focus of the student campaign was America's 250th birthday and Pennsylvania's pivotal role as one of the original colonies and the nation's first capital.
The team included Madison Kaminski, Daniel Kultys, Logan Rock, Aaron Smith, Sal Purpura and McKaylah DeKay.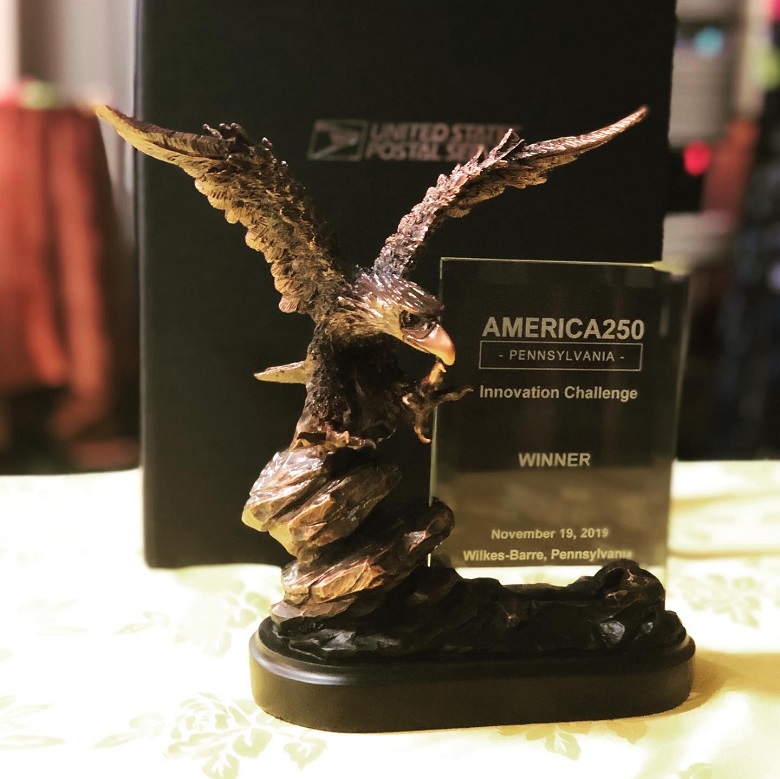 The Wilkes team was presented with a trophy at the event. Each team who participated in the finals received $100 for their work, and the winning team received an extra $250 prize.
"There were 200 students competing from across the state since the first round in September, so to be the last six standing at the end is a big deal for our little program," says Lisa Reynolds, academic advisor to the team and assistant professor of digital design and media art. "We are just super proud of their hard work."
The Wilkes team competed against Community College of Philadelphia King's College, Lycoming College, Messiah College, Millersville University, Point Park University and Robert Morris University in the final.
The campaign will be put to use during the 2026 commemoration. The America250PA Direct Effect Innovation Challenge is supported by Wilkes-Barre Connect, in partnership with the United States Postal Service and Maga Design Group. Established by the legislature and governor in 2018, the event works to plan, encourage, develop and coordinate the commemoration of the 250th anniversary of the founding of the United States, Pennsylvania's integral role in that event and the impact of its people on the nation's past, present and future.
Check out the Times Leader's coverage.