There's no mistaking Wagiha Taylor's office in the Sidhu School of Business. It's the one with the four-foot tall poster featuring Taylor's elegant, smiling image and highlighted with Arabic writing. The poster – a memento from an international conference where Taylor was a guest speaker — is mounted on the office's exterior glass wall. But even without the poster, a visitor might quickly deduce that the office belongs to Taylor, with decorations and contents as colorful as she is.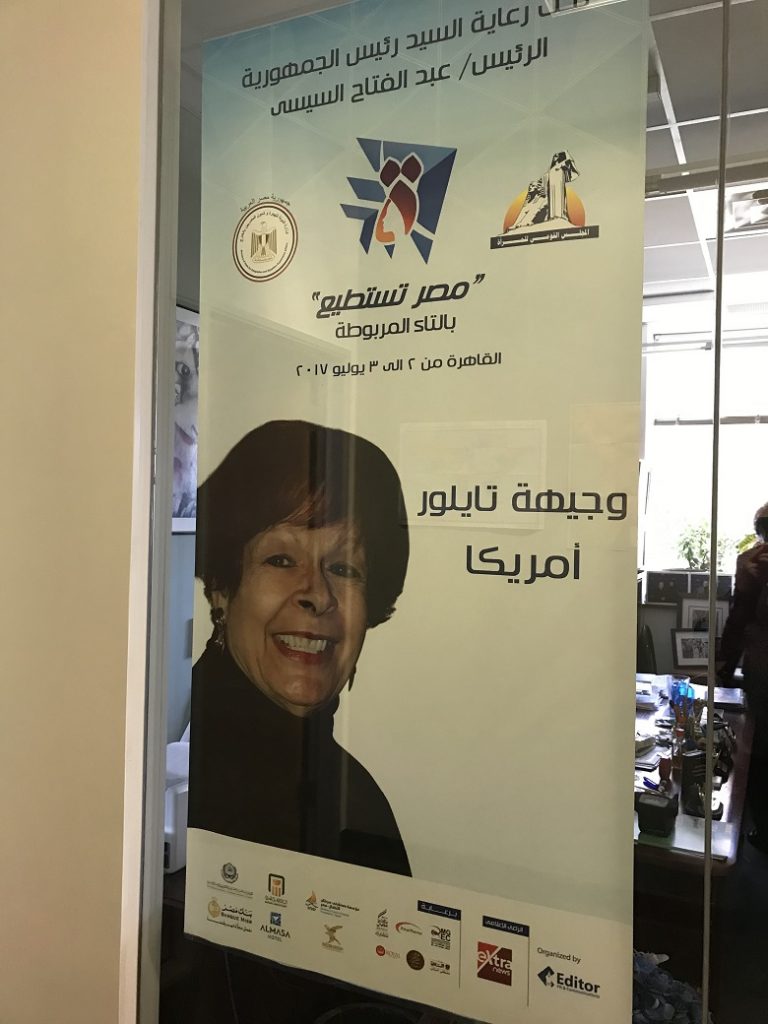 Taylor, who specializes in teaching international business and economics, has an office that reflects experiences from a half-century as a business professor at Wilkes. She is the University's longest-serving faculty member. That's one of the things that sets her apart. She's also known for her penchant for clothing that is both colorful and stylish and her collection of chandelier earrings. It's no surprise that her office space reflects her colorful persona.
A rainbow proclaiming that the office's inhabitant is a Colonel Ally marks the entrance to her office in Room 216H in the University Center on Main. It affirms that it's a safe space for LGBTQ students on campus. Bright colors continue inside. Visiting Taylor's office it is like entering a small art gallery. Two walls feature artistic prints and posters, each wall almost entirely covered by framed art work. Artists represented include French impressionists and the American illustrator Norman Rockwell, whose famous depiction of The Golden Rule is prominently displayed. Taylor points to one poster, advertising an exhibit of work by the Soviet avant-garde artist Kazimir Malevich, that hangs on the cork-covered wall, just inside the door. "I carried that on the plane, all the way from Russia," she says.
Framed artwork covers the walls in Taylor's office

In one of many photos in her office, Taylor is pictured with Anwar Sadat.
A floor-to-ceiling bookcase displays Taylor's collection of decorative items, shot glasses, coffee mugs and other collectibles. Some were gifts from students, such as the pair of colorful camels given to her by two Middle Eastern students. Others are items she acquired on her travels. In addition to personal travel, Taylor takes a contingent of Wilkes students on a trip during spring break each year for a class called the "International Business Experience." Taylor alternates the destination, some years going to the United Kingdom, other times traveling to Austria, Germany and Switzerland. Photos and items from those trips also adorn the office.
The lower two shelves of the bookcase are reserved for the mugs and glasses she buys each time she attends a Broadway show or visits some place new. Taylor loves spending the day in the Big Apple and is a fan of theatre. "Wicked" and "Aladdin" are just two among the many musicals represented on her shelves.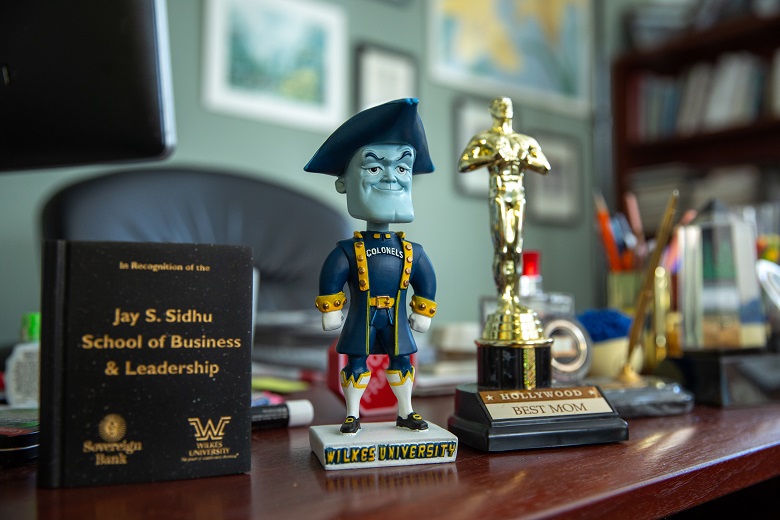 One section of her office, just under her window, features photos of Taylor with dignitaries and political figures. There are photos of her with Holocaust survivor and Nobel Laureate Elie Wiesel, former Mexican President Vicente Fox and former Secretary of State Madeline Albright – all taken when the three visited Wilkes as part of a speakers series. Taylor, a native of Egypt, also has photos of herself with two of that country's leaders: Anwar Sadat and Hosni Mubarak. Family photos of Taylor's three daughters and her grandchildren also dot the room.
A row of political campaign buttons adorns the corner of her desk. It's a decidedly bi-partisan collection, with buttons from both the Clinton-Gore and Trump-Pence campaigns. Another button declares that she's a proud Penn Parent: One of her daughters is an alumnus of the University of Pennsylvania. A pair of items on the desk further reflects her dual roles of professor and mother: a bobblehead of the Wilkes Colonel sits side-by-side with a small trophy proclaiming Best Mom. Taylor displays both with pride.
For more pictures from Taylor's office, please scroll down. Taylor also was featured in the newest issue of Wilkes Magazine. Check out Woman of the World, here.
A mug from the Broadway show Aladdin.

Colorful camels were a gift from students.


Taylor's collection of mugs and glasses.

The entrance to Taylor's office.

Taylor meeting Hosni Mubarak.

Taylor's collection of buttons.

Taylor with Nobel laureate Elie Wiesel.

Taylor with former Mexican president Vicente Fox.