Jeff Talarigo comes to the Wilkes campus just twice a year – but he's still a part of the University community year-round as a faculty member in the Maslow Family Graduate Creative Writing Program. The program follows a low-residency format that brings students and faculty to campus twice a year for eight-day residencies. The rest of the time, students work with faculty mentors in online classes or one-on-one on their creative projects in fiction, creative nonfiction, poetry, playwriting and screenwriting.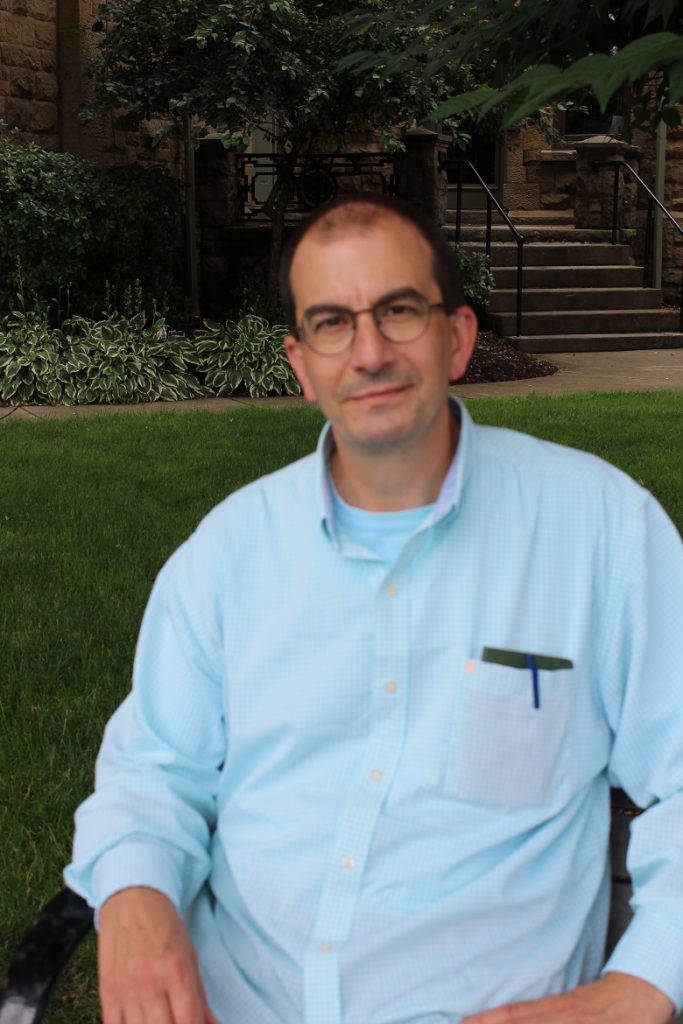 Talarigo is a novelist whose published works are The Pearl Diver, which was awarded the American Academy of Arts and Letters Rosenthal Award and was a Kiriyama Prize notable book, and The Ginseng Hunter, which was placed on the American Library Association's Notable Book List of 2009. His most recent novel is In The Cemetery of the Orange Trees, which was published by Etruscan Press, an independent press based on the Wilkes campus.
When Talarigo was on campus in June, News@Wilkes sat down with him to learn more about his career a novelist and teacher and about his avocation, photography.
Since you aren't physically at Wilkes year-round, where is home for you?
I live in Oakland, California. It's heaven. The weather's wonderful. We've been there six years. I love living there. Literally my second hour there, I felt at home. It's also the number one most diverse city in the country. My wife's Japanese, my son's all kinds of mixes, so it's a great place to be.
How long have you taught in the Wilkes program and how did you come to teach here?
It's my eleventh year in the program. Colum McCann (National Book Award-winning novelist) recommended me. Colum McCann and I go way back. I met him in Japan back in 1993. It was in a smaller city and there were very few foreigners. I'd just gotten back from Gaza. And somebody told me at the English school I was teaching at, 'You have to meet Colum McCann, an Irish writer.' I met him about three weeks after that. From that moment we became instant friends…. Colum called Bonnie (Culver, creative writing program director) 11 years ago and said, 'Jeff Talarigo would be an amazing teacher.' " January 2009 was my first residency.
What do you like about teaching in a low-residency program?
The sense of community. Coming back here is a community. I have friends on the faculty. I come back here and outside of class, we'll get together and talk books…. We'll have a drink and talk books. How often can you do that? I also love it because I can live in Oakland, but I also have family here. My mother's here, my sister's here, so twice a year I get to come back and visit family. (Editor's note: Talarigo is a native of western Pennsylvania.)
You were a journalist earlier in your career. How did you transition to become a novelist?
Here at Wilkes you have this great sense of community with the faculty, with the students. My first 10 years of writing, I literally wrote alone. I didn't have a big support network. I didn't start reading literature until I was 25. I started really late. Then I just really started studying books, looking at how they were telling the story. The books were my mentors. I've always had a nose for the news, a good sense of a story as a journalist. I always had really great ideas. And for my novels, I've always had ideas that are very different than what other people are writing. I've learned to trust that.
Do you have a writing routine?
I get up very early every day. I wake up at 4:45 in the morning every day and write and work. I teach English as a second language 6, 8, 10 hours a day, so my writing time is before I go to teach. A nap saves me.
Your naps are part of the culture of the creative writing program. People in the program used to say "I'm going to take a Talarigo" instead of "I'm going to take a nap." Is that still the case?
Yes. The other day, I was with (creative writing program co-founder) Mike Lennon at lunch. It was the first day. I had just arrived from California. And Mike had just come in from Boston. And he said, "I'm going to go take a Talarigo." I think it was (creative writing faculty member) Kaylie Jones who first used Talarigo as a part of speech.
You share your nature photography on social media. How did you start taking photos?
I was into photography years ago, before it was digital. But it was very expensive. Maybe four years ago, my son bought me digital camera as a gift. It was a pretty basic camera. The camera I use now is a Sony A-6000. I don't utilize all its features. I just shoot in three different modes all time.
Your photos are of the natural world, focusing on birds, flowers, insects. How do you choose what to shoot?
I like taking pictures of what people miss when they're out hiking. So many things you miss – patterns on the ground, hoarfrost. They're the things the people miss because they're rushing. There's a lot of beauty they're missing….The things I'm seeing are the real beauty of nature. It's what you're missing when you're rushing by.
The following photo gallery highlights some of Talarigo's nature photography. To see more of his photos, follow him on Facebook or on Instagram @jefftalarigo.