Debra Taylor of Forty Fort, Pa., received the 2019 Outstanding Adult Learner Award for Wilkes University not just because her path to a degree was different, but because it was marked by hard work, dedication and determination. The award is presented by the Luzerne County Council on Adult Higher Education.
Taylor says she looks at her past, present and future as a series of "stepping stones." Her mother died due to Non-Hodgkin's Lymphoma when Taylor was a teen. Before her mother passed, she promised her that she would one day get her degree. Taylor is keeping the promise 20 years later.
Soon after graduating from high school, Taylor married her high school sweetheart, John, and began to settle into married life. College seemed to be getting farther down the road as she worked full-time and part-time and was a mother to three children, Jessica, Cody and Cassidy. But she always remembered the promise she made to her mother.
When the time came, she began her path to college. She started taking classes at Luzerne County Community College. She eventually entered the Accelerated Bachelor of Business Administrationonline program at Wilkes in summer 2016, becoming a full-time student by fall. Although it is an online program, Taylor still had to complete her general education classes on campus.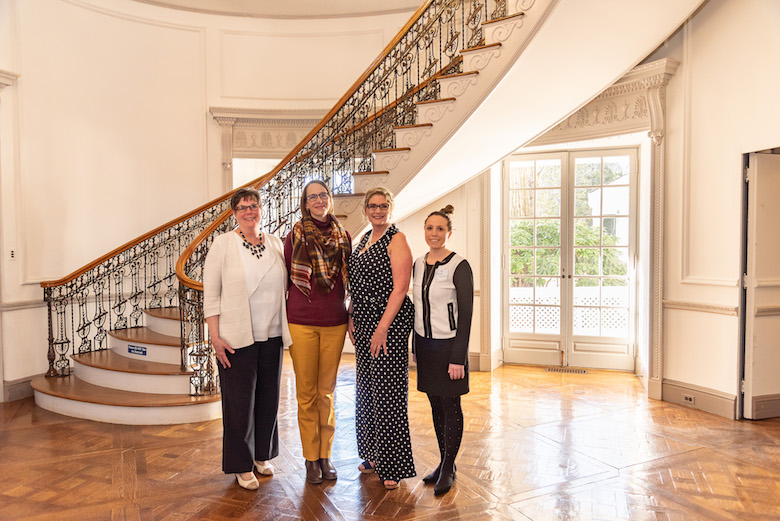 Taylor focused on her school work and became an exploratory student even with working multiple jobs and holding down a household. In November 2015, she worked the night shift in facilities at Wilkes while still working at her previous job. For eight weeks she worked at the University from 10 p.m. to 6:30 a.m. and then went to work again at her other job from 7 a.m. to 3 p.m.
"It is all about strategic planning. Many days I get up at 4:30 a.m. to study or do school work prior to coming to school or work," she said. "You have to be a master juggler and my family is extremely supportive. Also, I relied on my husband to make dinners and he took on more of a role in the house."
Taylor was only on the night shift in facilities for eight months. Once she went on day shift, her schedule opened up and she was able to take more classes. She started a new job in February 2018 in enrollment operations at Wilkes and still works part-time at The Mary and Frederick Stegmaier Mansions.
She not only wanted to fulfill her promise to her mother, but also took on her demanding schedule to show her family to never give up on their dreams. It seems to have worked: Her daughter, Cassidy, is a freshman on campus with Taylor and the two get to see each other in passing while going to class.
"I take a class every day on my lunch," she said. "Fortunately, I have a wonderful boss that allows me to take my lunch as my class."
Helen Davis, associate professor of English, who taught Taylor in her composition class, was one of several people who nominated her for the Outstanding Adult Learner Award. Noting in her nomination that Taylor is "one of the strongest students in the class in terms of effort and desire to improve," Davis wrote, "She is exactly the kind of student I love to have: she is engaged and committed, she brings a wealth of knowledge and experience to our classroom discussions, and she works to improve herself. "
Taylor completed her business administration degree in just two and a half years by dedicating not only her lunch break to her studies but by also taking courses every summer and every intersession. Now she is weeks away from fulfilling the promise she made to her mother all those years ago
"During the two and half years, honestly there were times when I wanted to throw in the towel and had the 'I'm too old for this' type of attitude,' she said. "But I wanted to encourage my children and show them that you're never too old to accomplish your dreams. Getting my bachelor's degree is my first step; I'm not done."
Once she graduates in May, Taylor plans to enter the Master of Business Administration program at Wilkes. She wants to continue to give her time and dedication to Wilkes because the University has helped her so much.
"They (Wilkes) are so true to their mission statement and their vision of encouraging and supporting higher education for employees and students," she said. "I would like the opportunity to give back to Wilkes. They had faith in me in giving me a position, and I would like to give back them and say thanks for having faith in me and show them what I could do."