Wilkes University student, Danielle McGlynn of Langhorne, Pa., received a scholarship for a summer study abroad experience in Spain. McGlynn was awarded the Cultural Study Abroad Award, sponsored by Eric Pape, an alumnus of Wilkes University. She will study in Madrid, Barcelona and surrounding regions this July.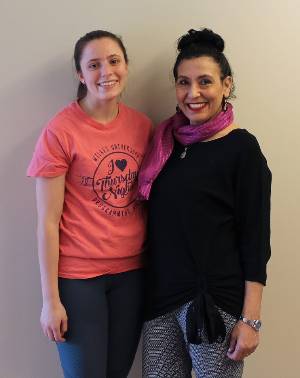 Along with the cultural emersion, McGlynn will earn six credits towards a concentration in Spanish for her doctor of pharmacy degree. She is a member of the Alpha Lambda Delta Honor Society and the National Society of Leadership and Success. McGlynn is also a member of the Wilkes soccer team, earning a place on the Mid-Atlantic Conference honor roll.
To receive the Cultural Study Abroad Award, students must have a desire to travel to Spain, hold a grade point average of 3.5 and above, and have a well-rounded campus experience with participation in extracurricular and leadership activities. Applicants must also submit an essay.
PHOTO: Danielle McGlynn (left) with Paola Bianco, Ph.D. (right), professor of global cultures at Wilkes University.