In recognition of 50 years of arts, culture and community, the Sordoni Art Gallery at Wilkes University will open the 2023-24 season by featuring the life and work of Wilkes-Barre native Rose O'Neill. The One Rose: Celebrating The Life and Legacy of Rose O'Neill will be displayed from Aug. 25 to Oct. 8.
About Rose O'Neill
O'Neill (1874–1944), an American illustrator of the early 20th century, was a woman of many accomplishments — published poet, novelist and activist for women's suffrage. She is considered the first female comic artist and was the first woman illustrator for Puck magazine, the leading men's magazine of the late-19th century, entertaining its readers with considerable satire and political commentary.
Kewpie dolls, based on comic strip characters O'Neill created, gained international popularity, served as the face of major advertising campaigns and appeared on a variety of household goods. O'Neill became the first woman to earn over a million dollars, and her $1.4 million fortune would be equivalent to more than $36 million today.
An accomplished artist and sculptor of Sweet Monsters, her work was featured in exhibitions in Paris and New York. O'Neill was inducted into the National Women's Hall of Fame in 2019. The One Rose celebrates the life and career of this Wilkes-Barre artist who was born just streets away from where the gallery is today.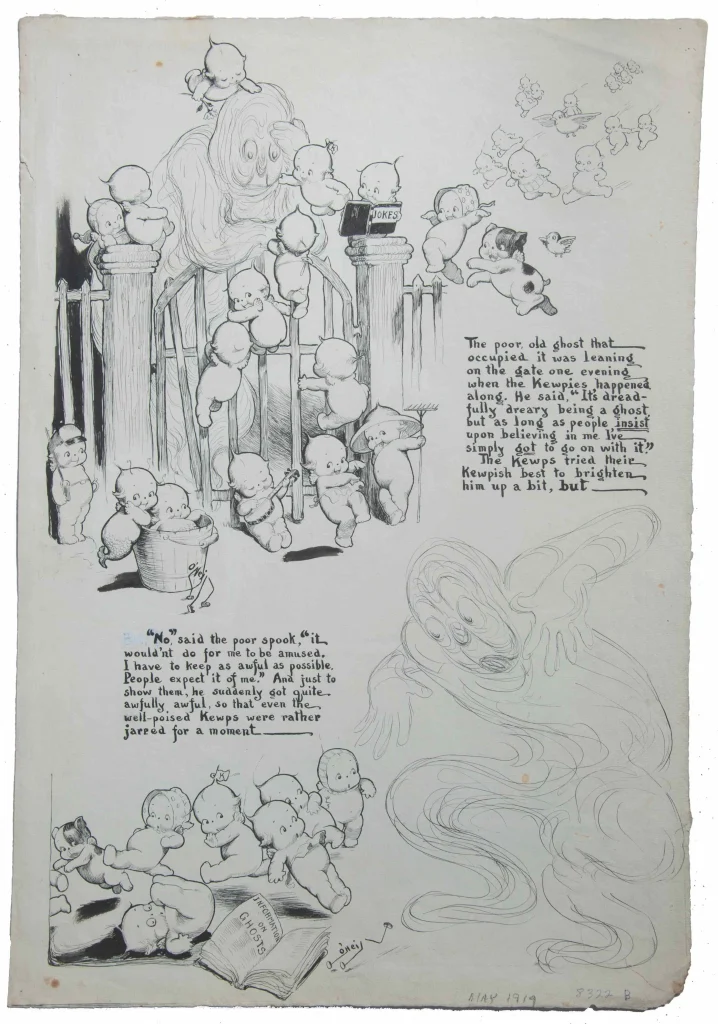 Exhibition and Anniversary Events
A celebratory cocktail party will kick off a series of anniversary and exhibition events.
Cocktails & Culture will be held from 5:30 to 7:30 p.m. on Thursday, Sept. 7. Attendees will enjoy an evening of live music, specialty cocktails, local cuisine and an inside look at the exhibition. This event is held in collaboration with Diamond City Partnership and tickets are $25. Advance registration is required.
For more information, visit wilkes.edu/sordoniartgallery.
Additional events include:
Second Saturday Family Hour, Noon to 2 p.m. on Sept. 9: Participants will create their own comic strip and suffragette rosette. Coloring sheets featuring downtown Wilkes-Barre landmarks will be provided by the Wilkes-Barre Riverfront Parks Committee. Storytime with the Osterhout Free Library begins at 1 p.m. This event is free and open to the public.
Cartooning Workshop with Kevin O'Neill, Noon to 3 p.m. on Sept. 23: This special Art in Your Hands: Kid's Edition workshop is hosted by Kevin O'Neill, who will lead the creation of a dinosaur mural while teaching the basics of illustration. This workshop is for children ages seven to 10. Space is limited and registration is required by emailing melissa.carestia@wilkes.edu.
Art in Context Lecture: The O'Neills in Wilkes-Barre, 5 p.m. on Sept. 27: Learn about Wilkes-Barre history through the lens of the O'Neill Family. They lived on Meade Street in the Emerald Cottage dedicated to "friendship, love, truth, and liberty." This discussion is led by Diane Wenger, Wilkes professor emeritus of history. This event is free and open to the public.
Rose O'Neill: Facts & Fancies at 5 p.m. on Wednesday, Oct. 4: A lecture featuring one of the foremost scholars on Rose O'Neill will close the exhibition. Sarah Buhr, curator of the Springfield Art Museum, will discuss the accomplishments of this singular woman. From her artwork to writing to becoming the first woman to make over a million dollars from her craft, Buhr will share the magnificent life and career of O'Neill. This event is free and open to the public.
50 Years of the Sordoni Art Gallery
The Sordoni Art Gallery has been a constant in the ever-changing landscape of downtown Wilkes-Barre. After the devastating flood that impacted the Wyoming Valley in June 1972, Margaret "Barney" Sordoni (1915-1989) and her son, Andrew J. Sordoni III, worked alongside Eugene Farley, the first president of Wilkes College, to create a unique resource for the college and community.
Since 1973, the Sordoni Art Gallery has continuously played an integral role in bringing high-caliber art and artists to the Wilkes campus and greater northeastern Pennsylvania region. The gallery opened its doors in Stark Learning Center on River Street with an exhibition featuring works by Wilkes-Barre native George Catlin. To unveil its current South Main Street home, shared with the Karambelas Media and Communication Center, in 2017, the gallery celebrated its new 7,000-square-foot space with a landmark exhibition featuring works by Andy Warhol.
"The Sordoni has always been more than just an art gallery to Wilkes University. A non-traditional classroom, the Sordoni Art Gallery encourages students to ask questions, test boundaries and think critically about the world around them," says President Greg Cant. "For some Wilkes students — many of whom are the first in their families to attend a four-year college — the Sordoni Art Gallery offers the completely new experience of being immersed in the visual arts. This is a life-changing moment for these students, and we take great pride in having such a valuable resource on our campus."
The gallery is open from 10 a.m. to 5 p.m., Tuesdays through Fridays and Noon to 5 p.m. on Saturdays. It follows the operating schedule of Wilkes and is closed on University holidays, breaks or due to inclement weather. For more information, visit wilkes.edu/sordoniartgallery.