Wilkes University kicks off the 2023-24 academic year with Welcome Weekend, Aug. 24 to 27. The weekend of events is a prelude to the start of classes on Monday, Aug. 28.
Welcome Weekend
Wilkes student-athletes, resident assistants and staff came together to help first-year and transfer students move in on Thursday, Aug. 24. Upperclass students will return to campus on Saturday and Sunday. Details can be found here.
Welcome Weekend features activities for first-year students including movie night, Colonel Carnival, pizza wars, an after-hours art gala, yoga, shopping shuttles and a visit to Hillside Farms. It also offers academic success workshops focusing on ways that students can organize tasks, assignments and study time.
The New Class
Wilkes' Class of 2027 and 2029 has approximately 540 new students. In addition, 92 full-time transfer students and more than 600 new graduate students will attend the University. This brings the total number of students enrolled in all of Wilkes' programs to over 5,000.
Highlights from the first-year class:
The incoming class features students from 23 states.
Over 200 students are from Luzerne and Lackawanna counties, earning a Hometown Advantage Award.
Forty-seven percent (47%) are the first in their families to pursue a four-year degree.
Thirty-six percent (36%) of the new class are student-athletes.
Three new students will join the Bonner Leaders Program, bringing the total to 17 participants in the third year.
The Honors Program welcomes 42 incoming first-year students and two transfer students. With five current students who were accepted this year, the current number of honors students totals 165.
With this year's 76 new students, the Barre Scholars Program grows to 210 students.
In addition, 16 new faculty members will mark their first semester at Wilkes, teaching classes in behavioral and social science, business, computer science, digital design and media art, education, nursing, performing arts and pharmacy.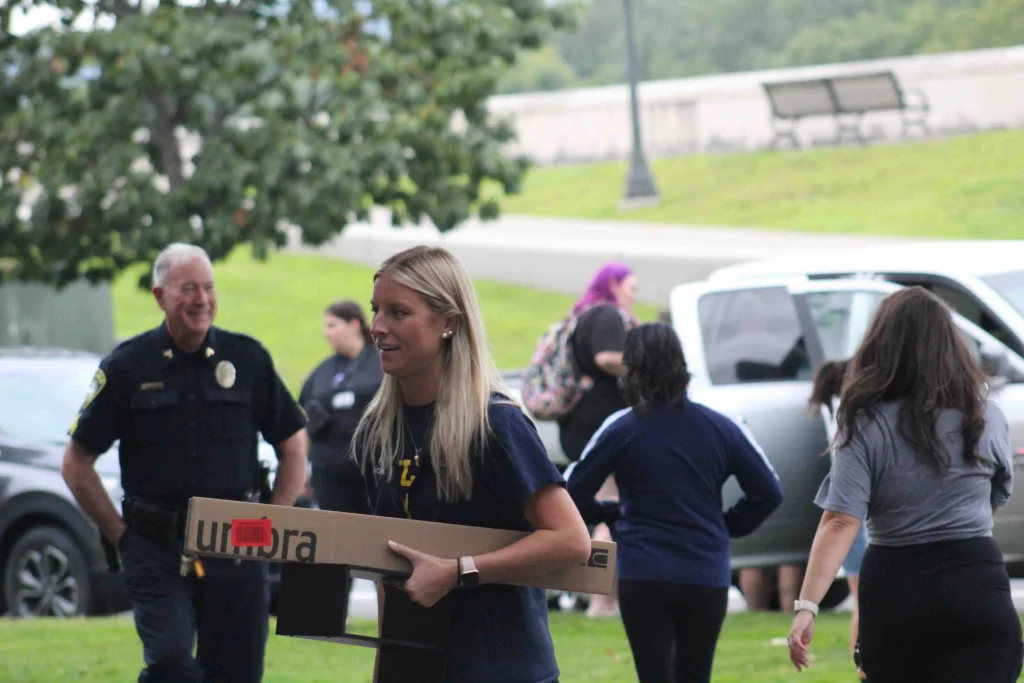 New Programs
With a focus on innovation, new program launches this year include:
Cloud Computing prepares students to master the design, development and security skills needed to serve a growing number of businesses and organizations that rely on the cloud — hardware and infrastructure owned and managed by third-party providers — for vital, day-to-day operations.
Data Science blends foundational computer science and data analytics with advanced coursework in machine learning and artificial intelligence to provide students with the skills to solve real-world problems across a wide variety of industries and position themselves for a role in a rapidly growing profession.
Esports launches in the fall of 2023, combining the academics of the University's digital design and media art major with the passion of competitive gaming to help prepare students for cutting-edge careers. Students will practice in a newly renovated, high-tech facility before taking on opponents in Overwatch, League of Legends, Rocket League and Super Smash Bros.
Campus Life
The University merged academic affairs and student affairs to create the Division of Academic Excellence and Student Success. Combining a variety of existing services under one unit allows for increased collaboration and support across the entirety of the student experience.
Athletics continue to be a vital part of student life at Wilkes. Renovations at the Marts Center include new flooring, bleachers and lighting to improve the experience for both athletes and spectators. The Ralston Athletic Complex features newly installed turf on the football field at Schmidt Stadium, as well as new lighting, sidewalks, pavers and trees to enhance appearance and safety.
This year marks the Colonels' debut in the Landmark Athletic Conference, growing the Wilkes brand in a wider area. And, as the teams travel from Pennsylvania to as far away as Washington, D.C., they'll ride in style and display the Wilkes name in two branded buses through an arrangement with Martz Group.
Work has been completed on TAP 3 Streetscape and Pedestrian Improvements Project located on South Franklin Street between Ross and South Streets and West South Street between Franklin and Main Streets. With new sidewalks, curbs, lighting and a pedestrian crosswalk, the project enhances the beauty and safety of campus and the community. Trees will be planted along the streets in late October once the summer heat has passed.
Additional campus improvements include new curbs, walkways and lighting to improve the appearance and safety of Grant Alley, located next to 116 South Main Street. Students will also notice upgrades to the bathrooms in Sullivan Hall and the bathrooms, kitchen and common areas in Schiowitz Hall, as well as new paint, carpeting and furniture on the lower level of the Farley Library.