Five Air Force ROTC students were awarded scholarships for the You Can Fly program from the Aircraft Owners and Pilots Association (AOPA), a foundation that helps and supports students seeking careers in the aviation industry.
The students, members of Wilkes University's Air Force Detachment 752, will each receive up to $3,500 in scholarship funds: Jacob Falls, of Wilkes University, a first-year studying mechanical engineering; Frank Gabriel, of Wilkes University, a sophomore studying criminology; Nathaniel Herman, of Penn State University-Wilkes Barre, a first-year studying aerospace engineering; Daniel Keenan, of Bloomsburg University, a junior majoring in accounting; and Olivia McInnis, of Wilkes University, a sophomore studying criminology.
The students were selected by detachment commanders for the opportunity to learn about and experience aviation through enrollment in a private pilot certificate program at a Federal Aviation Administration Certification Flight School. "The program increases a cadet's competitive edge if they are in pursuit of a rated career (pilot, navigator) in the United States Air Force by increasing their Pilot Candidate Selection Method (PCSM) score," said Maj. Joshua Robinson, Det. 752 Operations Flight Commander.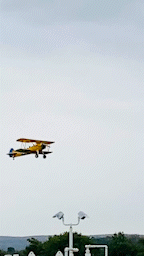 Recipients can apply the scholarship funds toward flight time, academic materials and headset rentals and flight time through Valley Aviation at the Wilkes-Barre Wyoming Valley airport in Forty Fort. "One of the biggest barriers to aviation is the cost of training and flight hours," said Lt. Col. Sarah Hedrick, AFROTC Detachment 752 Commander. "This program allows cadets the opportunity to get in the air and decide if it is a career they want to pursue. Once in the air, most people are hooked and can't wait to make the Air Force their career."
"This is a great opportunity to enhance their awareness of flying careers that are critical to Air Force and joint operations," said Robinson. "Some cadets have had lifelong dreams of flying and this scholarship program really helps lift that dream off the ground."
Learn more…
For more information about Wilkes University's Aerospace Studies program and the Air Force ROTC Detachment 752, visit wilkes.edu/ROTC.