For Megan Boone Valkenburg, coordinator of civic engagement, a focus on food insecurity is more than part of her job, it's a passion. Thanks to her efforts, Wilkes University can boast its status as a food dignity game changer — with an official badge to prove it.
Boone Valkenburg collaborates with the food equity movement Food Dignity on training to enhance food access at Colonel's Cupboard, the on-campus food pantry, as well as sites across the northeastern Pennsylvania community. She earned the organization's Food Dignity Game Changer badge on behalf of Wilkes University for her commitment and efforts.
Boone Valkenburg has already turned her added knowledge into action, working with Catie Becker, Bonner Leader program coordinator, and a team of students, to reorganize Colonel's Cupboard and extend its operating hours to make food more accessible. "Wilkes recognizes food insecurity in our own campus community, shining a light and remedying the problem," says Boone Valkenburg. "If you're not eating well, you're not learning well."
She also serves as a reviewer for the Food Dignity Institute, a digital platform that gives community partners like businesses, volunteers, healthcare workers and educators the tools to address food insecurity and reduce the stigma and barriers around food access.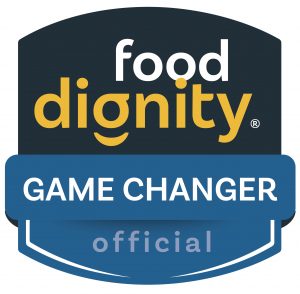 During the fall semester, Boone Valkenburg will share her dedication and expertise with students in her first-year foundations (FYF) class, Reinventing the Food Bank. The class is designed to give students an introduction to rigorous college coursework through a shared topic of interest.
Students will focus on research and writing during the semester, then take what they've learned out to a local food pantry for their final project. "I think it's really exciting for students to do something that's going to be very impactful for our community," says Boone Valkenburg.
In addition to serving Wilkes and the broader community, Boone Valkenburg aims to improve the conversation around food insecurity to break the stigma. "It's something we know happens on our campus," she says. "It can happen to anyone at any time for any reason." By empowering new students to improve food dignity, her goal is to see food insecurity happen much less on campus and in the community. "It's a societal problem we can easily remedy once we get all of the components together," says Boone Valkenburg. "It will show students that they have more power to make change than they realize."