Wilkes University has launched new programs in cannabis studies, the first of their kind in the region. The bachelor of science degree in cannabis chemistry and a certificate program in cannabis production and CBD extraction will produce a workforce who can fill the scientific and quality control gaps that are prevalent in cannabis products. Interested students can now apply to start this fall.
The bachelor's degree in cannabis chemistry prepares students for careers in this expanding industry while meeting the demand for qualified scientists who specialize in growing techniques, compound extraction and product quality control and analysis. Students will work alongside faculty and scientists with expertise in chemistry, biology, pharmacology and neuroscience. They bring experience in analyzing cannabinoid compounds, the botany and physiology of medicinal plants and growing plants in controlled environments.
The four-year program meets requirements for American Chemical Society approval and graduates qualify for ACS certification, a standard of excellence in chemistry education.
Watch the news report by WNEP's Chelsea Strub: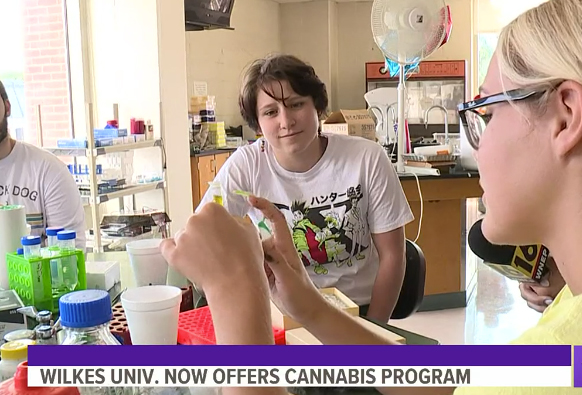 The cannabis production and CBD extraction certificate requires seven courses totaling 16 credits. Held in a hybrid format that blends face-to-face and online learning, it offers an enticing path of study for those seeking to advance their knowledge and skills in CBD extraction and hemp growing techniques. The program is open to undergraduate students pursuing their chemistry, biology and pharmacy degrees or studying in a related field. Wilkes students can take the courses concurrently as they complete their undergraduate or pharmaceutical studies.
The certificate program is also open to those who already have a bachelor's degree in a related field of study. For working professionals, it can be completed in as little as two years and costs $500 per credit.
The programs were created in response to research showing multiple discrepancies between CBD product labels and their actual chemical contents.
"Medicinal use of cannabis and legalization for recreational use in certain states creates a steep increase in the need for scientists who can research cannabis chemistry, extract and isolate compounds from the plant, understand laws and regulations and assure purity and quality of products in the marketplace." Marie Roke-Thomas and Don Mencer, program directors. Roke-Thomas is chair of pharmaceutical sciences in the Nesbitt School of Pharmacy and Mencer is a professor and researcher in the chemistry department.
Required equipment was funded in part by a $350,000 Local Share Account grant, which aided in the purchase of a mass spectrometer, benchtop flow cytometer and CO2 extractor.
All are used to test levels of CBD in plants grown by farmers and to test products that are available for consumption by humans and pets. The equipment will also be used by students and faculty to develop research in the field of cannabis cultivation, pharmacotherapeutics and chemistry.
"Wilkes University is grateful for the ongoing support of Representative Pashinski, Senator Yudichak, the City of Wilkes-Barre and our entire legislative delegation. Offering this cutting-edge program will prepare graduates for high-paying jobs in a booming industry. Most importantly, it will bring a level of safety and science to the industry as CBD-infused products grow in popularity. We look forward to welcoming students into these programs this fall," said Wilkes President Greg Cant.
Interested students can learn more about these programs at www.wilkes.edu/cannabis.