Two Wilkes Sidhu School of Business students win top prize at TecBridge, an annual business plan competition promoting entrepreneurship, innovation and economy in Northeastern Pennsylvania.
Sidhu School of Business and Leadership juniors Billy Berry and Toon De Schepper had a sweet idea a few years ago while rooming together as freshmen in their Wilkes University residence hall. Everyone loves waffles, they thought—so why don't we sell them? Now, almost two years later, they've won the top prize at the TecBridge Business Plan Competition in front of a sold-out crowd at the F.M. Kirby Center in Wilkes-Barre, and their All Belgium Waffle truck is selling waffles all over the region.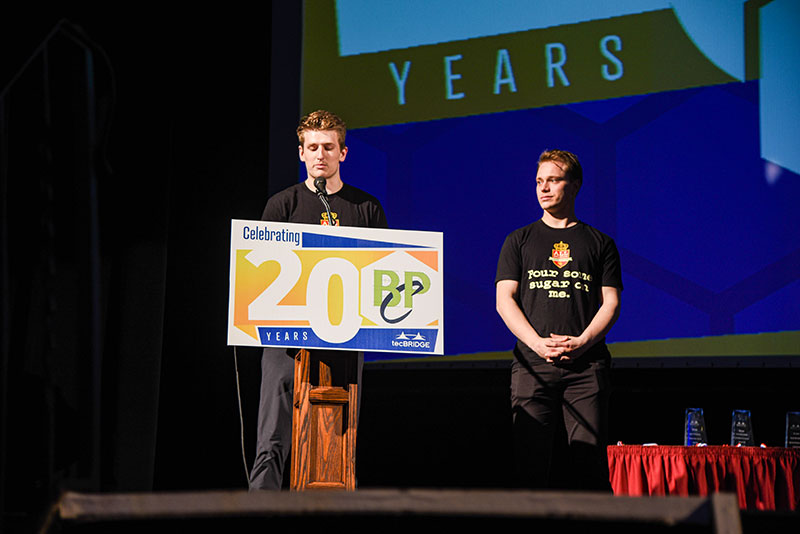 A lot happened in those two years to make their dream become a reality. For help in getting their plan together, the duo met with Gerald Ephault, executive in residence in the Allan P. Kirby Center for Free Enterprise on the Wilkes campus. He helped them write a business plan, organized a team of student assistants to help with marketing, graphic design and social media, and also helped them network with professionals in the community. "They had a great idea," Ephault said of Berry and De Schepper, "and they are also very smart and hard working."
Berry, a financial investments major from Redding, Conn., and De Schepper, a sports management major from Nieuwenrode, Belgium, were humbled by the honor. "One of the things the judges looked at was the impact the business has on the local community," said Berry, who added that the company currently has 10 employees. All-Belgium Waffles was awarded $10,000 in cash and $100,000 in in-kind services the business will share with the other two TecBridge division winners. "We will use the award for marketing and advertising," Berry said.  
Not even a year after they first opened, Berry and De Schepper are already looking to the future. The same week they won the TecBridge Competition, they launched their second food truck location in Chicago, Ill.
For more information and the food truck schedule, visit allbelgiumwaffles.com.
Media Coverage:
Citizens' Voice: Wilkes students who started waffle truck win business plan competition
Discover NEPA: Authentic Belgian
Find out more about:
The Sidhu School of Business and Leadership
The Allan P. Kirby Center for Free Enterprise at Wilkes