Mel Fouts' research to convert the pollutant nitrogen oxide into less harmful byproducts recently earned her top honors at a national conference.
The junior environmental engineering major presented a poster titled "Examining Internal Temperatures of Nitrogen-Containing Plasmas to Understand the Gas-Catalyst Interface" at the American Vacuum Society's 67th annual symposium, a virtual gathering of materials and surface scientists from around the world. This marked the first year the society invited undergraduate student presenters, and Fouts brought home its Platinum Award.
Fouts' research with Joshua Blechle, assistant professor of chemistry, may someday impact exhaust control and waste gas remediation. She's been involved with lab setup, data analysis and hands-on experiments. "I've been doing this research since I was a freshman."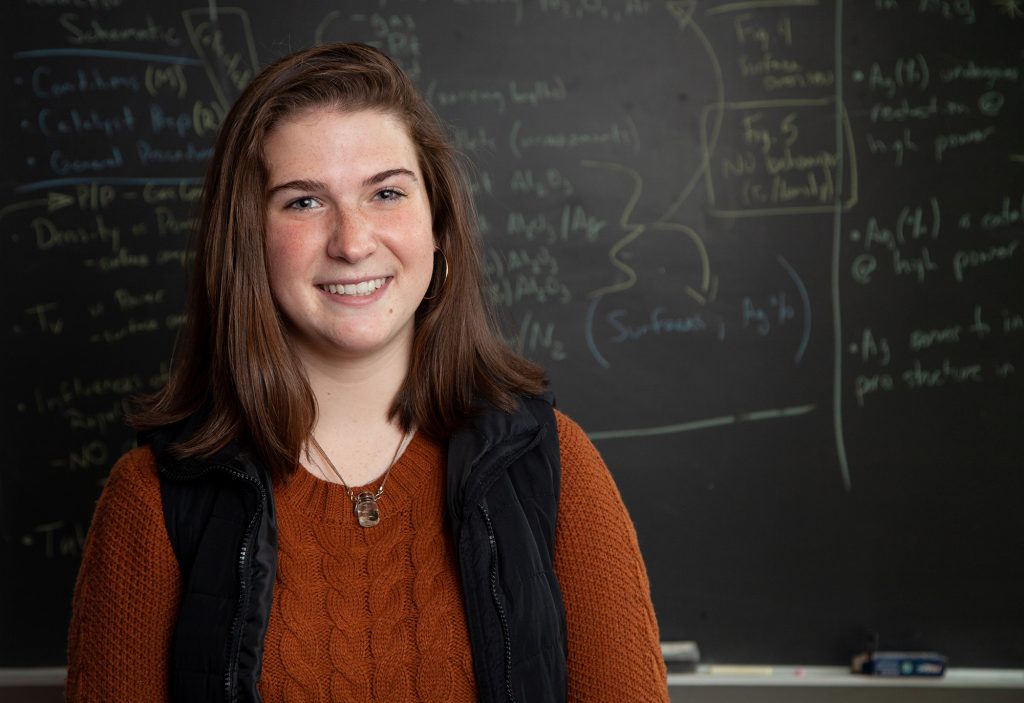 Blechle says undergraduate research allows students to explore interests in less structured ways than they can in class. "The entire point is that no one knows the answer," says Blechle. "You're learning something for the first time, and that's really powerful."
When Fouts isn't deep in plasma and data, the Fulton, Missouri, resident mentors first-year and honors students. She was recently elected president of the Honors Program Student Committee and serves as vice president of the Society for Women Engineers, as well as a board member of the student chapter of the Pennsylvania Society of Professional Engineers. Fouts also puts her sustainability minor to work as a member of a Wilkes committee working to improve the university's eco-friendly practices.
Fouts indulges her passion for nature with Wilkes Adventure Education. WAE builds vital life skills via hikes, camping and outdoor activities. "(Students) learn to navigate conflicts, obstacles and failure and learn to overcome them in a caring, supportive environment," says coordinator Jill Price. "I watch students change and evolve because the experiences are the teacher. They become themselves authentically."
For Fouts, Wilkes adventures inside and outside the classroom formed the scientist and student leader she is today. "I'm fundamentally a different person than I was. I'm more prepared now."