The inauguration of Greg Cant will occur on Oct. 1 at the F.M. Kirby Center.
Wilkes University will celebrate the inauguration of its seventh president, Greg Cant, with a week of events. Inauguration events are planned from Sept. 24 to Oct. 1 with the theme, "Carrying Forward Our Promise." The week will conclude with the University's annual Homecoming Weekend celebration through Oct. 3.
The formal inauguration ceremony will be at 10:30 a.m. on Friday, Oct. 1 at the F.M. Kirby Center for Performing Arts on Public Square in Wilkes-Barre. In addition to remarks from Cant, Susan A. Cole, immediate past president of Montclair State University, will deliver the keynote address. Cole will receive an honorary doctor of humane letters degree during the ceremony. Cant previously served as the dean of the Feliciano School of Business at Montclair State, the second-largest university in New Jersey.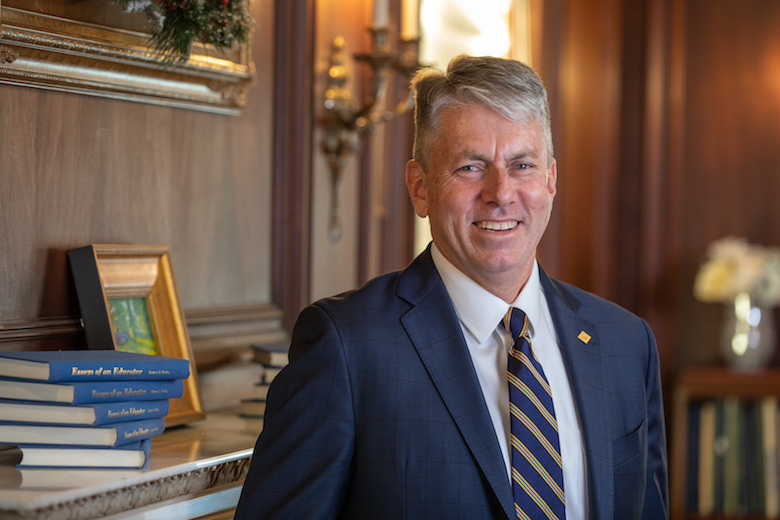 Friday's inauguration ceremony will be live-streamed for those who cannot attend in person at wilkes.edu/inauguration. It will feature representatives from national and regional colleges and universities in an academic procession. Musical selections will be performed by the Wilkes Civic Band, under the direction of Mark P. Johnson, and Wilkes University Chorus, under the direction of Leesa Levy. Cant's remarks will focus on the University's ability to thrive during difficult circumstances and his vision for the post-pandemic future.
Cant was announced as Wilkes' seventh president on Dec. 12, 2019 following a national search. He succeeds Patrick F. Leahy, who departed the University in August 2018, and Paul S. Adams, vice president of student affairs who served as interim president until Cant's start in May 2020. Adams is co-chairing the inauguration steering committee with Cynthia Charnetski, member of the University's board of trustees and Wilkes alumna.
INAUGURATION WEEK (Sept. 24 to Oct. 1)
The following inauguration events are free and open to members of the Wilkes community, and select events are open to the public. Guests must follow all University COVID-19 protocols, which includes indoor masking.

Light the Way Forward Art Installation: Dusk on Friday, Sept. 24 and Saturday, Sept. 25
Australian Aboriginal art displayed on a massive scale is the focus of a lighted art installation on Friday, Sept. 24 and Saturday, Sept. 25. At dusk, Weckesser Hall, located at 170 S. Franklin St., will be transformed via video-mapped projection to celebrate the work of more than a dozen Aboriginal artists. The installation is the work of artist Jeff Dobrow.
On Friday evening the show will be held after a private employee event celebrating the way faculty and staff responded to student needs during the pandemic. On Saturday, it is held in conjunction with Family Day. The public is invited to attend the light installation starting at 8 p.m. each evening.
Family Day: Saturday, Sept. 25
This annual fall tradition provides the opportunity for families to connect with students on the Wilkes campus. Activities include a self-guided tour of downtown Wilkes-Barre, a tailgate tent at Ralston Field in advance of football, volleyball and soccer matchups, open climb opportunities at the rock wall in the McHale Athletic Center at Simms Center on Main and workshops related to student engagement. The day concludes with the "Light the Way Forward" art installation at dusk.
National Suicide Awareness Candlelight Vigil: 6:30 p.m. on Sunday, Sept. 26
In recognition of National Suicide Prevention Month, students, faculty and staff will gather for a candlelight vigil at 6:30 p.m. on Sunday, Sept. 26, on the steps of the Farley Library. University leaders, coaches and representatives will speak about the ways in which suicide and mental health challenges impact everyone.
Closing Reception for L'Esprit: 5 p.m. on Thursday, Sept. 30
The joys and foibles of French society and culture will be celebrated during the closing reception for the Sordoni Art Gallery exhibition, "L'Esprit: Exploring Wit and Beauty in French Prints." The exhibition, which runs through Oct. 10, features art from 1830 to 1930 when Paris was the world capital of the artistic creative innovation and opportunity. The work of more than 30 artists from the 18th and 19th century is featured, including Paul Cezanne, Honoré Daumier, Charles Méryon, Paul Gauguin and more. Light fare is provided and the public is welcome. More information at www.wilkes.edu/sordoniartgallery.
HOMECOMING WEEKEND (Oct. 1 to 3)
Wilkes will welcome alumni back to campus in person and virtually for this annual event. This year, it includes the dedication of Stephens Plaza at Ralston Athletic Complex. Made possible by a gift from Wilkes alumni, Panos Kalaritis and Debi Stephens Kalaritis, this new pavilion and surrounding plaza is being named in honor of Joseph Stephens, DDS, a 1951 graduate of the
University. It will be dedicated at 11 a.m. at Ralston Athletic Complex and can also be viewed online on the Alumni Association's Facebook page at facebook.com/WilkesAlumni.
Additional highlights include:
Pints with professors from 5 to 8 p.m. on Oct. 1 on the Karambelas Gateway
Breakfast with the president at 8:30 a.m. on Oct. 2 on the Karambelas Gateway
A variety of athletic contests and socials throughout the weekend
Due to the pandemic, last year's homecoming celebration was held completely online. This year, a variety of campus groups will celebrate their reunions, including classes ending in zero, one, five and six; Wilkes cheerleaders of past and present and the 50th class reunion for the classes of 1970 and 1971.
More information about the inauguration of Greg Cant and these activities can be found at www.wilkes.edu/inauguration.