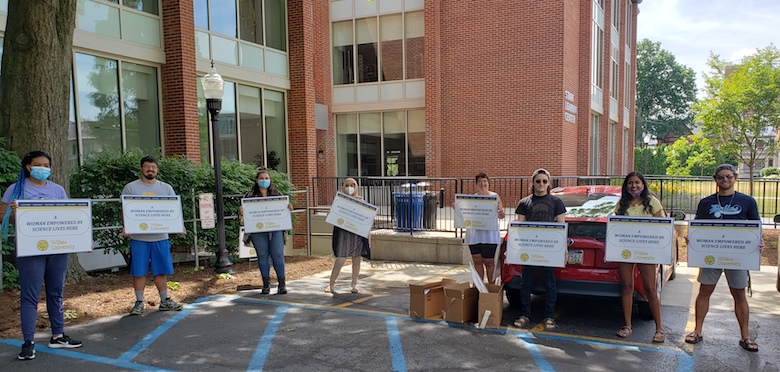 More than 100 middle and high school girls received a special delivery from the Women Empowered by Science (WEBS) program at Wilkes University. A team of seven Wilkes students who are group leaders in the program's popular summer camp took to the road to present past program participants with lawn signs proclaiming "A Woman Empowered by Science Lives Here." The signs are helping to comfort the girls who are disappointed that the camp would not occur this summer because of the pandemic.
"It was a way to keep the WEBS community connected," says Debra Chapman, faculty of practice in biology and director of WEBS. Chapman joined the students to make deliveries, as the team spent hours delivering 140 signs throughout Luzerne County – with detours to a few locations in Lackawanna and Wyoming counties. The idea for the signs came from Wilkes alumna Margaret Galatioto '18, who maintains her ties to the program after volunteering with WEBS during her four years at Wilkes.
The WEBS program, which is entering its 19th year, encourages young women's interest in studying science and in science careers via the camp and an afterschool program. Once a program that targeted only middle school girls, it recently expanded to include students who wanted to remain in the program when they moved on to high school. A number of current Wilkes students – including those who volunteer with the program – entered the University after being introduced to it via WEBS. Biology majors Holly Jones and Neha Metgud have transitioned from one-time campers to student coordinators for WEBS. The two were among those delivering signs.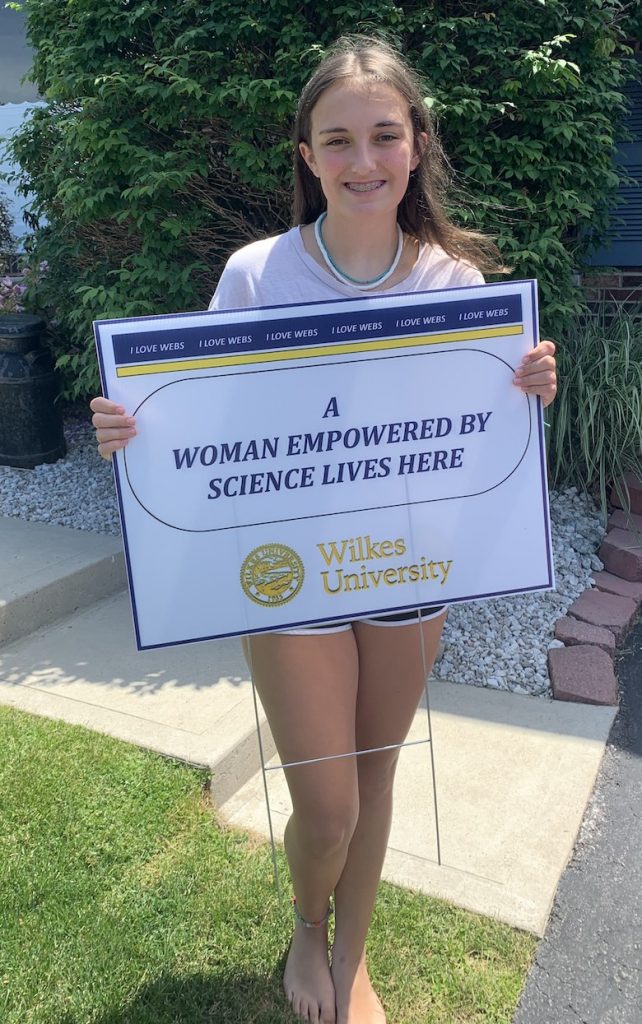 WEBS' influence on young women was affirmed by the reception Wilkes students received as the signs were delivered. Chapman says that tears were shed as a little piece of the WEBS community appeared on campers' doorsteps. The signs reflected their feelings with the phrase "I Love WEBS" repeating at the top.