Richard Supkowski builds career potential through a combination of classwork and hands-on experience.
When Richard Supkowski, a junior mechanical engineering major from Mountain Top, Pa., graduates from Wilkes University, he'll have more than a transcript to show potential employers. He'll have an impressive resume.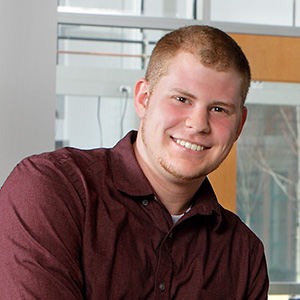 Supkowski parlayed his academic knowledge into diverse professional experiences. At medical device firm MTF Biologics, he focuses on improving clean room processes. He works with engineering firm Borton-Lawson, taking laser scans and panoramic pictures of buildings on the Wilkes campus to help with facilities planning.
"Mechanical engineering can get you into a lot of doors," says Supkowski. "It opens the field for a lot of things."
Supkowski also collaborates on research with assistant professor Mohsen Ghamari using coding skills he learned during freshman year. Ghamari's area of expertise is combustion. He researches adding various polymers to liquid fuel to limit fires in the event of a vehicle crash or fuel spill. Though he has years' worth of data, Ghamari still needs to account for variables like fuel type, pressure and temperature, and both real-world and lab conditions.
Supkowski takes the existing data, translates it into the Python programming language, and applies an algorithm to account for new variables. Then he determines trends and makes conclusions.
"We're looking for practical applications," says Ghamari. "It's going to get to a product or a solution."
While Supkowski works on research with real-world impact and gains experience with data science, he's also sharing some knowledge with his professor. "He teaches me Python," says Ghamari.
Supkowski is building professional experience and valuable relationships with professors who have industry expertise. "Here, professors get to know you. It's not just getting to know your name."
FIND OUT MORE ABOUT THE MECHANICAL ENGINEERING PROGRAM AT WILKES>