Wilkes University junior Jason DeBoard never imagined that changing his academic focus could eventually lead to a trip to Greece. As a pre-med student at Wilkes, he spent summer 2019 shadowing surgeons in that country as part of his study abroad experience – an opportunity he never considered when he first came to the University.
"I never realized all the opportunities here," DeBoard explains. "I came here an undeclared [major] but I knew I wanted to do physical therapy." With the guidance he received from Wilkes faculty such as associate professor of biology Jeffrey Stratford,  the Avoca, Pa., native realized he had multiple options. He decided to study medicine, declaring a double major in biology and neuroscience and switching from pre-physical therapy to pre-med.
Science has long been his passion. He made his first trek to the Wilkes campus as an elementary school student, participating in Adventures in Science, an annual science program for fifth graders. "I still have the bag, t-shirt and googles," he says. "The googles were so big on my face then. I still use them now."
His passion for studying science continued this summer through his participation in the Atlantis Fellowship. The fellowship is an intensive university-break program abroad for American pre-med students. Fellows experience global healthcare through hospital shadowing rotations and prepare for medical school applications through reflective hospital observation, volunteering and medical humanities research. While in Greece, DeBoard observed open heart surgeries, plastic surgeries and more. "I love anatomy and the human heart," he adds. But his passions surpass the clinical: DeBoard likes to help people. "I just want to learn as much as I can as soon as I can to help other people," he explains.
The study-abroad experience also led to friendships with other like-minded students.
"You can shadow doctors anywhere. But the thing was that there were 10 students there, who were highly motivated and inspired to be there," DeBoard says. "I had never experienced that before, to have nine other people be your friend for life even though we're all around the country."
The experience was funded through The Bierly Fellowship at Wilkes. The Bierly Fellowship is open to full-time undergraduate students in any major. Students may receive the one-time award to fund study abroad in their sophomore, junior or senior year, though preference will be given to juniors and seniors.
DeBoard's desire to help others is deeply rooted in his experience as an Eagle Scout. He completed 2,000 hours of community service to earn scouting's highest rank and still is an assistant scout master. His commitment to service is also evident in one of the three jobs he has worked while attending school. Working with NEPA Inclusive, which supports the office of vocational rehabilitation, he has helped with community-based work assessments, job finding and job coaching for individuals with disabilities in Northeastern Pennsylvania.
DeBoard has balanced off-campus jobs with campus involvement. A student athlete, he's been a wrestler since his first year. During his sophomore year, he served as the Commuter Council president. He has since moved on-campus and is a resident assistant in Evans Hall. DeBoard is also an e-mentor to first-year students and is the president of the American Medical Student Association.
Balancing activities and academics can be challenging, but DeBoard wants to make sure he's experienced it all. "One opportunity led to the next," he said. "There are so many different things here you can get involved in and so many different perspectives."
Looking ahead, DeBoard will complete research this fall with Michael Steele, professor of biology, in DNA barcoding. He's already planned for his spring semester research, working with Carl Charnetski, professor of psychology, on a project evaluating peak performance in athletes.
His experiences at Wilkes have given him insights he's eager to share with other students. "Don't be afraid to change, don't be afraid to adapt. You don't have to know everything you want to do for the rest of your like. Wilkes is open to all experiences."
DeBoard also organized the on-campus event, Clips for Cancer, which benefits breast cancer research. You can read more about the event here.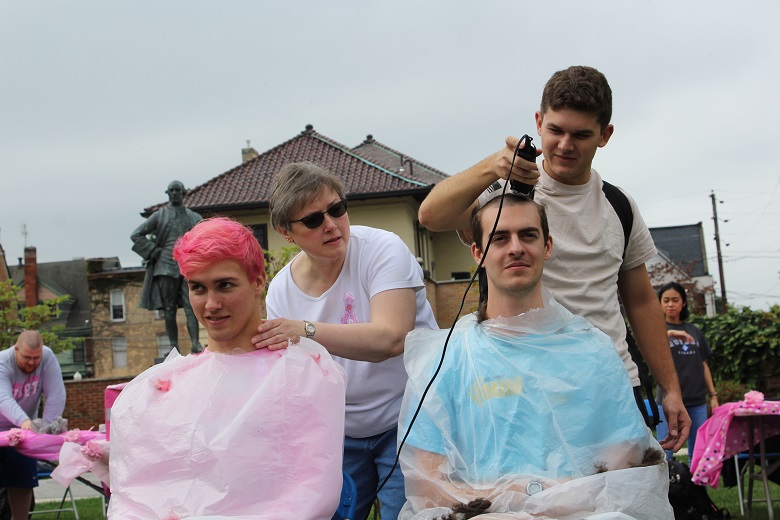 You can also check out media coverage from the event at: