Bonnie Culver, director of the Maslow Family Graduate Program in Creative Writing at Wilkes, says that she has had Norwegian elk hounds "for all of my adult life." You can see her and her latest elk hound, Brody, out and about on campus. Inside the creative writing office in Cox Hall, Brody can be found at the marble entrance waiting for guests.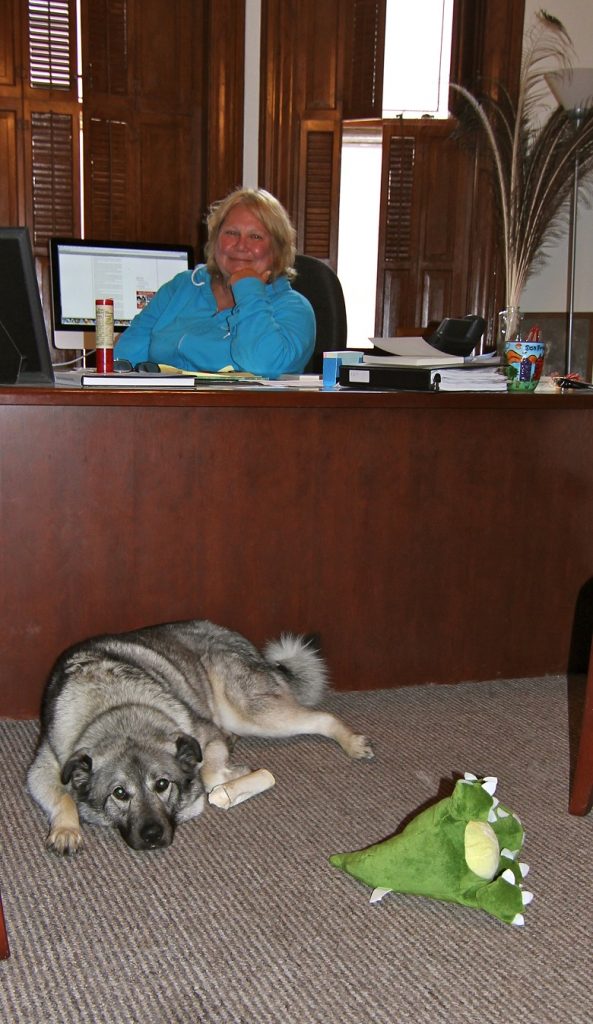 Name age and breed of dog:
Brody, an 8-year-old purebred Norwegian elk hound.
How did you find your dog?
"I bought both of them, Brody and Bernie (Brody's late brother), as puppies from a breeder near Harrisburg. They looked like little bears when they were puppies because they were all black. It was an old deer farm and their father was a national champion in deer hunting. The breed is normally used as hunting dogs. Brody does not hunt; instead there is a deer at my house that he plays with. He doesn't even bark at her."
Does your dog have any special training or certifications?
"We have used him as a therapy dog. He is registered with a couple of the nursing homes in the area…. I thought of registering him as a therapy dog, but he is registered individually with those particular places. He's perfect as a therapy dog. I saw it with my dad first, who was in a wheelchair. Brody knew not to push him. He would just lay next to him and put his paw on his foot and my dad would pet him for hours as he laid there. The breed is really good with children and seem to sense when you're hurting. They are a very empathetic breed. My grandson can lay on him for hours and Brody won't move. All my elk hounds were like that."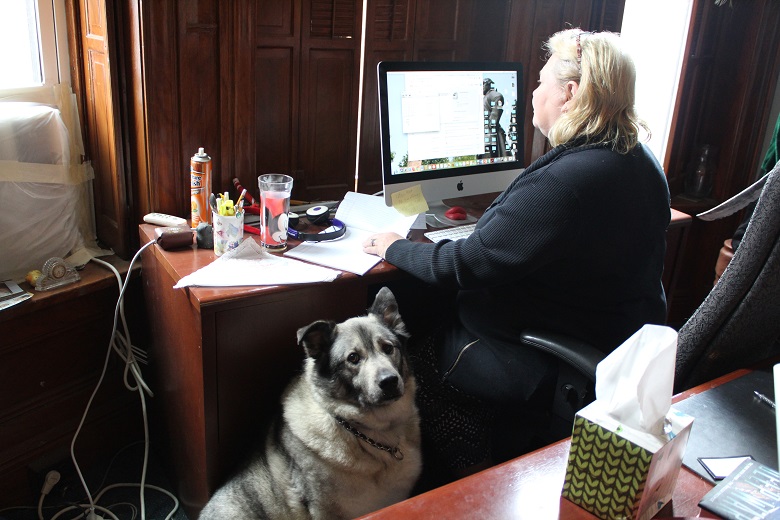 What is your dog's favorite spot on campus?
"The marble in the entrance of the creative writing office. During the creative writing residency, he waits on the marble for people to come in. He loves the residencies. [He also likes] the alleyway between Ross and Cox halls. He will ask to be taken out because he hears "student voices" and he will go out and sit and wait for them to go by and pet them. He will nuzzle them so they will pet him. When the classes are changing he will go out and just sit and wait for them."
What is your dog's favorite thing to do on campus or favorite thing when he/she comes to campus?
"Walk the River Walk and walk through the campus because he just loves the students."
What is your dog's favorite treat?
Peanut butter dog biscuits