In its new series, "First Year Q&A" News@Wilkes will highlight the journeys of first-year students.
Meet Jessica Zajac
Major: Environmental Science
Hometown: Factoryville, Pa.
On-campus Activities: Marching band, pep band, Civic Band, and Biology Club
Favorite Class: Biology with Dr. Kenneth Klemow
What instrument do you play?
Alto Saxophone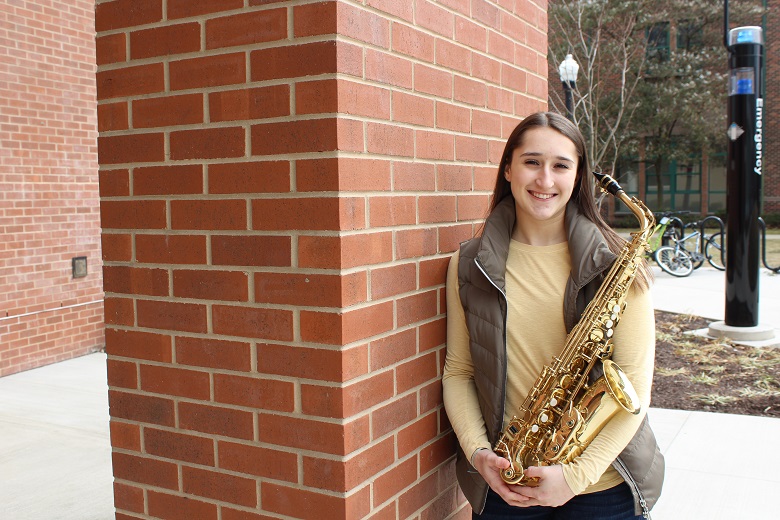 Why did you choose Wilkes?
"When I visited the campus on several open house days and an Environmental Science Day, I felt like I belonged here: a kind and welcoming community of people that are eager to learn and explore interests. The small university size and scholarships were also factors since I came from a small country school where I knew about everyone in my class. I really liked the idea of being known as an individual instead of a number by the professors."
Do you commute or live on-campus?
"I live on-campus in Evans Hall. I really like Evans because my resident assistant is cool. It's nice interacting with the other students who live there, and it is also really close to the location of my classes."
What are your career goals?
"Throughout high school, I never really knew what I wanted to do exactly, but I knew I wanted to do something in the sciences. After taking an environmental science class in high school and knowing my love of nature, I knew becoming an environmental science major was right for me. I'm not sure exactly what I will do exactly after I graduate college but I certainly would like a career that involves me helping protect the environment."
How has it been adjusting to college?
"Overall, adjusting to college has gone well…It definitely takes a little while to get used to time management between school work and studying, campus activities, and friends. Meeting friends from marching band camp the two weeks in August before the first day of classes really helped me a lot because I knew other students who were in my classes going into the first day and the upperclassmen gave lots of advice and words of encouragement and they still do to this day."
What don't they tell you about coming to college that they should tell you?
"Get involved! You will need multiple escapes from studying and school work. Being active in clubs, being a part of band and spending time with friends helps a lot."
What's the best piece of advice that you've been given about starting your college journey?
"The best piece of advice I've been given is your GPA doesn't determine how smart you are. Take a rough test and learn from your mistakes, because that is why we are here, to acquire knowledge that will help us thrive in our future career. Do not give up, enjoy every day, and know everything will be okay in the end, no matter what."