Black lab Shadow and golden retrievers Gus and Daisy stop in every day at the end of their walk to see their "mom" Michelle Donahue, communications officer in the Wilkes Public Safety Department. The trio can usually be seen walking on the Gateway and quad with Michelle's husband, their "dad" and constant companion, Tim Donahue. Tim makes sure they don't miss Michelle too much during the day. The dogs have become staples on Wilkes' campus and can't get enough of all the love and attention they receive there. Here are some fun facts about the trio:
Names, ages and breeds of dog:
Shadow, 13, a black lab
Gus and Daisy, 11, who are brother and sister golden retrievers
How did you find/meet your dog(s)?
A family friend gave us Shadow, but we got Gus and Daisy in a strange manner. A family knew we had dogs because she always saw us with our dogs in the yard. Their dog had puppies and she stopped to see if we knew of anyone who wanted puppies because they were giving theirs away. Our kids wanted to go to "just see them," I was a little leery because I didn't want any more dogs at the time. We had Shadow and Max, who was also a golden retriever. But the kids won out and we came home with Gus. About a week later we went back and got Daisy.
Do your dogs have any special training?
No, but they are really good walkers and listen very well to my husband. Daisy sometimes has selective hearing, but she knows we mean business when we use her middle name Marie.
What is your dog's favorite spot on campus?
Anywhere the students are. They love the attention.
What is your dog's favorite thing to do on campus?
Besides get their treats from me at the end of their walk, they love to chase the squirrels.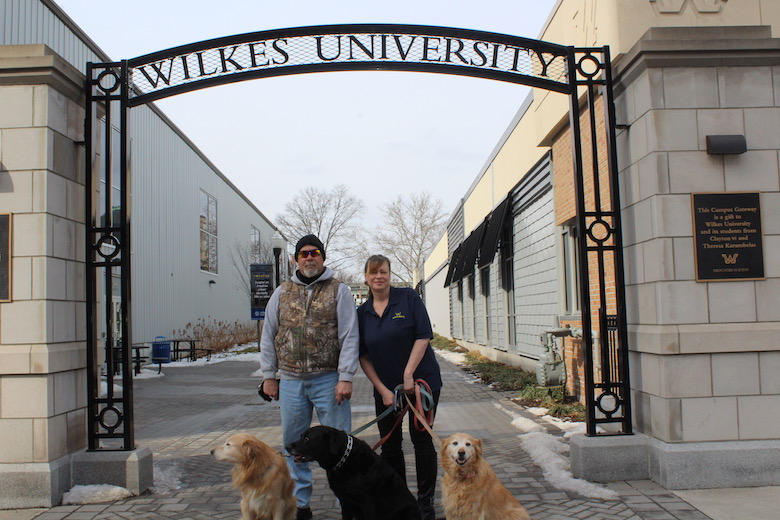 Have you ever brought the dogs to campus events?
They haven't been to any events but they always get a warm welcome from the students, faculty and staff when they are getting walked around campus.
What is the dogs' favorite treat?
They love ice cream in the summer and pretzels are one of their favorite snacks.
What is your dog's favorite pastime?
Being anywhere my husband is. Gus loves to be out in the snow and I think their all-time favorite pastime is swimming.