Wilkes University's strong tradition of educating first-generation college students continues among its current first-year class. Forty-four percent of the Class of 2022 identify as first-generation college students. They are students for whom neither parent graduated from a four-year college or university.
In its new series, "First Gen, First Year," News@Wilkes will highlight the journeys of first-generation students who are completing their first year of college.
Meet Mia Rose Walker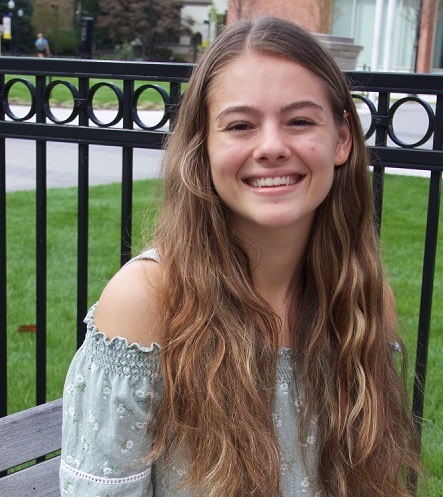 Major: Computer Science and Digital Design
Member of the Honors Program
Hometown: Matawan, N.J.
Activities: Cross Country Team, History Club, WEBS, Geo-Explorer Club
Favorite class: Python with Dr. John Koch. "I love to code."
Why did you choose Wilkes?
"I applied to 11 schools in California, Maryland, Pennsylvania and New Jersey, and I got into nine. I wanted to go away to school. This is the only school where I was going to do sports. (Cross country coach) Nick Wadas recruited us. He recruited a friend and me. That's how I found Wilkes. I did a couple of visits: I visited twice before I did an overnight stay in April. After my recruitment trip, I decided I wanted to come here. I chose it because I met people here. And I got a lot of scholarships. I was afraid it was going to be too small – but that hasn't been the case. This was the smartest decision I ever made. Everyone I was close to on my recruitment trip, I'm close to now. Saturday and Sunday, we had nine people at Towers, playing computer games, doing homework, eating food. It was like a little team meeting. It's great."
Where do you live on campus?
"I live in Ross Hall. I love Ross: our RA is really cool and it's a very chill environment. All of us living there really enjoy interacting with one another."
As a first-generation college student, did your family encourage you to pursue a four-year degree?
"My mother wanted me to be able to succeed. Her thing was always education and she pushed me to get good grades….We moved to New Jersey from Florida because she wanted me to go to better schools….My grandfather also encouraged me to do well. He would sit and have me do math problems for two hours when I was in first or second grade until I got them right. My grandfather pushed me to do really well too. My mother knows that I'm artistic, but she always encouraged me to look into math or science because she wanted me to be in a field where I could be financially stable. She's fine with me double majoring."
What are your career goals?
"I've known what I've wanted to do since I was a freshman in high school. I want to be a video game designer. Everything I did in high school was to prepare for that. I took art classes and computer science. I took AP Computer Science."
How has it been adjusting to college?
"My (class) schedule isn't bad. Most of the time it's a matter of time management and keeping up with life. When they talk about the adjustments to college, they don't tell you about the social part, the interacting with other people, dealing with life.'
What don't they tell you about coming to college that they should tell you?
"It's more of a community than it is in high school. In high school, you go to class and you go home. Here you live with these people. You see them every single day."
What's the best piece of advice that you've been given about starting your college journey?
"When I came on my recruiting visit, Caroline Rickard (Wilkes junior communication studies major and cross country team member), who hosted me on my overnight, told me, 'College is what you make it.' That is true."