Wilkes University invites students in grades 4 through 8 to explore the fields of biology, mathematics, physics, chemistry, environmental engineering and earth and environmental sciences during STEM Discovery Day. The free event will be held on Saturday, Nov. 3 from 10 a.m. to 1 p.m. at the Lawrence and Sally Cohen Science Center, and the Stark Learning Center, 150-180 S. River St. Registration begins at 9:30 a.m. in the Stark Learning Center. The annual event previously was called Passport to Science.
Pre-registration is encouraged and is required for groups of 8 or more. To register online, visit https://www.wilkes.edu/academics/stem-discovery-day-registration.aspx. Complimentary parking is available behind the Henry Student Center, 84 W. South St.
More than a dozen laboratory demonstrations begin every 30 minutes, starting at 10 a.m. The last series of labs will begin at 12:30 p.m. Attendees are not required to stay for the entire event and are welcome to attend any part. All children must be accompanied by an adult.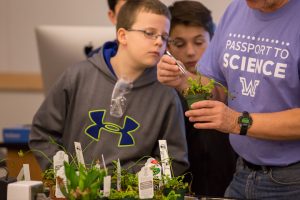 Workshops will cover the fields of chemistry, biology, environmental engineering, earth and environmental sciences, anatomy and physiology, mathematics and computer science and physics.  For a complete list of labs, please visit the Wilkes University web site. A sampling of the lab projects includes:
Research with Invertebrate Animals will use planarians — flatworms that can regenerate lost body parts — to study repair of the central nervous system and Alzheimer's disease, and also show how using scorpion venom is used to treat brain cancer.
Water Treatment Using the Jar Test will demonstrate a variety of water sources that are used to create drinking water and how they differ in their composition. Participants will observe a jar test and listen to a brief discussion of how drinking water can be cleaned.
Fun with Plants that Move and Eat Bugs explores how sometimes nutrients from the soil just aren't enough for plants. It will also demonstrate how plants can move and catch light to convert it to carbon dioxide for more plant material.
Science Jeopardy tests participants science knowledge in an informal and fun game with questions covering all levels of science from elementary school concepts to college-level information.
Wizards of Physics will allow participants to become Gandalfs and Harry Potters as they learn how physics explains the exciting yet complicated things in our world that almost seem magical. In this laboratory students will have some fun by wielding our powers of gravity, electricity and magnetism.