Jennifer Malinowski, Pharm.D., a faculty member and an assistant dean in the Nesbitt School of Pharmacy at Wilkes University, has won the 2017 Innovations in Teaching Competition sponsored by the American Association of Colleges of Pharmacy. Malinowski, who is an associate professor of pharmacy practice in the Nesbitt School, who was recognized during the association's annual meeting held July 15-19 in Nashville, Tenn., is the first faculty from Wilkes to receive the honor. She presented her innovative teaching project on how to engage pharmacy students to promote quality improvement with medication use in a special session at the event and also did a featured poster presentation.
Malinowski was recognized with her clinical partners Linda Thomas-Hemak, MD, FACP, FAAP, President/CEO, The Wright Center, and Teresa Lacey, R.N., Geisinger Commonwealth School of Medicine. Malinowski had a clinical practice site at The Wright Center where over 50 fourth-year pharmacy students worked as part of their clinical rotations.
"Students were given exposure to real-life quality improvement projects that they would be exposed to as pharmacists," Malinowski explained. Students have the opportunity to lead and develop innovative ways to improve the healthcare system, changing the mindset from afflicted to empowered. Student reaction to the rotation was overwhelmingly positive. Many of the students involved were offered post-graduate training and management positions, based on promotion of the projects completed during the patient care experience.
During the students' five-week advanced pharmacy practice experience in ambulatory care, Wilkes' fourth-year pharmacy students led a quality improvement project focused on population health and/or medication safety, using the "Plan. Do. Study. Act." (PDSA) model. Forty three improvement projects were completed by students within 4 years; over 25 percent of the initiatives received state and national recognition. Some examples include developing medication protocols for substance abuse disorders and promoting medication safety in elderly patients on high blood pressure medications experiencing adverse effects.
Participating pharmacy students learned the fundamentals of the PDSA process while at The Wright Center for Primary Care Mid Valley in Jermyn and carried out their projects, with active feedback from preceptors and faculty. While in the field, the pharmacy students also actively collaborated with The Wright Center's interprofessional clinic staff to address specific obstacles and created a mutually beneficial partnership between the clinic site and the university.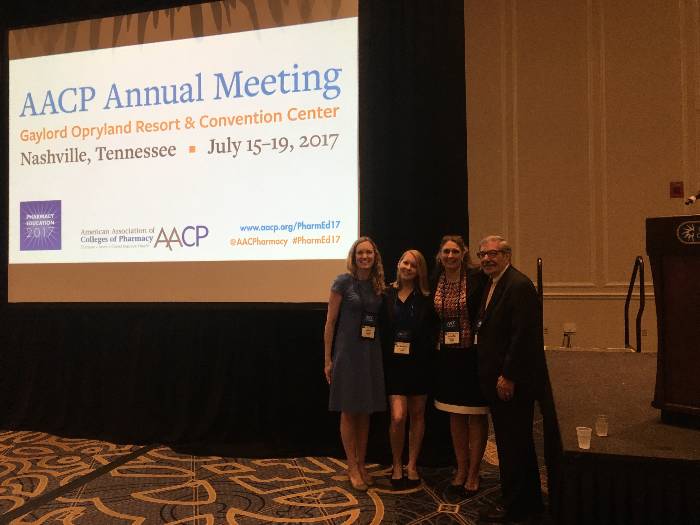 About the Nesbitt School of Pharmacy
The Nesbitt School of Pharmacy, which is the region's only school of pharmacy, celebrated the 20-year anniversary in 2016 of its first graduating class receiving the doctor of pharmacy degree. The school's mission is to develop pharmacists who will provide high quality health care and make meaningful contributions to the science and practice of pharmacy. The school awards the doctor of pharmacy degree, the primary, entry-level pharmacy practice degree in the United States.