University Dedicates the Maslow Family Graduate Program in Creative Writing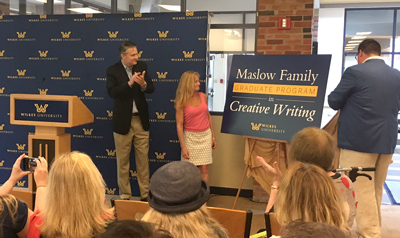 Wilkes University has received significant financial support to benefit its graduate creative writing program. Given by local businessman and philanthropist Richard Maslow, of Dallas, Pa., and Naples, Fla., the gift will be used to enhance the creative writing program through innovative classes and workshops, student scholarships, faculty development, and expanded programming for the community at large.
In Maslow's honor, the program was renamed the Maslow Family Graduate Program in Creative Writing during a ceremony held at 5:30 p.m. Friday, June 23, in the Henry Student Center.

"Wilkes University thanks Dick Maslow for his vision in giving this gift to the graduate creative writing program, which now will bear the Maslow name," said University President Patrick F. Leahy. "This investment continues his lifelong commitment to the arts and reflects his enthusiasm for a program that has generated incredible student success. His generosity is a vote of confidence in the future of this program and arts education at Wilkes University."

Maslow is the former CEO of InterMetro and the founder of the Maslow Family Foundation, which funds programs in the arts, education, special needs education and other charitable giving. The Maslow family financially supports the Maslow Foundation Salon Reading Series at Wilkes, held twice a year to coincide with the creative writing program's biannual campus residency. They also support the Frances and Louise Maslow Memorial Scholarship, awarded annually to worthy students majoring in engineering or business administration.

"My family has a deep appreciation for the arts," said Melanie Maslow-Kern, daughter of Richard Maslow and board of trustee member at Wilkes University. "We know that the Wilkes creative writing program is like no other, and we're excited to see how this gift provides new opportunities for students to realize their writing dreams."

Creative writing program director Bonnie Culver said the gift provides valuable programmatic support to aspiring writers who come to Wilkes to develop their craft, learn the business of writing, and earn their master of arts and master of fine arts degree.

"The entire creative writing community joins me in thanking the Maslow family for their support. With their dedication to the arts, represented in this generous gift, we can open up more opportunities for students to hone their craft, provide resources for faculty passion projects, and continue our mission of becoming one of the best creative writing programs in the country."

A true national program, the Maslow Family Graduate Program in Creative Writing has graduated nearly 500 students from 35 states and several foreign countries. Among the program's early advisors was the late Pulitzer Prize-winning author Norman Mailer, who was the first chairperson of the program's advisory board.

Wilkes grants the master of arts and master of fine arts degrees in seven genres: fiction, creative nonfiction, poetry, playwriting, screenwriting, documentary films and publishing. In the last decade, faculty, students and alumni of the program have published more than 100 novels, memoirs and nonfiction works, 50 plays, 30 chapbooks or poetry collections, produced more than 40 new films and hundreds of individuals poems, articles and short stories.

Notable alumni include Marlon James, author of A Brief History of Seven Killings, which won the 2015 Man Booker Prize and has made the Top Ten and Book of the Year lists of such publications at The New York Times, The Washington Post, Time and Newsweek; Scranton native Barbara J. Taylor, whose book Sing In The Morning, Cry At Night, was a Publishers Weekly 2014 summer reads pick; Taylor Polites, author of The Rebel Wife, a top 10 pick for O, the Oprah Magazine; and Morowa Yejide, whose novel Time Of The Locust was a 2012 finalist for the PEN Bellwether Award and longlisted for the PEN Bingham Award.

Program participants are paired with faculty mentors who work with them on book-length fiction, nonfiction and poetry projects, plays and screenplays during their time in the program. Faculty are published writers who are well-established in their fields. They include poet Philip Brady, memoirist Beverly Donofrio, fiction writer David Poyer, novelist and memoirist Kaylie Jones, film producers Susan Cartsonis, Robert May, Michael Mailer, and many others.
For more information on the Maslow Family Graduate Program in Creative Writing, please visit www.wilkes.edu/cw.

About Wilkes University
Wilkes University is an independent institution of higher education dedicated to academic and intellectual excellence through mentoring in the liberal arts, sciences and professional programs. Founded in 1933, the university is on a mission to create one of the great small universities, offering all of the programs, activities and opportunities of a large, research university in the intimate, caring and mentoring environment of a small, liberal arts college, at a cost that is increasingly competitive with public universities. The Economist named Wilkes 25th in the nation for the value of its education for graduates. In addition to 42 bachelor's degree programs, Wilkes offers 25 master's degree programs and five doctoral/terminal degree programs, including the doctor of philosophy in nursing, doctor of nursing practice, doctor of education, doctor of pharmacy, and master of fine arts in creative writing.