Project Will Transform Campus, Wilkes-Barre's South Main Street
Wilkes University broke ground today on its campus gateway project that promises to transform both its campus and the South Main Street area in the city of Wilkes-Barre.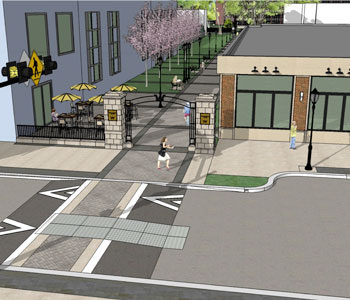 The $1 million project will create a dramatic entryway to the Wilkes campus on South Main Street between the University Center on Main and 141 S. Main Street. It also adds safety features that will benefit both Wilkes students and nearby businesses and residents. These include raised pedestrian crosswalks on South Main and South Franklin streets and new street lights. The project is expected to be completed in August 2015.
WNEP TV was one of four media outlets covering the event. Media attending the announcement included WBRE, The Times Leader and the Citizens' Voice. You can watch WNEP's story here.
In kicking off the project, Wilkes President Patrick F. Leahy was joined by state Sen. John Yudichak, state Rep. Eddie Day Pashinski, Wilkes-Barre Mayor Thomas Leighton and Taylor Moyer, a second-year Wilkes pharmacy student and president of student government.
Leahy thanked elected officials for their assistance in securing a $600,000 Pennsylvania Department of Transportation multi-modal grant which, matched by $400,000 from the University, is funding the project. He said the gateway will dramatically change the University community.
"The creation of the campus gateway will do more than provide a new and visible entrance to the Wilkes campus," Leahy said. "Urban universities often struggle to create a cohesive campus on city streets. The gateway accomplishes that by seamlessly linking the parts of our campus separated by South Franklin Street with a beautifully landscaped area. Our strategic plan calls for excellent facilities and this is just another example of our commitment to that goal."
Praising the project for making the campus both more beautiful and easier to navigate for students, Student Government President Moyer said, "This project will make the campus much more student-friendly."
The gateway will create a 14-foot-wide pedestrian walkway that begins with an arched concrete and metal entrance. Extending from South Main Street across South Franklin Street and into the heart of the University's Fenner Quadrangle, the gateway will include seating areas, a decorative clock and landscaping that includes 16 new trees. Lighting for the gateway includes 11 LED pole fixtures. An outdoor seating area for Gambini's Café, located in the University Center on Main, also will be built.
Two raised pedestrian crosswalks – one on South Main Street and one on South Franklin Street between Northampton and South streets – will include flashing yellow traffic signals. The two crosswalks will greatly enhance pedestrian safety for both students and city residents.
State Sen. John Yudichak praised the project for the impact it will have on the city of Wilkes-Barre.
"The Commonwealth of Pennsylvania knows a good value when it sees one and our investment in the Wilkes campus gateway will enhance both the pedestrian access to Wilkes University and further beautify the Main Street corridor of downtown Wilkes-Barre," Yudichak said.
Pashinski echoed Yudichak's sentiments, noting that the state welcomes supporting projects that have far-reaching impact.
"I extend my congratulations to President Leahy and the Wilkes planning team for continuing to advance the quality of life for students, faculty and visitors at Wilkes University as well as for the residents of Wilkes-Barre," Pashinski said. "The Commonwealth is always very pleased to be part of such great projects by providing financial assistance."
Architects for the project are Derck and Edson of Lititz, Pa., a firm specializing in college and university projects. A construction firm for the project will be named soon.
Preliminary work on the project began in April when part of the building at 141 S. Main was razed to make way for the project. Major work will begin in May after classes for spring semester conclude.