Prahlad Murthy, professor of civil and environmental engineering at Wilkes University, was recognized with the Partner of the Year Award in the Higher Education Category by The Pennsylvania Cyber Charter School (PA Cyber) Polytechnic Academy. He was one of 15 award recipients at the inaugural Poly Awards.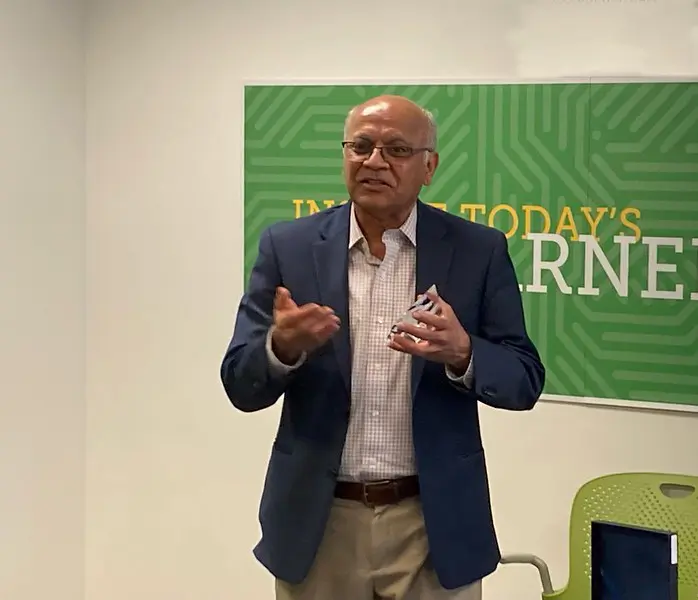 The award ceremonies, which took place in five cities throughout May, celebrate students who have demonstrated excellent participation as well as staff, universities and education partners who have grown the school's STEM programming in the past year. The Poly Award serves as a symbol of the recipient's impact and a reminder of the importance of continued innovation and progress.
A committee reviewed nominations and selected the most deserving candidates. The full list of award recipients can be found here.                           
Murthy was recognized for leading Wilkes and its engineering faculty, staff and students in actively participating in PA Cyber's engineering- and STEM-related initiatives for the past five years. The award notes that Murthy and Wilkes go "above and beyond to ensure a quality experience for the students."
About PA Cyber
Serving students in kindergarten through 12th grade, the Pennsylvania Cyber Charter School (PA Cyber) is one of the largest, most experienced, and most successful online public schools in the nation. PA Cyber's online learning environments, personalized instruction methods, and choices of curricula connect Pennsylvania students and their families with state-certified and highly-qualified teachers and rich academic content that is aligned to state standards. Founded in 2000, PA Cyber is headquartered in Midland (Beaver County) and maintains a network of support offices throughout the state. As a public school, PA Cyber is open for enrollment by any school-age child residing in the Commonwealth of Pennsylvania and does not charge tuition to students or families.