Wilkes University is awarding bachelors, masters and doctoral degrees during the 76th spring commencement activities on Saturday, May 20. Graduate and doctoral students will receive their degrees at 10 a.m. with undergraduates honored at 3 p.m.
As the big day approaches, graduates are enjoying their final week on campus as Wilkes students. Here's how the University is preparing for the big day.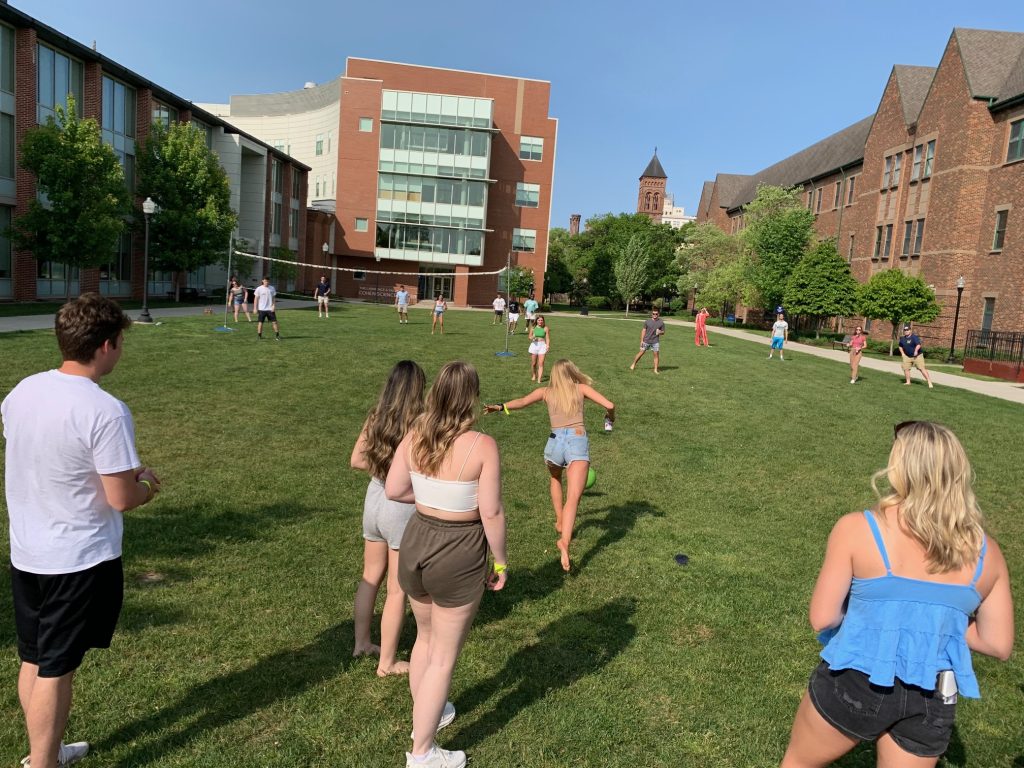 Senior Week
Senior Week kicked off on Monday with a picnic on the Fenner Quadrangle. Students socialized with their fellow classmates, as well as faculty and staff, with food and some epic games of bean bag (cornhole depending on where you hail from) and kick ball. Shout out to some Wilkes friends who helped when a ball ended up on the roof of Stark Learning Center — that's quite a kick!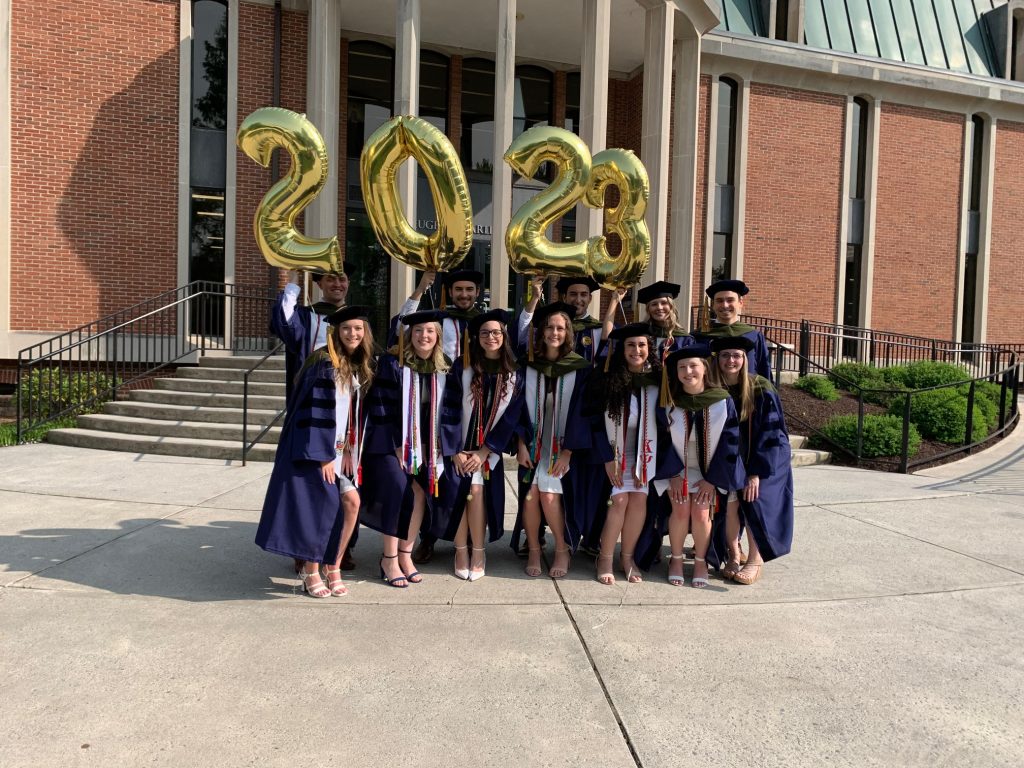 Say Cheese!
It's been a week of photo opps on campus which will continue in earnest as Saturday approaches. Need location tips? We suggest under the "Wilkes University" gateways on West South or South Main streets, by the John Wilkes statue and (if you ask nicely) the balcony above the entrance to Weckesser Hall. Other favorites include academic buildings and residence halls of meaning, near the South Main Street pedestrian bridge (with that lighted Wilkes sign — gorge) and with the "At Wilkes, You Will" banners because, well, at Wilkes, you did!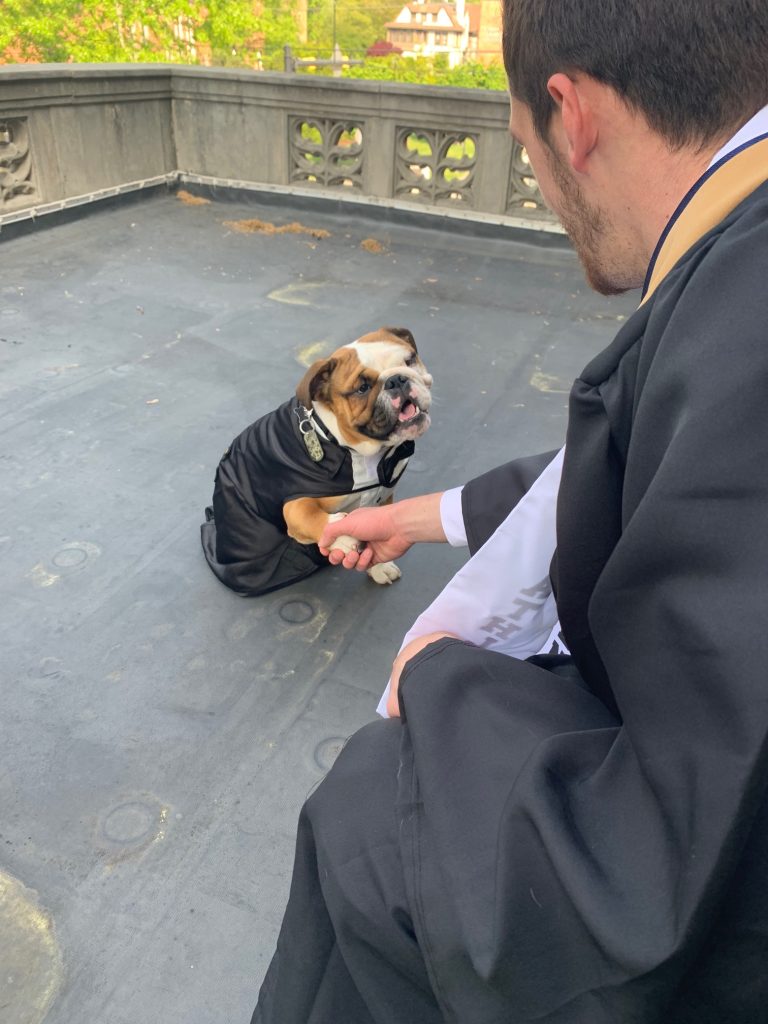 J Dubs
The big man on campus is ready to go with his custom cap and gown. Be sure to rub his boot as you pass him during the procession — it's good luck! Not that you need it with that degree. 😉
Lights, Camera, Action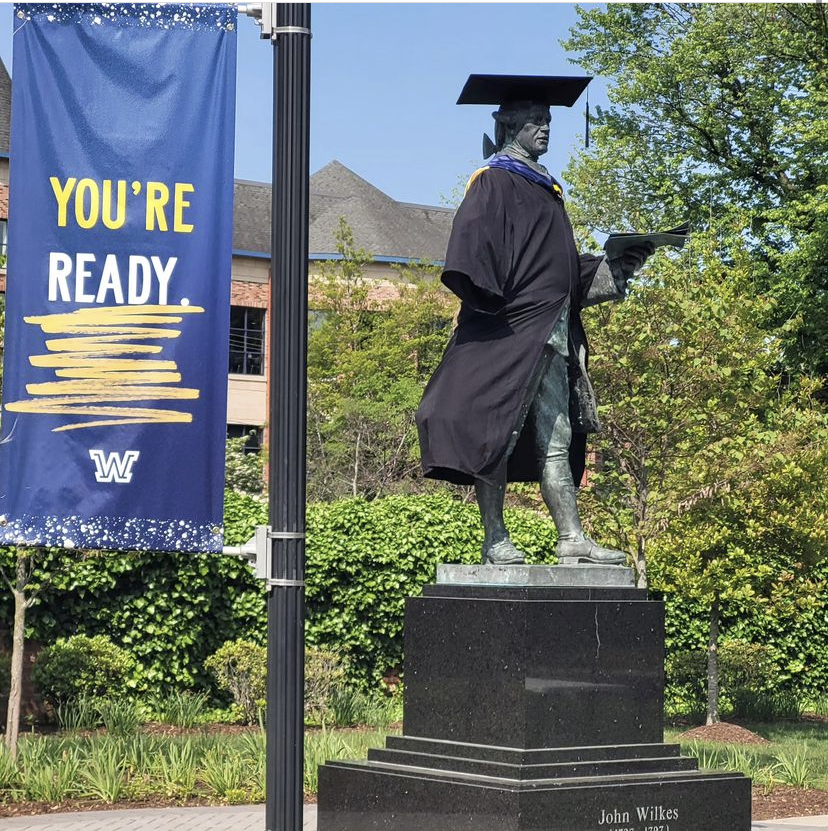 Preparations are underway in the McHale Athletic Center, transforming it from it's primary use as gym and recreation space to the place where student's receive their degrees (and have their dreams come true). Thousands of chairs, tons of drapery and the all-star facilities team have the place looking spiffy. Send them your thanks!
Honorary Degrees
Wilkes will award two honorary degrees during the 3 p.m. ceremony on Saturday:
James Sandman, Esquire is beyond impressive. He didn't go to Wilkes and yet he is as passionate as any of our alums in the way he gives back. Sandman serves as distinguished lecturer and director of the Future of the Profession Lab at the University of Pennsylvania Carey Law School. He is president emeritus of Legal Services Corporation, following his tenure as president from 2011 to 2020. Sandman practiced with Arnold & Porter for 30 years, acting as the firm's managing partner for a decade. He also shared his expertise as general counsel for the District of Columbia Public Schools and past president of the District of Columbia Bar.
Sandman is a graduate of Boston College and the University of Pennsylvania Law School. He served as a member of the Wilkes University Board of Trustees from 2002 through 2007. He was a law clerk for the honorable judge Max Rosenn and maintains a leadership role in the University's annual Max Rosenn Lecture Series in Law and Humanities. Sandman will address the graduating class on Saturday afternoon.
Does the name Lawrence E. (Larry) Cohen sound familiar? It should. The Cohen Science Center is named in his honor. Larry Cohen is the second-generation owner of Benco Dental Company, founded by his father, Benjamin Cohen, in 1930. Cohen joined Benco Dental as manager of the "tooth department" before transitioning into outside sales. He served as the president of Benco for more than 30 years, from 1965 through 1996. Cohen is the founder of the American Dental Cooperative and has served on the board of the American Dental Trade Association, the Visiting Nurses Association and the Jewish Community Center. He also served in the U. S. Army Reserve from 1958 through 1964.
Cohen graduated with a bachelor of science in accounting from Wilkes College in 1957 and a master of science in management and finance from Columbia University in 1958. He was a member of the Wilkes University Board of Trustees from 1994 through 2008, and now holds the title of board member emeritus. Along with his wife, Sally, Cohen made the principal gift for the construction of the Larry and Sally Cohen Science Center. He was recognized with the President's Medal in 2018 for his commitment to the University.
Get all the Commencement details at wilkes.edu/commencement. And tag @wilkesu in your posts!