Eight days. 334 miles. One epic adventure.
Inspired by the PBS documentary, The Great Ride, Wilkes University's Tom Polomchak, technician in campus support services, embarked on the ride of a lifetime last fall. Against the backdrop of the October foliage, Polomchak started his 334-mile ride at Pittsburgh Steelers stadium and ended eight days later at the nation's capital.
A self-admitted "at-the-moment" person, Polomchak didn't do much preparation until the day before the trip. His lean supplies included a backpack, a mat and a borrowed sleeping bag for eight nights of open-air camping.
The pleasant daytime temperatures made way for cold overnights. It was at his first camp, just 28 miles outside of Pittsburgh, that Polomchak made an unfortunate discovery.
His sleeping bag was a kid's size, a slight problem for the six-foot Polomchak.
Laughing, he explained that the bike-friendly trail nearly ensures that any problem isn't a problem at all. "You're never more than 25 to 30 miles away from a good place to eat and a good place to stay. That's the best part of the trail." Polomchak opted to continue his journey completely outdoors, child-size sleeping bag and all.
"The Great Ride" is the informal name for the 334-mile trek from Pittsburgh to Washington D.C. The first 150 miles of the ride is on the Great Allegheny Passage (GAP) rail trail. The balance of the trip occurs when the GAP meets the C&O Canal Towpath into Washington, D.C. The route crosses three states–Pennsylvania, Maryland and West Virginia–and four national parks.
Spectacular views met Polomchak at every turn: forests, valleys, mountains and rivers. Notable landmarks include the Cumberland Narrows, the Eastern Continental Divide, Point State Park, Great Falls and the panoramic Potomac River.
Old bridges and railroads, blended with remnants of the steel industry for which Pittsburgh is known, creates a unique landscape that blends natural and man-made elements.
"My favorite spot was Ohiopyle (in Fayette County). It is a big white water mecca where people go rafting and kayaking with a big waterfall called Ohiopyle Falls. It's got a biking bridge that crosses the falls, so you get to look down at them as you ride. I thought, 'wow, am I really doing this?'"
Second to the views? The people he met along the way.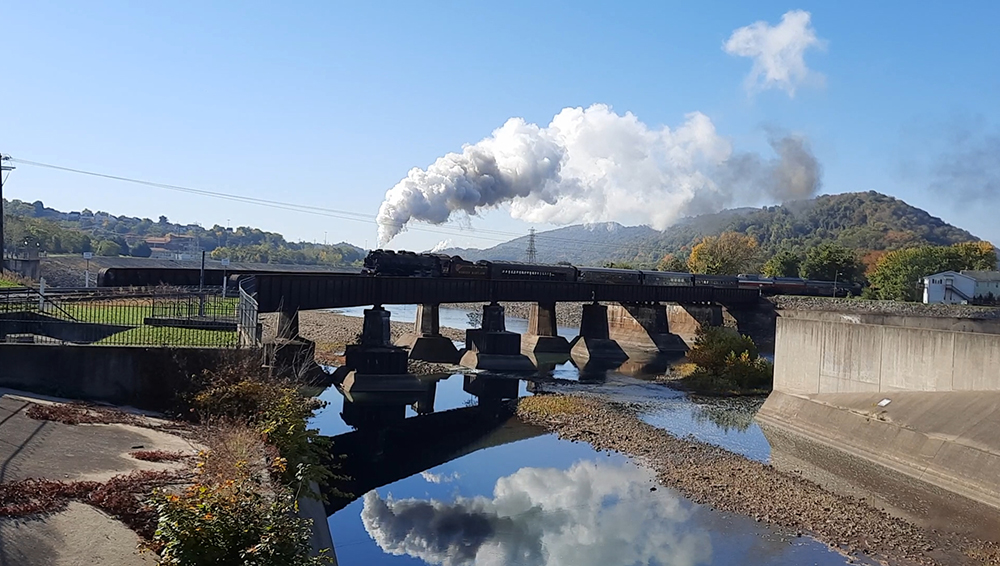 In Cumberland, Polomchak met a photographer who travels great distances to capture train-based photos. The photographer convinced Polomchak to stick around for a perfect view of a classic locomotive arriving in town, pictured above. Later in the trip, he crossed paths with a veteran named Chris Henderson. 
"He is retired military and all he does is go on these crazy adventures. I'm a bit of a lone wolf but we rode together for two days and it was great. I felt like I stumbled across my best friend riding the trail in the middle of the woods. He was going to D.C. and then heading south to Key West."
Would Polomchak ever consider continuing the ride to Florida? "It was all I could think about. I was ready to go with him right then and there."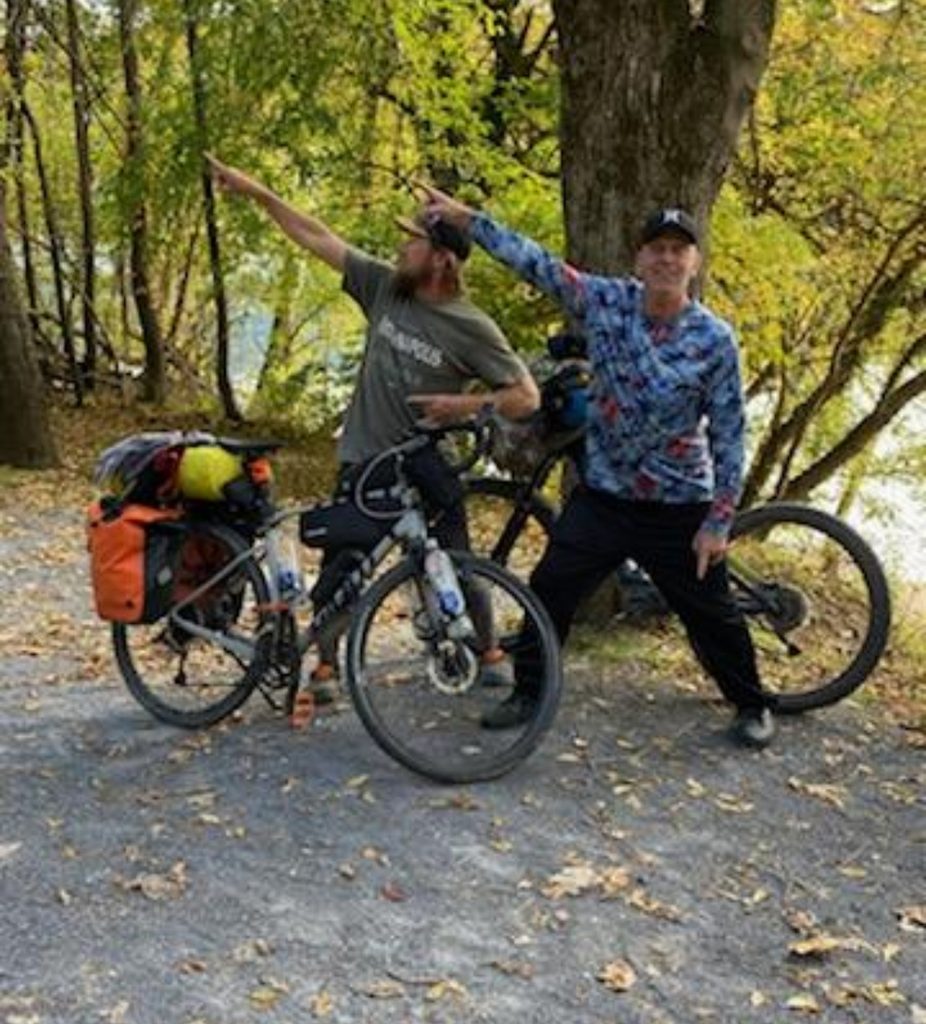 He averaged about 50 to 60 miles a day and lucked out with just one day of rain.
Years of biking meant that even though this was his longest trek, Polomchak did well physically and mentally. "Going from Pittsburgh to D.C., you absorb the elevation over 120-plus miles. It's so spread out that it just feels flat."
Polomchak admits he has a strong mind and determined spirit, but even he had a brief moment of doubt. It proved to be a fruitless worry.
"When I woke up on the first morning, I was like 'can I do this?' By the end of it, I didn't want it to be over."
Polomchak and his wife Christina, a 2005 Wilkes grad, reside in Plymouth with their children Benjamin (17) and Nadia (12). Benjamin will begin his college studies at Wilkes this fall.
Tom started at Wilkes in 2021. Though he hasn't convinced his family to join him yet, he is determined to do it all again, perhaps with some others in tow.
"If I were to do it again, I would do it in the warmer weather and I would take nothing… except for a really nice sleeping bag," he concluded with a smirk.
Check out Polomchak's adventures through the photos below.