Wilkes students, faculty and staff gathered to honor the life of Tyre Nichols and bring awareness to his violent death.
The event was hosted by the Multicultural Student Coalition at the Fenner Quadrangle near the center of campus. Kathrine Ermeus, president of the Multicultural Student Coalition, opened the program. Ermeus is a junior political science major from Sparta, New Jersey.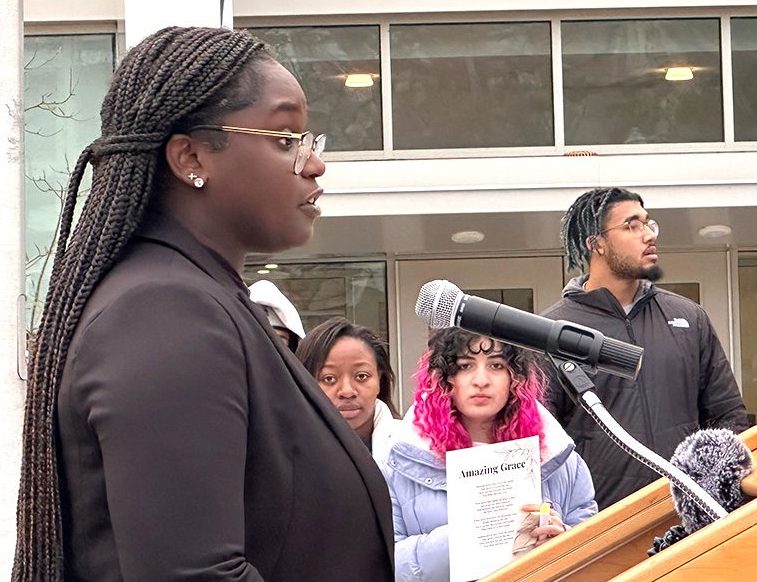 "We want to take this time to acknowledge the racial disparities that continue to plague the nation and to remind everyone that it is impossible to get through this without leaning on one another," said Ermeus.
The vigil was held on Feb. 7, one month after Nichols, 29, was severely assaulted by five Black officers of the Memphis Police Department during a traffic stop. Nichols was hospitalized and died three days later. He was a son, brother and father, leaving behind a four-year old son.
The emotional vigil included remarks, song and a moment of silence that lasted for three minutes, one for each day that Nichols spent in the hospital prior to his death.

David Ward, senior vice president and provost, reminded the campus that higher education can often lead change in light of national tragedies, through curriculum, open mindedness, an exploration of history and worldly points of view.
Helen Davis, associate professor of English and representative from the University's Council of Diversity Inclusion and Equity, recalled how Nichols called for his mother as he was assaulted and wondered about the world left for his son.
Erica Acosta, director of diversity affairs, prompted an emotional three-minute moment of silence.
The program concluded with the singing of Amazing Grace by Alicia Govens, assistant director of residence life. Govens recalled that the author of the song, John Newton, was a former slave investor turned abolitionist who wrote it in reflection of his changed perspective.
A video recap, courtesy of the Citizens' Voice, can be viewed here.
See more in the media:
Wilkes University students host vigil in honor of Tyre Nichols | WBRE/PA Homepage

Vigil Held to Remember Tyre Nichols | Fox56 News

'What home have we made for his son?' Wilkes students and faculty gather to mourn Tyre Nichols | Times Leader
Photos: Wilkes University vigil for Tyre Nichols | Citizens' Voice
TikTok: