Wilkes University announced a multiphase project to create a residential, student and community destination at a long-standing property in downtown Wilkes-Barre.
Formerly known as South Main Towers, University officials outlined the first phase of enhancements at 116 South Main St. In the immediate phase, Wilkes-Barre-based D&D Realty Group has leased the second, third and fourth floors from Wilkes to develop high-end apartments for working professionals.
University and community officials shared project details on Tuesday, Nov. 22. D&D anticipates investing approximately $5.5 million to create 36 one-, two-, and three-bedroom units ranging from 675 to 1,300 square feet of space. In addition to interior enhancements, the project will modernize and beautify the façade of the building with an abundance of glass windows. Work will begin immediately and is expected to conclude by fall 2023.
Wilkes chose to partner with D&D because of their proven track record of success in residential property development throughout the region. Of the 133 apartments that D&D has developed in downtown Wilkes-Barre, there is 100 percent occupancy.
"The demand exists and it benefits us all to invite more residents into downtown Wilkes-Barre," Cant concluded.
"Further residential development will only bolster our thriving apartment portfolio in downtown Wilkes-Barre, and this partnership with Wilkes University provides us with an outstanding opportunity to continue this collective success. By connecting the Wilkes campus to our existing investments in the Northampton Street corridor, the project will dramatically improve the aesthetics of the neighborhood and add quality housing options in the downtown," said Nick Dye, partner of D&D.
"I am enthusiastic about Wilkes University's plans for the first phase of enhancements at 116 South Main St. It is another example of a successful public-private partnership in Wilkes-Barre, which will continue the revitalization of the city," said Wilkes-Barre Mayor George Brown. "I am confident that the project will have a positive economic impact and inspire restoration and reuse of other buildings throughout the city."
The second phase and more long-range plan for the property includes a mixed-use first floor that blends academic experiences and student life with private businesses or retail opportunities that ultimately enhance the student experience. Plans are still taking form but will encompass a use that aligns with Wilkes University's educational mission.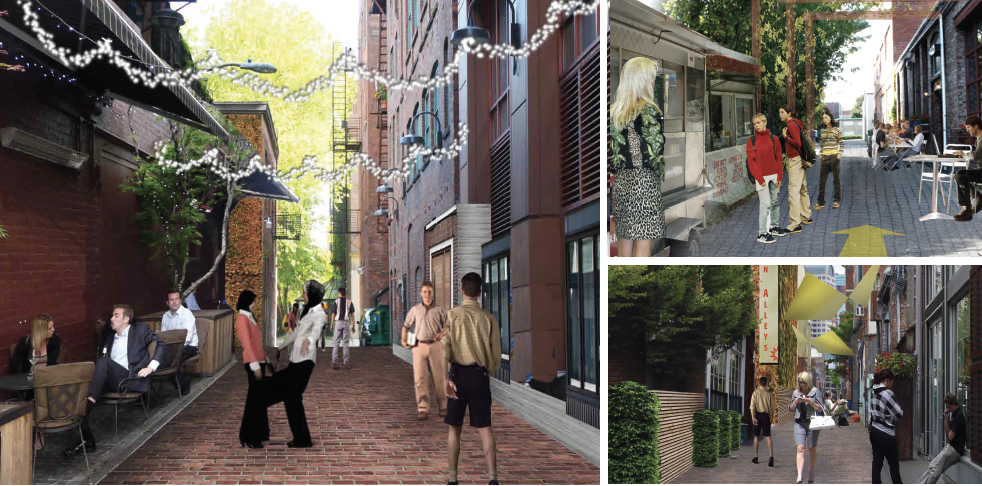 Officials also shared their inspiration for Grant Alley, the sidewalk and lane bordering 116 South Main St. With a goal of creating a safe, attractive and walkable space, possible uses include outdoor seating, dining or study space with new pavers, landscaping and lighting. A college-themed mural being planned at 113 South Main St. by Diamond City Partnership will further beautify the outdoor area.
Newman pointed out that from 2010 to 2020, more than 1,000 new residents found homes in downtown Wilkes-Barre.
Easily recognized by the large metal sculpture on its exterior, the building at 116 South Main St. was constructed in 1914 as a furniture store and coffin manufacturer and later became a Sears Roebuck store and office space. Wilkes acquired the building in 2016 and completed $1 million in remediation in 2017 with help from an Industrial Site Reuse Program grant. The nearly 70,000 square feet of unfinished space has been primarily used for University storage. The basement will be retained by the University for storage purposes.
The artwork called "Modular Symbol" was created by Wilkes alumnus R. Jan Pethick, a sculptor who grew up in the Wyoming Valley. Measuring 23 feet high by 16 feet wide, the sculpture is crafted from aircraft stainless steel. Pethick graduated from Wilkes in 1965 and the sculpture was installed on the building in 1967. Wilkes will maintain the sculpture as a new location is determined.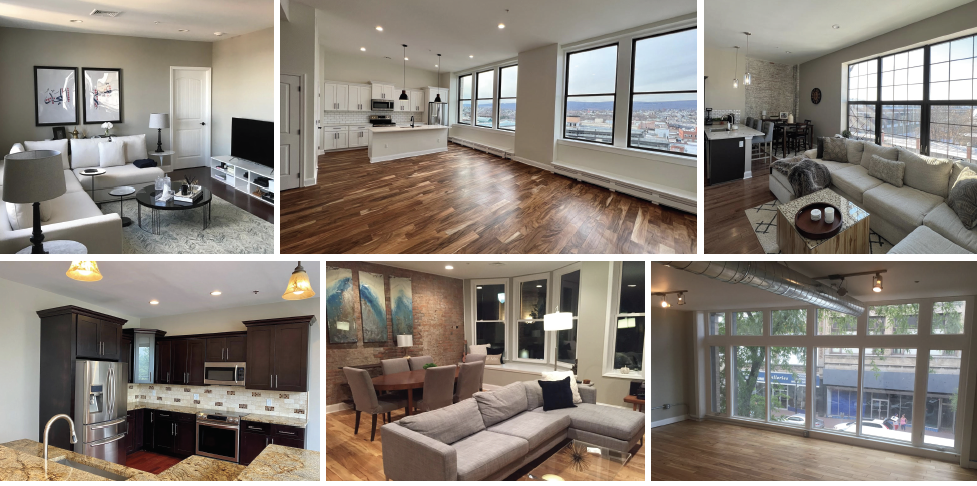 MEDIA COVERAGE:
WBRE-TV: Wilkes University launches multiphase project
FOX-56: Wilkes University announces new project with an aim of creating public good
Times Leader: Wilkes announces new plans for old downtown building
Citizens' Voice: Wilkes will renovate former furniture store on South Main Street; 36 apartments planned
Citizens' Voice: Photos of the Day