The Sordoni Art Gallery at Wilkes University presents "David C. Driskell and Friends: Creativity, Collaboration and Friendship, Works from the David C. Driskell Center," a Dr. Roy E. Morgan Memorial Exhibition. The exhibition highlights the artistic legacy of David C. Driskell and his relationships with fellow artists, many of which have a significant place in the art canon. It will be displayed from Nov. 1, 2022, through Feb. 26, 2023.
David C. Driskell (1931-2020) was an American artist, scholar and curator recognized for his work in establishing African-American art as a distinct field of study and was cited as one of the world's leading authorities on the topic. In 1976, Driskell curated the groundbreaking exhibition, "Two Centuries of Black American Art: 1750–1950," which has been a foundation for the field of African American art history.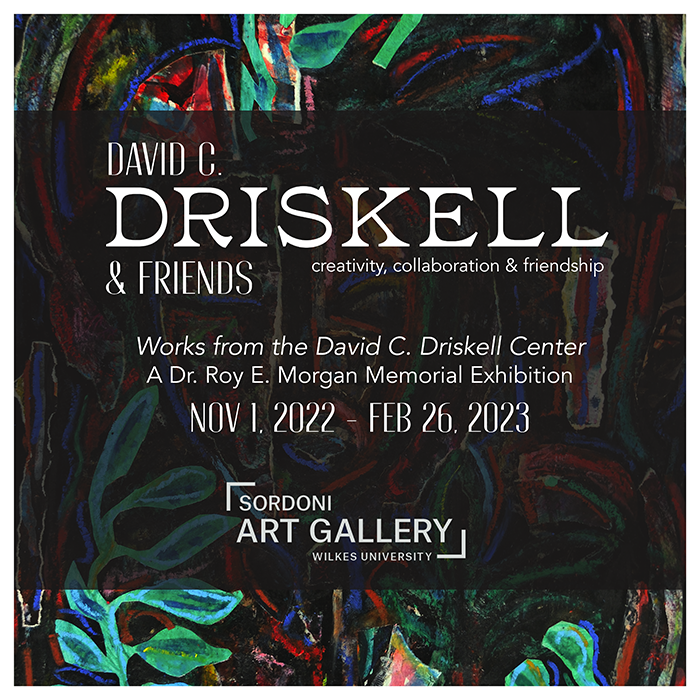 His teaching career includes institutions such as Talladega College, Howard and Fisk Universities and University of Maryland. He served as visiting professor of art at several universities, including Bowdoin College, the University of Michigan, Queens College and Obafemi Awolowo University in Ile-Ife, Nigeria. At each institution, he prioritized exposing students to artists and their work through artist residencies, exhibitions, and prolific slide collections.
Driskell passed away April 1, 2020, in Hyattsville, Maryland, from complications of COVID-19. He was 88.
The exhibition was curated by Sheila Bergman of the University of California–Riverside, Curlee Raven Holton of the Driskell Center at the University of Maryland, and Wilkes gallery director Heather Sincavage. The exhibition is the first of its kind for this collection and explores the work and Driskell's relationships with such figures as Hale Woodruff, James Porter, Elizabeth Catlett, Kara Walker, Romare Beardon, Keith Morrison, Jacob Lawrence and many more. Original works of art created by Driskell will also be featured, as well as ephemera from the Driskell Papers that exemplify the artists' unique friendship.
All works featured in the exhibition are from the David C. Driskell Center. The center, established in 2001 by the University of Maryland, honors Driskell by preserving the rich heritage of African American visual art and culture. This traveling exhibition will debut at the Sordoni Art Gallery at Wilkes University, and subsequent venues will include University of California-Riverside University of Pennsylvania and University of Maryland.
In connection with the exhibit, the gallery will feature a series of events that are free and open to the public:
Curator panel discussion, 5 to 7 p.m. on Nov. 2: Discussions will center around the pivotal influence David C. Driskell had on the art history canon, his growth as an artist and a career of community building throughout the African American art community. This event is free and open to the public. Light refreshments will be provided.
Art in Context film screening, 5 p.m. on Nov. 9: Black Art: In the Absence of Light is an illuminating documentary that spotlights the indelible contributions of some of the foremost African American artists in today's contemporary art world, including Theaster Gates, Kerry James Marshall, Faith Ringgold, Amy Sherald and more. The film will be followed by a discussion moderated by Dan Kimbrough, owner and founder of Park MultiMedia. Advance registration is required for this event by emailing melissa.carestia@wilkes.edu. Spaces are limited and will be on a first come, first served basis.
Second Saturday Family Hour, 12 to 2 p.m. on Nov. 12: The session is inspired by the work of Kara Walker, one of the most complex and prolific American artists of her generation. Walker gained national and international recognition for her cut-paper silhouettes depicting historical narratives. Participants for this event are invited to make their own cut paper silhouette while viewing one of Walker's masterpieces in the gallery. Materials will be provided. All experience levels and ages are welcome. Storytime, presented by the Osterhout Free Library, will be at 1 p.m.
The Sordoni Art Gallery is located at 141 S. Main. St. in Wilkes-Barre and shares space with the Karambelas Media and Communication Center. It is open from 10 a.m. to 5 p.m., Tuesdays through Fridays and 12 noon to 5 p.m. on Saturdays. The gallery follows the operating schedule of Wilkes and is closed on University holidays, breaks or due to inclement weather. The gallery will be open by appointment only during the University's semester break from Dec. 17, 2022 until Jan. 14, 2023. For more information, visit www.wilkes.edu/sordoniartgallery.