The E.S. Farley Library at Wilkes University has unveiled "Remembering Agnes: 50 Years Later," an audio walking tour, interactive website and artifact exhibit that shares the history of Wilkes University during and after Hurricane Agnes in 1972. The project is a collaborative effort that began in the spring and included, in addition to the Farley Library, the Sordoni Art Gallery, the Wilkes history department, Integrative Media department, WCLH radio station, and web services.
Said Farley Library archivist Suzanna Calev, "The walking tour consists of 12 designated stops featuring panels that showcase pre- and post-flood photographs and an opportunity to listen to recordings on some of our building history, narrated by WCLH radio advisor Kristen Rock. The audio tour also includes accounts from Wilkes administrators, faculty, staff and alumni who experienced the flood first-hand."
Calev said that she hopes to the tour and exhibit will "reveal our institution's solidarity and fortitude in the wake of a natural disaster. The Wilkes community came together to rebuild and recover after Agnes, and it's a story that has not been told in full until now," she said.
The tour's 12 designated campus stops can be accessed at wilkes.edu/agnes.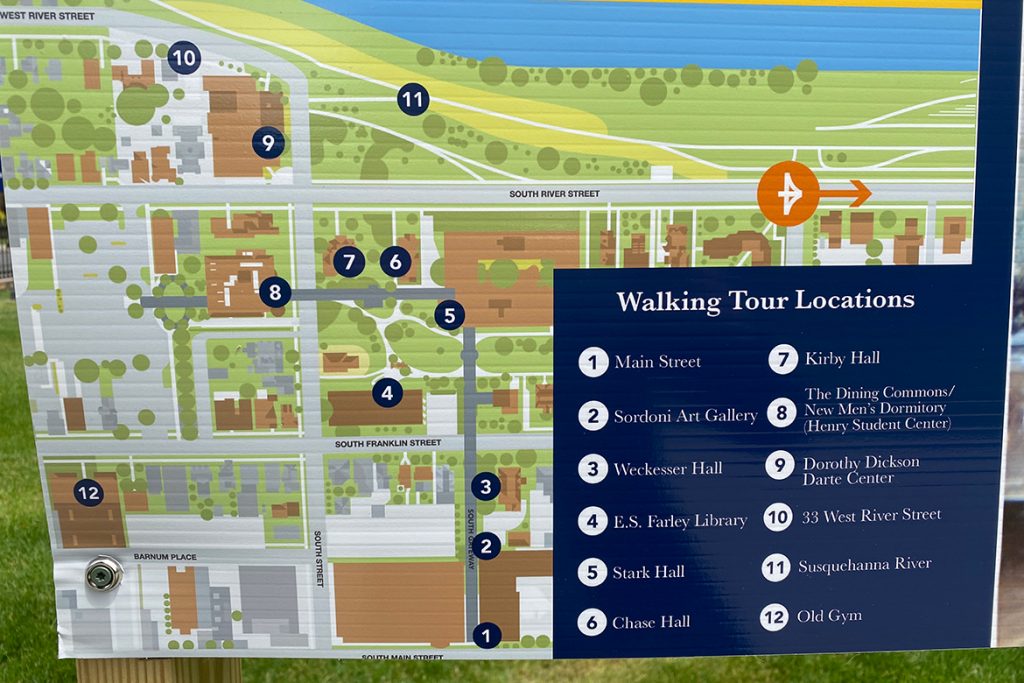 The stations along the tour include photos, a map and QR codes to scan and hear the audio. The locations are:

In addition to the walking tour, the website displays digital artifacts from the Farley Library archives including the letters, scrapbooks and films of then-president Francis J. Michelini, Wilkes-Barre before and after slider photos, newspaper clippings, the Flood Recovery Task Force records and President Richard M. Nixon's speech in September of 1972 at Wilkes. The Farley Library also has a physical exhibit of artifacts on the first floor.
Media coverage:
Agnes Audio Tour from WBRE/WYOU Eyewitness News and PA Homepage
Wilkes University launches audio walking tour, retrospective on Agnes from the Times Leader
Wilkes unveiling Agnes audio walking tour exhibit by the Citizens' Voice