Alyssa Roberts loves to put artistic talent on display, whether it's someone else's work or her own.
As the student design fellow for the Sordoni Art Gallery, the senior digital design and media art major mentors five other students on the gallery's design team and assigns project tasks to bring exhibits to life for campus and the community.
"L'Esprit: Exploring Wit and Beauty in French Prints" was her first opportunity to take the lead on a show. The Allentown, Pennsylvania, native managed details big and small, creating labels for each piece on display, choosing paint colors and designing the title wall. "My hands were on every part."
The current exhibit, "State: Obvious/Not So," focusing on the work of Dan R. Talley, features a 125-page catalog Roberts designed to commemorate the show. "It's rare for students to see a piece go into publication," says Heather Sincavage, gallery director and associate professor of art.
Sincavage views the fellow position and design team, which grew from a student initiative, as an in-house design firm and incubator for creativity. "I give them a lot of responsibility because I know they can handle it," says Sincavage. "My colleagues prepare them for professional experiences."
That real-world preparation is the goal for Lisa Reynolds, assistant professor of integrative media. From the first day of class through senior portfolio presentations, Roberts and other digital design majors focus on developing creative problem-solving and a broad skill set to prepare for a variety of design-related career options. "They're going to be the best possible creatives we can send out into the world."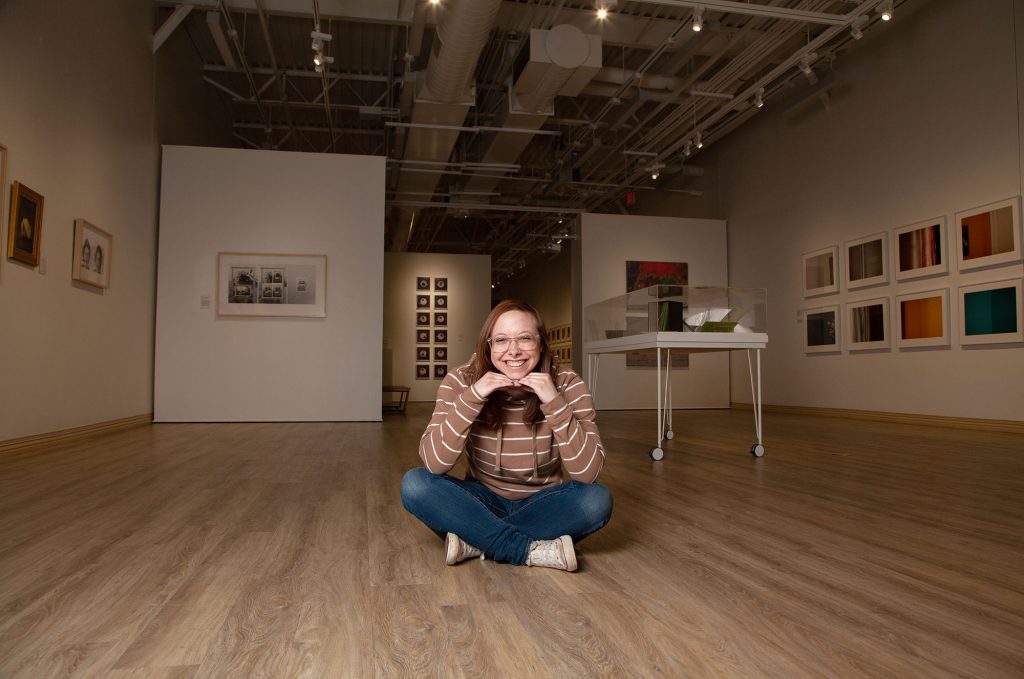 In addition to her gallery work, Roberts gains hands-on experience as a member and now vice president of Studio 20, the student-run design club on campus. She also turned a one-semester topics class on printmaking with Sharon Cosgrove, associate professor of art, into a follow-up independent study on textile printmaking, making her mark with designs on T-shirts, hoodies and sweatpants.
Roberts, who graduates with a bachelor of fine arts degree, looks back on the importance of the relationships she cultivated on campus. "It's great to have someone you can talk to about anything," says Roberts. "I keep that in mind when I have people working under me. An open door is the bottom line."