Budgeting can help you navigate your way to affording the vacation of your dreams with going into to debt or save to buy a first home. That was the message Marianne Rexer, professor of accounting the Sidhu School of Business and Leadership, shared with young alumni and recent graduates in the latest Wilkes Wednesday Webinar. Rexer offered tips and advice for eliminating debt and a developing a budget. The webinars are offered by the Office of Alumni Relations.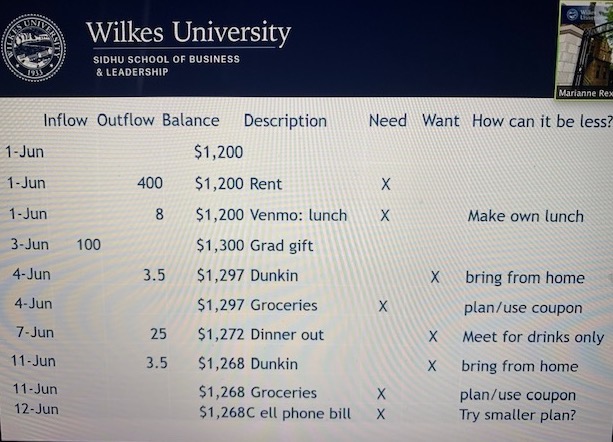 By establishing good habits, Rexer said, it is possible to avoid living paycheck to paycheck. One of Rexer's first suggestions was to use a worksheet to clarify "inflow and outflow:" in other words, what money is coming in and where it is being spent. In her sample worksheet, Rexer added sections to differentiate whether money was spent on a need – something necessary for life, such as food or a place to live – or a want, such as coffee drinks from Starbucks or Dunkin'. The sheet also included a column to consider ideas for reducing costs for an expense under the heading "How Can It Be Less." Under that column, something like the cost of dinner out with friends can be reduced by changing it to going out for drinks. Coffee can be brought from home instead of stopping at Dunkin'.
Other tips shared by Rexer included:
Follow the 50/30/20 rule, which suggests spending 50 percent of income on needs, 30 percent on wants and devoting 20 percent to savings.
Setting short-term and long-term financial goals and reviewing them regularly. 
Establishing a check account and two savings accounts. One of the savings accounts would not be linked to the checking account, making it more difficult to tap for unnecessary purchases. 
Spend no more than 25 to 30 percent of your income on housing. Studies have shown that people who spend more than 30 percent of their income on housing have a harder time getting out of debt, Rexer said. Choosing a more modest apartment or sharing one with a roommate are ways to reduce housing costs. 
Pay yourself by saving money.
To see more of Rexer's budgeting tips, visit Wilkes University's YouTube channel, or click here.