Wilkes University junior Brianna Schunk entered college with a passion for performance and the drive to succeed. The York, Pa., native has done just that, working toward dual majors as an individualized studies dance major and English major.
"I got here and Wilkes was a place for me to foster my intelligence and critical thinking," Schunk says.
A dual major is no small feat, but being an individualized study major adds a different level of challenges, including the creation of curriculum. Working with Mischelle Anthony, associate professor and chair of English and Kristen Degnan Boonin, director of dance, Schunk has hands-on involvement in her courses.
An individualized studies major is designed for students who wish to undertake a course of study that cannot be provided for under any of the normal bachelor's degree programs leading to the Bachelor of Arts or Bachelor of Science degrees. The student is responsible for generating a coherent proposal for a program of studies. This proposal must be approved by an advisor, and then by the Individualized Studies Committee. The program of studies may include courses offered by all departments at the University.
"I have a spreadsheet with all my classes on it. When I figured out I could do individualized study, I knew I had to be on top of it," Schunk explains. "Other people have done the dance major before. Kristen had a couple of old schedules so I knew what classes I could take and customize it to what I wanted to do."
Schunk originally attended Wilkes as a musical theatre major. She realized she is most passionate about dance and made the switch. "I had been dancing my whole life and realized that that's what I wanted to do," she says. She does her own choreography and spends her summers concentrating on dance.
Schunk has participated in summer dance intensives, hoping to attend another this summer. Intensives are typically two-week long dance instruction.  Last summer she completed an intensive at Johns Hopkins Peabody Institute with the Paul Taylor American Modern Dance Company. The Paul Taylor company is nationally recognized in modern dance and makes its home at New York's Lincoln Center. Schunk was able to complete dance intensives with the honor's program grant.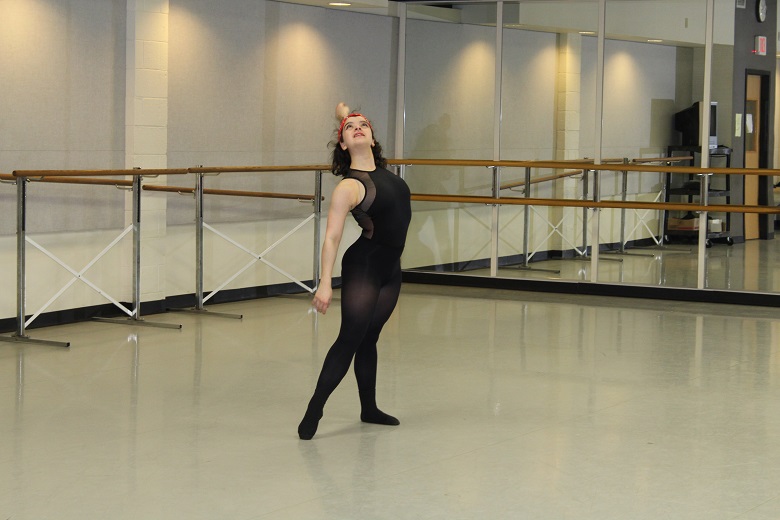 "I'm hoping by doing these dance intensives, by being exposed to these different companies… when I come back to audition for the actual company, I can say that I've done the intensives and studied their style. It's a way you can get into that realm," Schunk says.
She's equally passionate about writing. After taking English 101 with Anthony, she was also encouraged to add an English major to her repertoire. As a member of the Honors Program at Wilkes, the additional courses put her over the 18-credit limit, but she took it in stride. A course overload has sometimes been necessary to complete both majors.
Though classes take up the bulk of her time, Schunk still finds time for co-curricular activities. She works for the writing center, maintains an internship with Munley Law, Scranton, and participated in the Vagina Monologues. She also teaches dance with the Wilkes Conservatory. Schunk is in charge of social media for the Manuscript, the student-run literary magazine as well as for Sigma Tau Delta, the international English honors society. At the end of March, Schunk will present her research on disability in theatre at the Sigma Tau Delta International Convention in St. Louis, Mo.
The topic of disability in theatre is a very personal one for Schunk. Schunk has cleidocranial dysplasia, a developmental bone disorder, effecting one in one million people. The disorder impacts the development of the collar bone as well as growth of digits and limbs. Though it impacts her daily life, it hasn't closed doors on opportunity, as she has even found ways to incorporate it into her art.
"A lot of my incorporation (of my disorder) at this point is me existing and doing this thing while also being disabled," she says. "For so much of my life no one ever said I had a disability… My parents always just said, 'You're kind of different.' But then when I got into college and became a dance major, I had to be so much more aware of my body and my own limitations on what I can and can't do."
Schunk has taken her personal experiences and put it into words, writing for Cripple Magazine, an online publication created by and for young people with disabilities. She also writes poetry. "I'd love to write about this whole process. But it's not over yet."
With an abundance of options ahead of her, Schunk is ready for the next chapter but always remembers that making her own choices has led to success. "Keep your options open—don't be afraid to go off road and see what happens," she says.