Prospective students can apply to start this fall
The Jay S. Sidhu School of Business and Leadership at Wilkes University has launched a master of business administration degree that can be earned completely online. Prospective students can apply by Aug. 1 to start this fall.
The online MBA emphasizes leadership. It is designed for aspiring business leaders wishing to advance in their careers, or experienced managers looking to grow their communication, professionalism and decision-making skills, while stressing team performance, ethics and social responsibility.
The program can be completed in two years. Accelerated, seven-week courses allow students to focus on one course at a time while completing two courses during each academic semester. New online MBA students will be accepted in the fall, spring and summer semesters.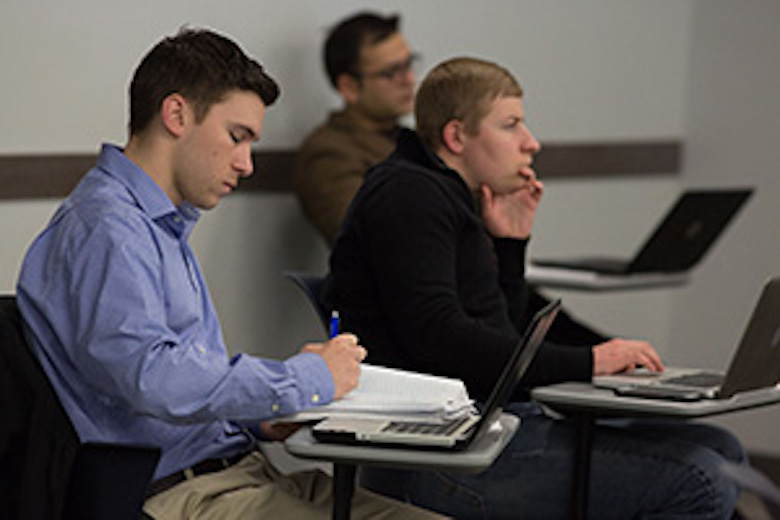 "Business professionals with an MBA tend to see advancement opportunities more quickly in their careers," said Jennifer Edmonds, associate dean and director of graduate programs in the Sidhu School. "We are excited to offer a leadership MBA to a national audience while maintaining the small-class sizes and personal attention that makes our Wilkes MBA program unique."
Wilkes also offers the MBA in a weekend format. Students in the weekend program attend face-to-face classes on the second Saturday of each month. Supplemental coursework and assignments are conducted online between class sessions. The weekend MBA program offers tracks in global business, leadership and management.
Prospective students who live locally can learn more about both programs during an information session at 6 p.m. on Monday, March 25 in room 231 of University Center on Main, 169 S. Main St. in Wilkes-Barre. Free parking is available behind the building. Attendees can register in advance at www.wilkes.edu/mbaopenhouse.

Wilkes is a proven leader in distance programming, offering more than two dozen online and low-residency master's and doctoral programs in fields like creative writing, education and nursing. In the Sidhu School, the accelerated bachelor of business administration is conducted online for students who wish to complete their bachelor's degree.
In addition to a variety of undergraduate majors and minors, the Sidhu School offers the PharmD/MBA Dual Degree Program for students who wish to earn their PharmD and MBA concurrently in six years. The 4+1 MBA program allows Wilkes undergraduates to earn their bachelor's degree and MBA with just one additional year of study. For more information about the Wilkes MBA, contact Kristin Donati at (570) 408-3338 or Karen Alessi at (570) 408-3402.